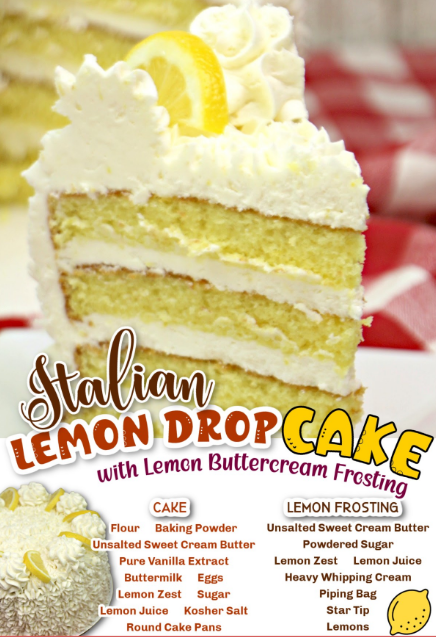 Italian Lemon Drop Cake is bright & full of zesty lemon flavor topped with an irresistible homemade Lemon Buttercream Frosting!
Its ultra delicious and deceptively easy to make too!

THIS CAKE JUST REMINDS ME OF SPRING, I CAN'T WAIT FOR THE WARMER WEATHER TO COME ROLLING IN ?
YOU NEED TO ADD THIS OUTRAGEOUS LEMON LOVERS TRIFLE FROM MELISSA'S SOUTHERN STYLE KITCHEN TO YOUR SPECIAL OCCASION DESSERTS MENU SOON!
THIS GORGEOUS LAYERED CAKE IS PART OF MY CONTINUING "CAKE SERIES" HERE ON MY BLOG!
PLEASE BE SURE TO CHECK OUT ALL THE OTHER BEAUTIFUL, HOMEMADE LAYERED CAKES THAT ARE SURE TO IMPRESS!
MAKING BEAUTIFUL CAKES AT HOME ARE MUCH EASIER THAN YOU WOULD THINK!
THEY MAKE THE PERFECT BIRTHDAY CAKES, PERFECT DESSERTS AND WONDERFUL FOR BAKE SALES OR POTLUCKS!

I HAVE AN ORANGE CREAMSICLE LAYERED CAKE COMING OUT THIS WEEK AS WELL AS A CHIPS AHOY COOKIE DOUGH COOKIE CAKE! 

IF YOU LOVE LEMON AS MUCH AS I DO, YOU ARE SURE TO LOVE THIS CAKE- ITS LIKE BITING INTO SUNSHINE! 
Please remember to SHARE on Facebook and PIN IT!
Italian Lemon Drop Cake!
Ingredients
6 C flour
2 Tbsp baking powder
1 tsp kosher salt
2 C unsalted sweet cream butter, softened to room temperature
1 3/4 C sugar
4 large eggs
2 tsp pure vanilla extract
1 C buttermilk
1 Tbsp lemon zest
1/3 C fresh lemon juice
3 9inch round cake pans
3 C unsalted sweet cream butter, softened
6 C powdered sugar
2 tbsp lemon zest
3 tsp fresh lemon juice
3-6 tbsp heavy whipping cream
1 large piping bag fitted with a star tip
Lemons, thinly sliced for toppings
Instructions
Preheat oven to 350 and spray the cake pans with pam baking spray
In a large bowl, whisk the flour, baking powder, and salt together. Set aside.
Using a standing mixer, beat the butter and sugar together creamy.
Beat in the eggs and vanilla extract until combined.
With the mixer on low speed, add the dry ingredients just until combined.
With the mixer still running on low, add the buttermilk, lemon zest, and lemon juice and mix just until combined.
Pour batter evenly into cake pans.
Bake for around 21-26 minutes or until the cakes are baked through.
Using a standing mixer, cream together all ingredients until stiff and smooth peaks form
Using a cake slicer, slice a thin layer off the tops of the cakes to create a flat surface.
Place 1 cake layer on your serving plate.
Evenly cover the top with about 1 cup of frosting.
Top with 2nd cake layer and evenly cover the top with about 1 cup of frosting.
Top with the third cake layer.
Spread the remaining frosting all over the top and sides.
Scoop remaining frosting into the piping bag and pipe dollops all over the cake
Pipe larger dollops of frosting onto the top of the cake
Place the sliced lemons in between the larger dollops
Cut and enjoy!