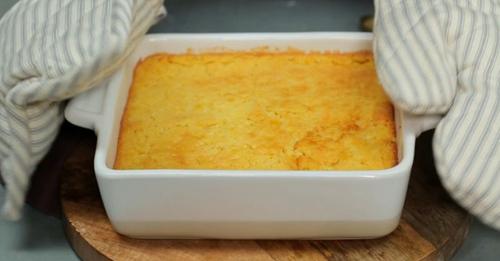 As crazy as it sounds, Thanksgiving is coming up faster than you'd like to think. If you're planning a potluck at the end of November, you need a dish that's easy to make, doesn't look like anything else, and will please everyone. Luckily, we have the perfect dish for you!
Casseroles are always a winning dish, especially during the holiday season. Not only are they a soul-warming comfort food (perfect for those cold Thanksgiving or Christmas days), but they're also easy to make.
All you have to do to make the perfect casserole is pile on layers of flavor and bake. It's that simple.
But just because it's a simple format for a side dish doesn't mean you have to settle for a less than delicious casserole recipe! Instead, you absolutely must try this amazing corn casserole, from MyRecipes.
If you're wondering what corn casserole is, trust us, it's delicious. Corn casserole is a sweet and chewy side dish with an incredible consistency and just a hint of corn. It kind of reminds me of a big warm slice of cornbread. Yes, it's amazing.
And best of all, it's extremely easy to make. And they don't just say that.
With only seven ingredients (including cooking spray), it's already a good start. But for the most part, just mix the six ingredients, pour the mixture into a greased pan and bake for 45 minutes. The result is a warm, crispy dish that can be used as a dessert or side dish!
This side dish can be made in under an hour, which you'll be hard-pressed to find true for any Thanksgiving dish! (Except for jarred cranberry sauce, but that doesn't count.) That means that you can literally make this the morning of your potluck dinner/lunch, and bring it to the party fresh and warm.
You are going to be the hit of the dinner party!
Truthfully, the one time I brought this dish to a Thanksgiving dish, the casserole dish was empty in just a couple minutes! People couldn't get enough of the sweet, crunchy texture, and I got all the praise for this amazing recipe. Little did they know it was so incredibly easy to make.
What do you think of this simple, delicious side dish?
Will you try making this corn casserole for an upcoming potluck?
Do you have a side dish that's already your Thanksgiving go-to?
Easy Corn Casserole
Ingredients
1/4 cup egg substitute
1/4 cup butter, melted
1 (8 3/4-ounce) can no-salt-added whole-kernel corn, drained
1 (8 3/4-ounce) can no-salt-added cream-style corn
1 (8 1/2-ounce) package corn muffin mix
1 (8-ounce) carton plain fat-free yogurt
Cooking spray
Instructions
Preheat oven to 350°.
Combine first 6 ingredients (your egg substitute, butter, whole corn, creamed corn, muffin mix, and yogurt) in a medium bowl; stir well.
Pour into an 8-inch square baking dish coated with cooking spray.
Bake at 350° for 45 minutes or until set.