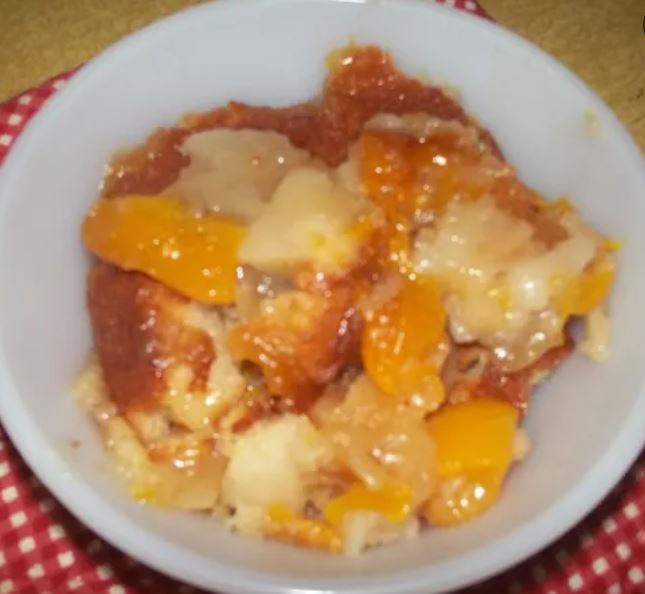 My husband loves peaches so I found a simple peach cobbler dessert beginner cook Kay could make back in the mid 80s.
And this dessert has been a hit ever since! It is my daughter's favorite dessert. Jerry loves it with a scoop of vanilla ice cream.
*EDITED September 13, 2015 to state~ Please do NOT use a 13 X 9 pan with this recipe. That size pan is a little too big for this dessert.
Serves:Serves 6
 Prep:15 Min 
Cook:50 Min
Ingredients :
1large can of sliced cling peaches (approx. 29 ounces) including juice
1stick margarine
1 csifted flour
1 tspsalt
2 tspbaking powder
1 csugar
2/3 cmilk
How to Make Kay's Easy Peach Cobbler
Preheat oven to 350 degrees
Melt stick of butter in a Pyrex dish 12 X 8 1/2 is perfect but 13 X 9 works too. (I do this in the microwave for speed)
Add clinged peaches (I chop my peaches into bite sized pieces before adding) and add juice without stirring.
Combine flour, salt, baking powder, sugar and milk together and mix well. Drizzle all over peaches and do not stir.
Bake for approximately 50 minutes. or til crust is golden brown. (just begin keeping an eye on your cobbler around the 45 minute time~ ovens vary.)

Enjoy your Easy Peach Cobbler!