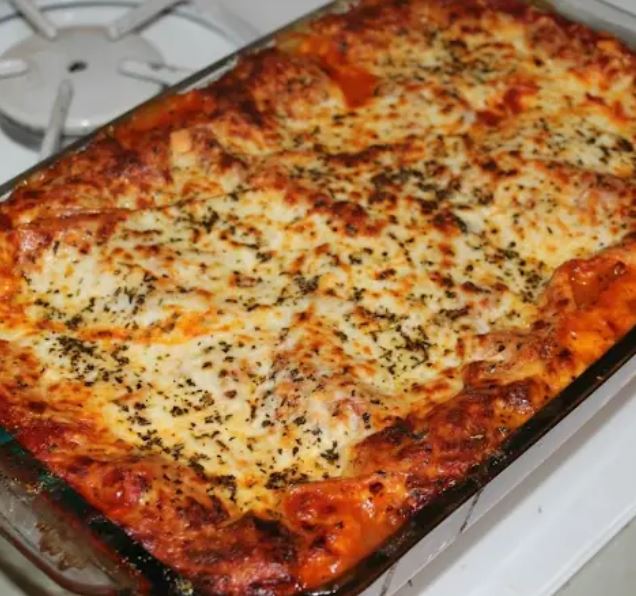 My twin brother learned to cook from my mom. It's a good thing, since he has been a bachelor for awhile! He always gets tons of compliments over his lasagna. People are shocked that he can not only cook, but create something so tasty!
Serves:12 to 15
 Prep:35 Min
 Cook:45 Min
Method:Bake
Ingredients
MEAT SAUCE:
1 lbground italian sausage
1 tube(s)jimmy dean ground sage breakfast sausage
1 smallcan (drained) mushroom stems and pieces
1/2 largeyellow onion, diced
8 largegarlic cloves, diced
14 1/2 ozcan diced tomatoes
14 1/2 ozcan italian tomato sauce
6 ozcan tomato paste
·large handful of fresh basil leaves, coarsely chopped
·freshly ground pepper
2bay leaves
·dry italian seasoning
CHEESES:
16 ozricotta cheese
16 ozgrated cheddar cheese
16 ozgrated mozzarella cheese
8 ozgrated parmesan cheese
OTHER INGREDIENTS:
6cooked lasagna noodles, buttered (to prevent sticking)
1 largeegg, beaten
10 ozbrick of frozen spinach, thawed, drained and water pressed out
10 ozjar of artichoke hearts, drained
How to Make Uncle Steve's Amazing, Award Winning Lasagna
Preheat oven to 350 degrees.
Simmer garlic and onion in olive oil in large frying pan until onion starts to clarify. Add the sausage and freshly ground pepper. Before the sausage is thoroughly cooked, add the fresh basil. Drain the fat from the pan when the sausage is done cooking. Add the remaining ingredients for the meat sauce, and bring the sauce to a slow simmering boil. Add dry Italian seasoning as necessary to taste. Simmer the sauce for about 20 minutes.
In a large mixing bowl, use your fingers to mix together the beaten egg, ricotta cheese and ½ of the grated cheddar.
Assemble the lasagna in a 9x13x2-inch glass pan:
• Lay down 3 noodles
• ½ meat sauce and more ground pepper
• ½ ricotta mixture
• ½ the mozzarella
• ½ the Parmesan and ½ the remaining cheddar
• Layer the artichoke hearts and drained spinach (should not be soggy)
• 3 noodles
• rest of the meat sauce and more ground pepper
• rest of the ricotta mixture
• rest of the mozzarella
• rest of the Parmesan and the remaining cheddar
Bake, covered, in a 350 degree oven for 45 minutes, or until heated through and bubbly. You will want to place the pan on a jelly roll pan in case it bubbles over! Take foil off the last 10 minutes to allow lasagna to brown. Let stand 10 minutes before slicing.