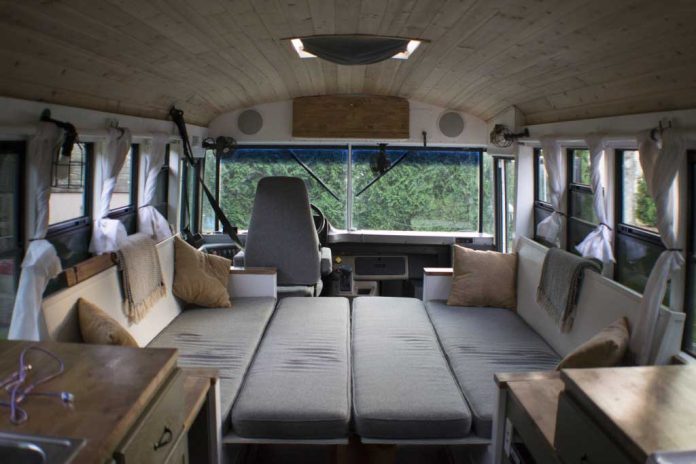 While I might not be entirely sold on the idea of committing to a minimalist lifestyle in a tiny house, I certainly appreciate the myriad advantages it offers. The concept of living in a tiny house on wheels presents a unique freedom from the constraints of a fixed location, liberating individuals from the shackles of exorbitant rents and burdensome mortgages. A perfect embodiment of this lifestyle choice can be found in Michael Fuehrer's inspiring journey, chronicled on his blog, "Navigation Nowhere." Michael's quest was clear: to embark on a globetrotting adventure while constructing a more uncomplicated and purposeful existence. To bring this vision to life, he acquired a 2004 Thomas Freightliner school bus, affectionately christened as "Navi."
Remarkably, Michael secured Navi for a mere $3,600, setting the stage for a remarkable transformation. Over the course of nine months, this 35-foot bus underwent a stunning renovation that yielded a tiny house on wheels replete with essential amenities. Among its notable features are a well-equipped kitchenette, ingenious storage solutions, a rooftop deck, and a rear-access garage. Furthermore, Navi boasts a solar power system, skylights for natural illumination, and the comfort of an air conditioner.
The heart of Navi's interior is undoubtedly its kitchen, complete with a full-size oven, sink, refrigerator, and countertops meticulously crafted by Michael from reclaimed maple. Adjacent to the kitchen, you'll find a cozy living and dining area, featuring a six-foot-long table and versatile benches. These seating elements double as a sleeping space, comfortably accommodating up to six individuals.
Adding to the ingenuity of this mobile dwelling is its thoughtfully designed bathroom. Navi's bathroom is a "wet bath" configuration, ingeniously integrating the toilet within the shower area. Notably, Michael has chosen composting toilets as a sustainable and eco-friendly choice. A rare find in tiny houses, a small window in the bathroom enhances the sense of openness and connection to the outdoors.
Navi's interior layout also excels in storage solutions. Michael has ingeniously incorporated a pantry, concealed bench compartments, and multiple built-in cupboards to maximize every inch of available space. His transformation of Navi serves as a testament to the possibility of living comfortably while prioritizing environmental sustainability within the confines of a small dwelling.
In sum, Michael Fuehrer's remarkable journey of converting a school bus into a tiny house on wheels encapsulates the allure of a minimalist lifestyle coupled with the freedom to roam. His commitment to sustainable living and creative design exemplify how one can thrive in a compact living space, all while embracing a newfound sense of adventure.
images source : tinyliving.com – Navigation Nowhere