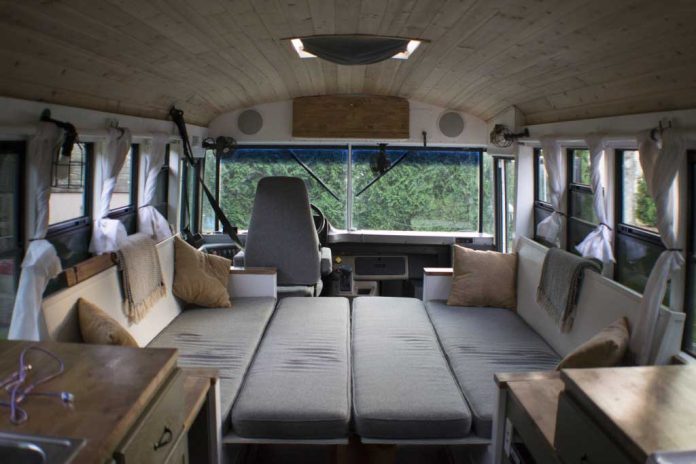 While I'm not sure I could commit to life in a tiny house, I recognize that it has many advantages. Living in a tiny house on wheels means you're not tied to a place or anything – including expensive rent or a crippling mortgage! Michael Fuehrer, of the blog Navigation Nowhere, decided he didn't want to limit himself to one place or one job. He wanted to travel the world and build a simpler, more meaningful life. So Michael bought a 2004 Thomas Freightliner school bus and turned it into the tiny house on wheels of his dreams.
Michael purchased the bus (which he affectionately calls "Navi") for $3,600. It took him nine months to renovate the 35-foot bus, which is also equipped with a kitchenette, storage boxes, a roof deck and a rear-access garage. The bus is also equipped with a solar system, skylights and an air conditioner.
Navi's kitchen has a full-size oven and sink, as well as a refrigerator and countertops that Michael made himself from reclaimed maple. Next to the kitchen is the living/dining room, with a six-foot-long table and benches. All of the benches and couches fold down to form a sleeping area, which means the bus can comfortably accommodate six people.
In addition to Michael's sleeping space, there is also a cleverly designed bathroom. The bathroom is a "wet bath," which means the toilet is basically in the shower. And speaking of toilets, they are composting toilets! There's even a small window in the bathroom, which is rare in tiny houses.
Navi also features multiple storage solutions including a pantry, hidden bench compartments, and multiple built-in cupboards. Michael's transformation just goes to show that one can live comfortably (and with the environment in mind), even in quite a small space.