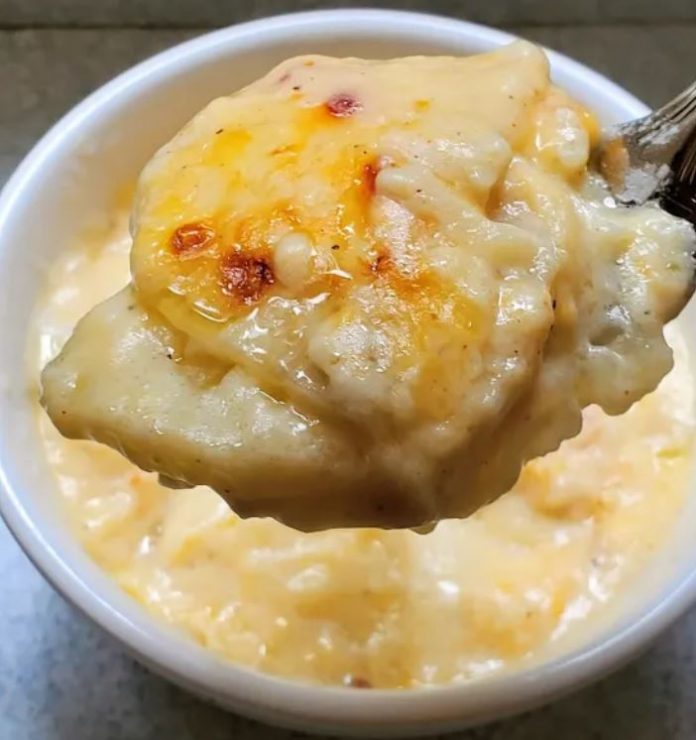 This recipe for Melt in Your Mouth Gruyere and Cheddar Scalloped Potatoes is a perfect side for beef, chicken, or pork. It is creamy and cheesy…so good! Everyone in my family loves this recipe. You can prep it ahead of time and refrigerate it for the next day as well. Just make sure to cool it down to room temperature before refrigerating. If you want an extra burst of flavor, you can add in crumbled bacon or chives. You can also change out the cheese if you do not like Gruyere or you local store does not carry it.
Ingredients :
2 Tbspextra virgin olive oil
2onions medium, finely diced
4 Tbspunsalted butter
4 Tbspall purpose flour
3 c2% milk
3 lbrusset potatoes thinly sliced
6 ozgruyere cheese, grated
6 ozsharp cheddar cheese
·salt and pepper to taste
How to Make Melt in Your Mouth Scalloped Potatoes
Preheat oven to 350 degrees F.
Lightly grease a 9×13 or a deep 9×9 baking dish.
Add olive oil and butter to a medium skillet and heat over medium heat. Add the onions, salt and pepper, to taste. Cook over medium heat, stirring occasionally until onions are transparent in color.
CLICK NEXT PAGE BELOW TO CONTINUE READING …