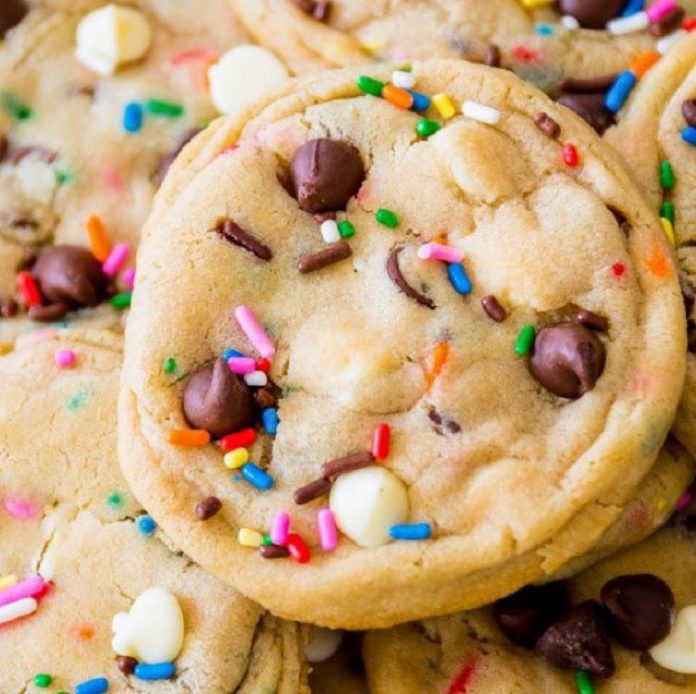 Prep Time: 2 hours, 15 minutes 
Cook Time: 10 minutes 
Total Time: 3 hours 
Yield: 24-30 cookies
Description
These cake batter chocolate chip cookies are a cross between delicious, soft-baked chocolate chip cookies and sprinkle filled funfetti cake. If you like chocolate chip cookies and you like cake batter, you will love these soft & chewy cookies!
---
Ingredients
1 and 1/4 cup (156g) all-purpose flour (spoon & leveled)
1 and 1/4 cup (190g) yellow or vanilla boxed cake mix (not the whole box and you just need the DRY mix)*
1/2 teaspoon baking soda
1/2 teaspoon salt
3/4 cup (1.5 sticks or 170g) unsalted butter, softened to room temperature
1/2 cup (100g) granulated sugar
1/2 cup (100g) packed light brown sugar
1 egg, at room temperature
1 and 1/2 teaspoons pure vanilla extract
1 cup (180g) chocolate chips (I used 1/2 cup of white and 1/2 cup of semi-sweet chocolate chips)
1/2 cup (80g) sprinkles
---
Instructions
In a large bowl, sift flour, cake mix, salt, and baking soda together. Set aside.
Using a hand mixer or a stand mixer fitted with paddle attachment, beat the softened butter and both sugars together on medium speed until creamy and smooth, about 1 minute. Add the egg and mix on high until combined, about 1 minute. Scrape down the sides and bottom of the bowl as needed. Add the vanilla and beat on high until combined. Add the flour mixture to the wet ingredients and mix on low-medium speed until just combined. Add the chocolate chips and sprinkles. Mix on low until the add-ins are evenly combined.
CLICK NEXT PAGE BELOW TO CONTINUE READING …