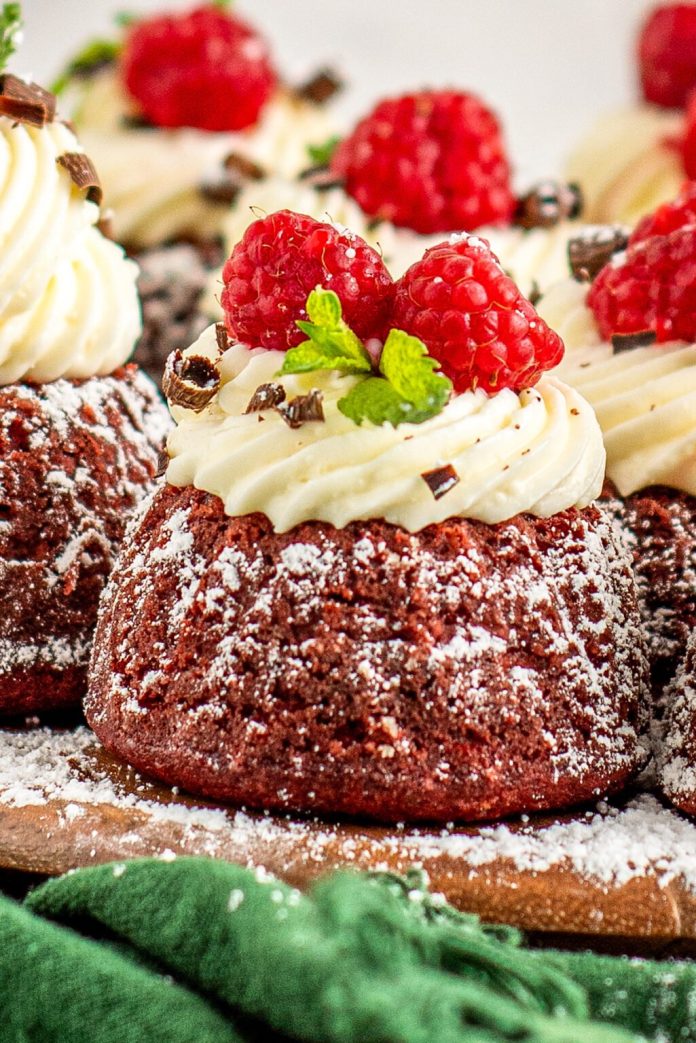 These cute mini red velvet cakes have a fun sponge texture. They are a snack-sized version of our favorite cream cheese frosted cake with lots of cocoa powder and buttermilk.
Cute and Easy Mini Bundt Cakes
This mini red velvet cake with delicious cream cheese frosting and raspberries is perfect for the holiday season. They look cute like Santa's nanny hats. A little icing sugar gives it the texture of rolling snowflakes. Very pretty.
Don't let the fact that these mini cakes are made scare you into thinking they take a long time to make – they don't. In less than an hour, guests will be greeted with bite-sized, beautifully decorated red velvet treats. If you don't have a bundt pan, no problem. You can bake them in cupcake molds.
However, if you make them ahead of time, be aware that they will disappear one by one from your refrigerator or freezer. The good thing is that even if you finish off the fluffy cake all by yourself, it will remain on Santa's "good guy" list.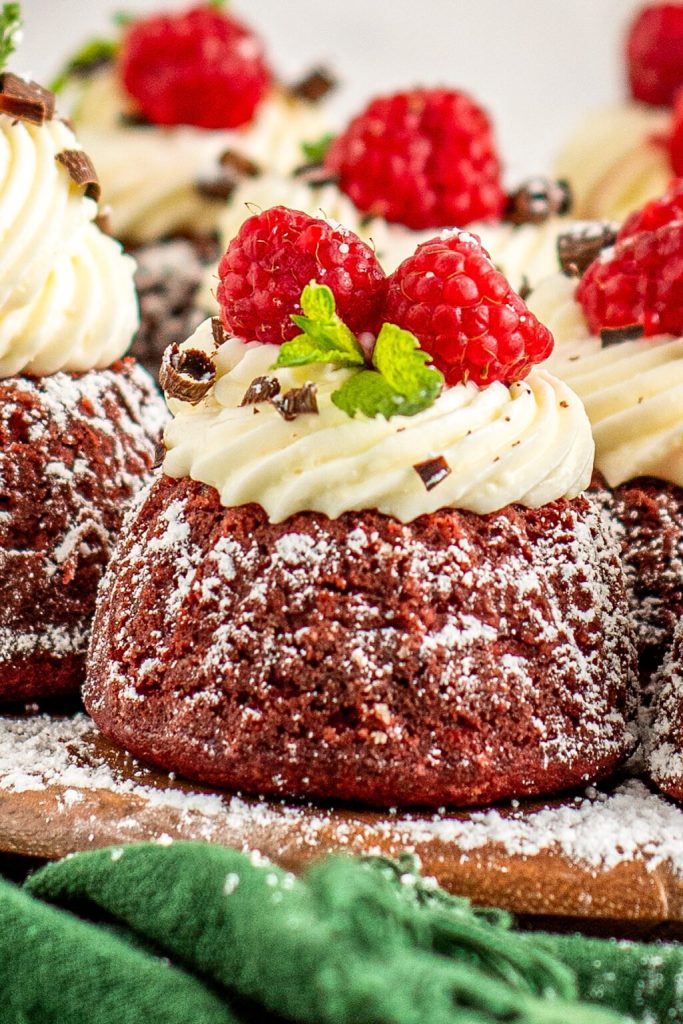 What does Red Velvet taste like?
On its own, Red Velvet tastes like a moist, rich chocolate cake. The buttermilk and vinegar flavors are very pronounced and balance the sweetness of the cake without being overpowering.
The pastry is covered with a cream cheese icing that gives the chocolate dessert a creamy, slightly tart flavor. Best of all, it's not overwhelmingly decadent.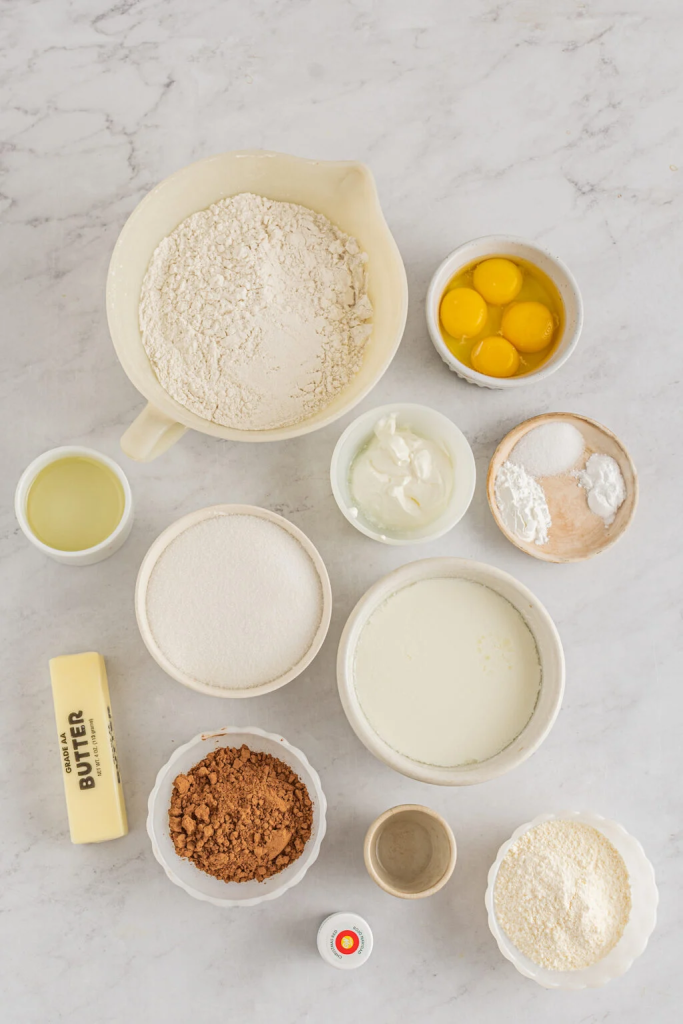 Recipe Ingredients.
Cocoa powder, buttermilk, and red food coloring are the most important ingredients on this list. Once you have these, you're good to go. For exact ingredient amounts, check the recipe card at the bottom of the article.
Ingredients for bundt cake
White sugar (can be white sugar or light brown sugar)
Butter (either salted or unsalted)
Vegetable oil – corn or rapeseed oil is also suitable. Do not substitute melted butter.
Eggs
Sour cream – unsweetened Greek yogurt can be substituted
Buttermilk – If you do not have buttermilk, you can make your own. Take 1 tablespoon from 1 cup of milk and replace with 1 tablespoon of white vinegar.
All-purpose flour – Do not use cake flour, as it will not give you the necessary structure for a bundt cake.
Cocoa Powder … Make sure it is unsweetened. Do not use cocoa powder.
Instant vanilla pudding
Baking powder
Salt … Omit if using salted butter.
Baking soda
White vinegar
Red food coloring – Use food coloring in gel or liquid form. If you use a lot of powdered stuff, it will add an odd salty taste to the dish.
Make the frosting
Cream cheese – full-fat makes a richer frosting, but low-fat is fine if it is of good quality.
Icing sugar (do not use granulated sugar)
Butter. Salted or unsalted is fine.
Milk
Salt … Omit if using salted butter.
How to Make Red Velvet Mini Loaf Cakes
Easy to make as long as you measure your ingredients accurately and don't skip any steps.
Prepare pan. Generously coat a baking sheet with nonstick baking spray.
Stir in butter. In a large bowl, whisk together the butter, sugar, and vegetable oil until well combined and slightly pale in color. You can use a hand mixer or stand mixer.
Add wet ingredients. Slowly add the eggs, sour cream, buttermilk, and vanilla pudding. Mix until completely combined.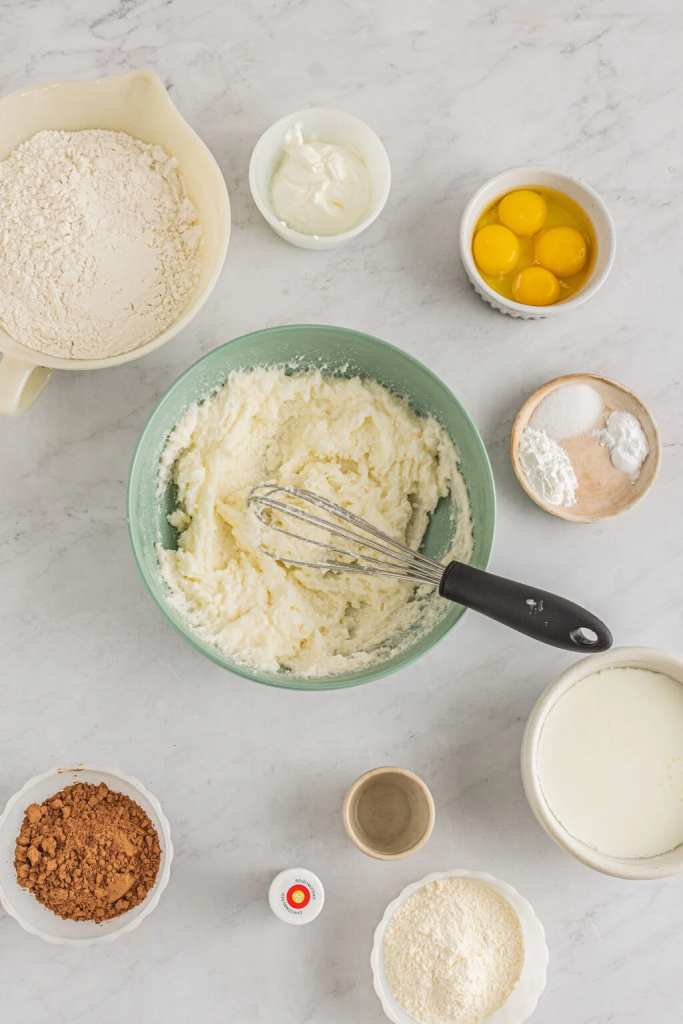 Add dry ingredients. Add flour, cocoa, baking powder, salt and baking soda. Stir until completely blended.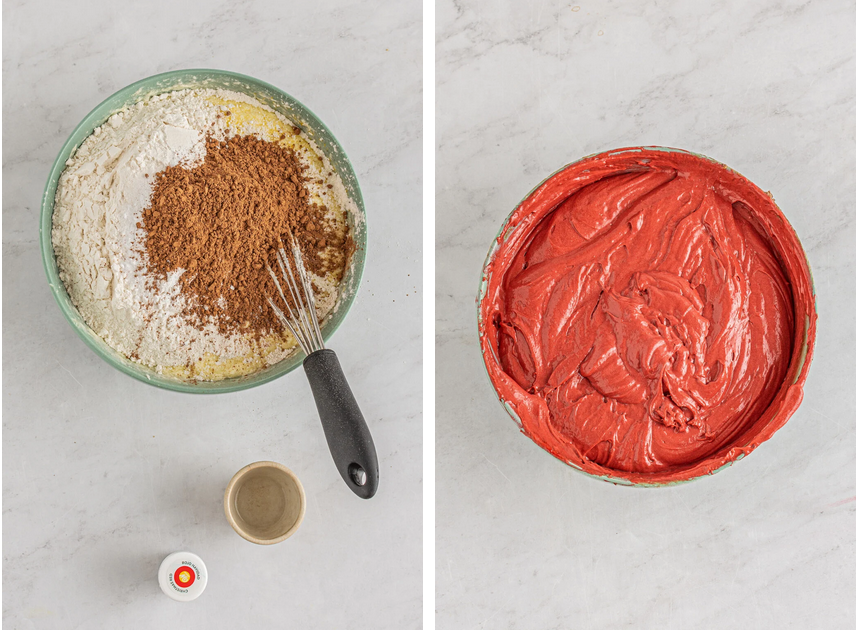 Add vinegar and red food coloring. Mix until dough is completely red, but do not overmix.
Pour in the dough. Fill each cavity up to 50% full of dough. If this number is exceeded, the bundt will overflow during baking.
Baking. Place bundt pan in oven and bake for 16-18 minutes or until toothpick comes out clean or moist crumbs appear.
Cooling. Remove cake from oven and let cool at least 10 minutes. Carefully turn the pan over onto a cooling rack. The cake should fall out easily. If not, you can gently insert a butter knife along the edges to prevent sticking. Set aside to cool completely.
Make the icing. Combine cream cheese, powdered sugar, butter, milk, and salt in a large bowl. Beat on high speed for 2 to 3 minutes or until light and fluffy.
Combine cream cheese frosting ingredients in bowl.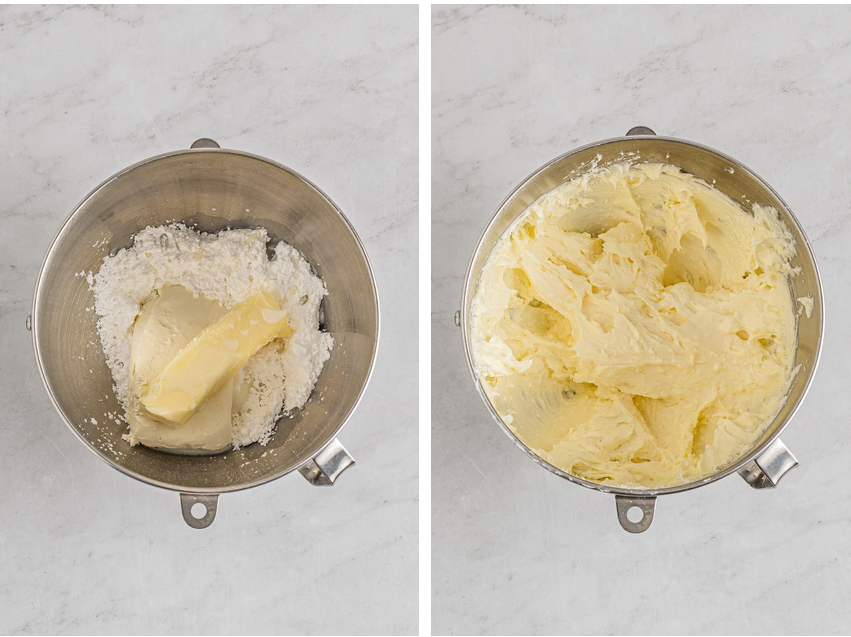 Decorate. When cake is completely cool, transfer frosting to a laminated bag fitted with a star tip. Decorate with frosting if desired. Enjoy!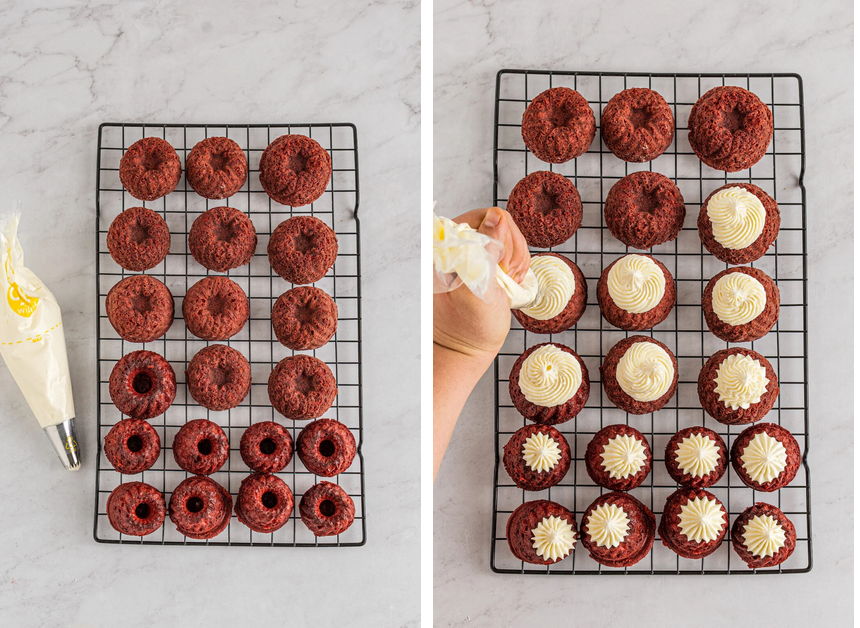 Tips for Success.
It only takes a few seconds, but it can be solved by the end of the day.
Use Ziploc bags. If you don't have laminate bags, substitute larger Ziploc bags. Fill with icing and attach the laminate spout. If not, omit and cut off the corners.
Allow to cool. Even the slightest residual heat will melt the frosting, so wait until the bundt is completely cool.
Brush with butter. If you don't have nonstick baking spray, butter the cake cavity generously and dust with flour.
Make the cupcakes. If you do not have a bundt pan, you can substitute a cupcake pan.
Do not use your eyes. When it comes to baking, measuring ingredients can mean the difference between success and failure.
Red velvet mini bundt cakes decorated on a wooden board.
Serving Red Velvet Bundt Cake
These mini red velvet bundt cakes are best served with a large glass of cold milk poured over them. But if you want to make it a little more special, try pairing it with a good drink or ice cream.
For a redder drink, try red velvet hot chocolate with marshmallow cream. But I also recommend my chocolate milkshake or homemade strawberry milk. If you want something a little boozy, pair it with a carajillo (Mexican coffee cocktail). It's amazing!
Ice cream adds a wonderful creamy flavor without distracting from the cake. Brown butter ice cream, salted caramel ice cream, dulce de leche no churn ice cream.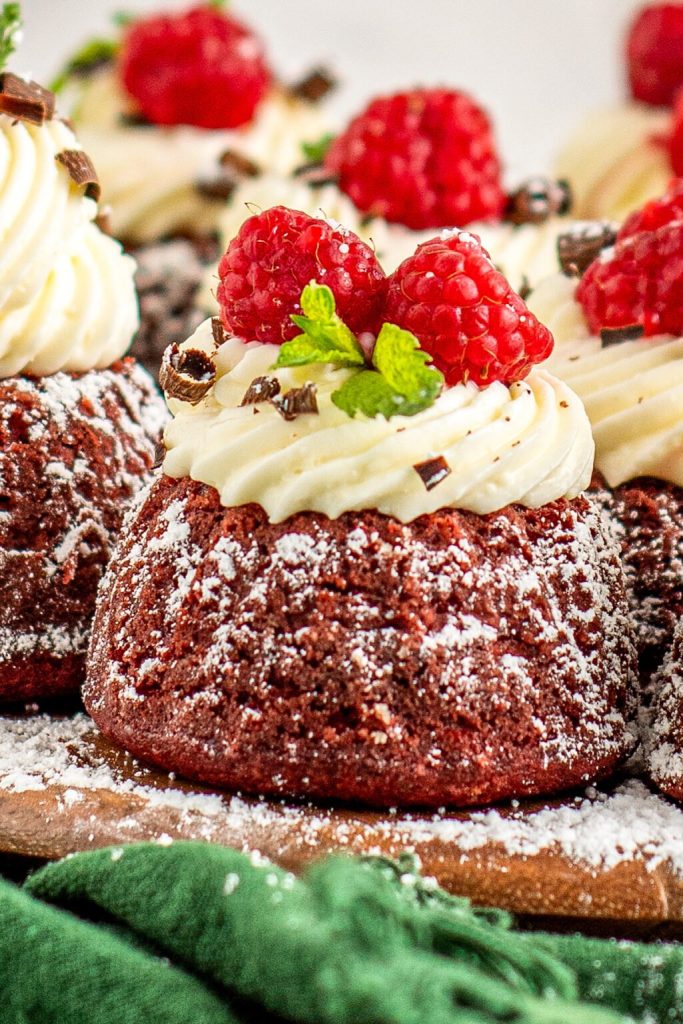 Storage Method
When completely cooled and frosted, the bundt cake can be refrigerated in an airtight container for up to 5 days.
If not frosted, it can be stored at room temperature for up to 1 week.
Can I freeze my homemade bundt cake?
Yes!!! The baking process is the same whether you use frosting or not.
Place the completely cooled bundt cake on a baking tray. Place in the freezer for 30 minutes. Then wrap in cling film and place in a bag or container suitable for freezing. Frozen cakes can be stored for up to 2 months and unfrozen cakes for up to 3 months.
Mini Red Velvet Bundt Cakes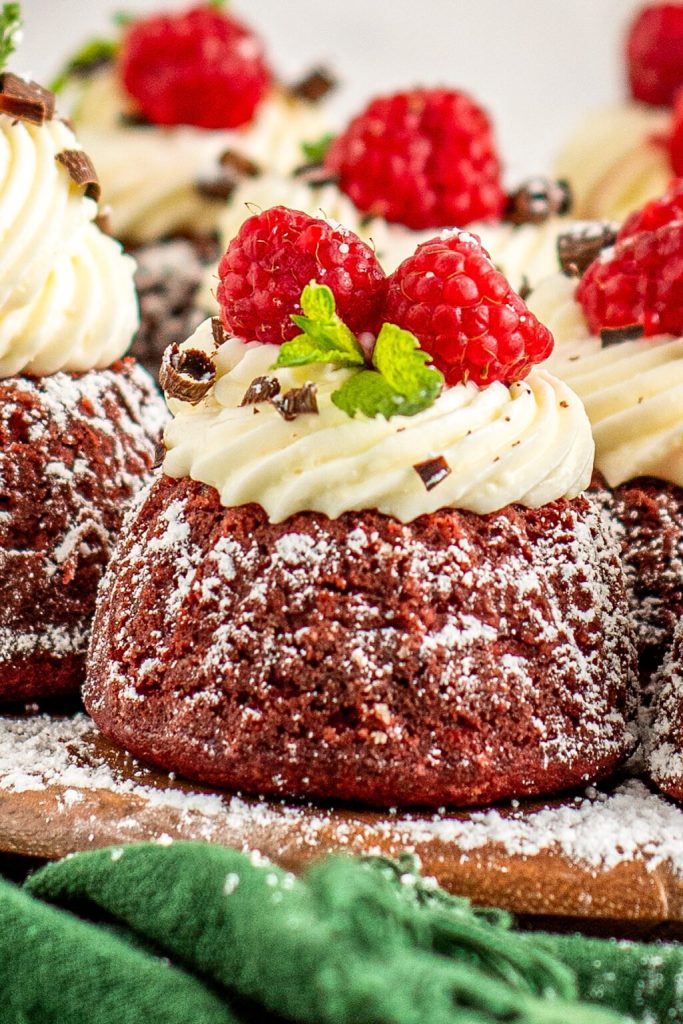 Preparation time 30 min.
Cooking time 17 min.
Total time 47 min.
Fluffy and pretty mini red velvet cakes with a small amount of cream cheese frosting make the perfect festive sweet treat.
Ingredients
For the Bundt Cakes:
1 ⅔ cup granulated sugar
½ cup unsalted butter, room temp
⅓ cup vegetable oil
2 eggs + 2 yolks
¼ cup sour cream
1 cup buttermilk
2 ¾ cup all purpose flour
⅓ cup cocoa powder
1 package (3.4 oz) instant vanilla pudding
1 ½ teaspoon baking powder
1 teaspoon salt
¾ teaspoon baking soda
1 ½ teaspoon white vinegar
1 tablespoon red food coloring
For the Frosting:
8 oz cream cheese
1 cup powdered sugar
½ cup unsalted butter, room temp
2 tablespoon milk
½ teaspoon salt
Instructions
Preheat the oven to 350°F. Spray at least one mini bundt pan with plenty of non-stick baking spray. 
In a large mixing bowl, add the sugar, butter and vegetable oil to a large mixing bowl. Whisk together until smooth and creamy and slightly lightened in color.
Add in the eggs and sour cream and whisk to combine. Add in the buttermilk and whisk to incorporate. 
Next, add in the flour, cocoa, vanilla pudding, baking powder, salt and baking soda and whisk just until combined. Whisk in the white vinegar. Lastly, add in the red food coloring and whisk until all of the batter is red. 
Fill each of the mini bundt pans halfway full with batter. Place into the oven to bake for 16 to 18 minutes or until a toothpick inserted comes out clean or with moist crumbs. 
Once baked, remove from the oven and place onto a cooling rack to cool for a few minutes. If you only have one pan and are baking in batches, carefully flip the pan over onto the cooling rack. (If the bundt cakes do not fall out of the pan, gently tap each one with the heavy end of a butter knife to help dislodge the cakes from the pan.) Continue baking bundt cakes until all of the batter is used. 
After the mini bundt cakes are baked and cooled, make the cream cheese frosting. Add all of the ingredients to the bowl of a stand mixer fitted with a paddle attachment. Beat together on high speed for 2-3 minutes or until completely smooth. 
Spoon into a piping bag fitted with a star tip. Pipe a small swirl of frosting onto the top of each mini bundt cake.
Notes
Storage: Refrigerate fully cooled and frosted bundt cakes in an airtight container for up to 5 days.
Nutrition Information:
Yield: 28 Serving Size 1
Amount Per Serving : Calories : 242 Total Fat : 13g Saturated Fat : 6g Trans Fat : 0g Unsaturated Fat: 6g Cholesterol: 54mg Sodium: 229mg Carbohyd rates: 28g Fiber: 1g Sugar: 17g Protein: 3g