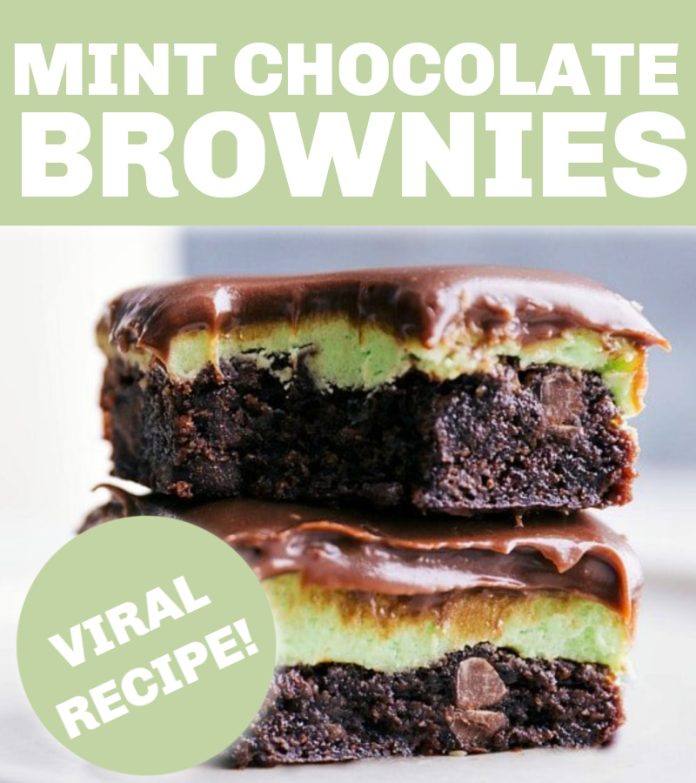 Easy-to-make mint brownies topped with thick mint frosting and soft chocolate ganache.
Mint brownies.
When I was a junior at BYU, I worked for a while at Creamery®, an ice cream and bakery in Provo. I worked early in the morning, went to class, did homework, and waited tables at night. If you're from Utah and live near Provo, you probably know about the Creamery®. It's pretty famous for its ice cream in the Provo suburbs (Graham Canyon ice cream contains all the good things in life). They are also famous for their doughnuts and mint brownies.
If you're the first one to the office, when an order comes in, you're given the enviable task of cutting the mint brownies. Because these little nooks and crannies and edges aren't very pretty. It's the best job I've ever had. I mean, I was allowed to eat all the ugly pieces. Naturally, I always went to work early. And, I often had to cut the ends off the pieces and eat them.
I think this experience made me an expert on everything related to mint brownies. And by expert, I mean I don't settle for second-rate mint brownies. This recipe took me a few months to make. I experimented with different ingredients, quantities and preparation methods, and I'm excited to finally be able to share my favorite mint brownies with you.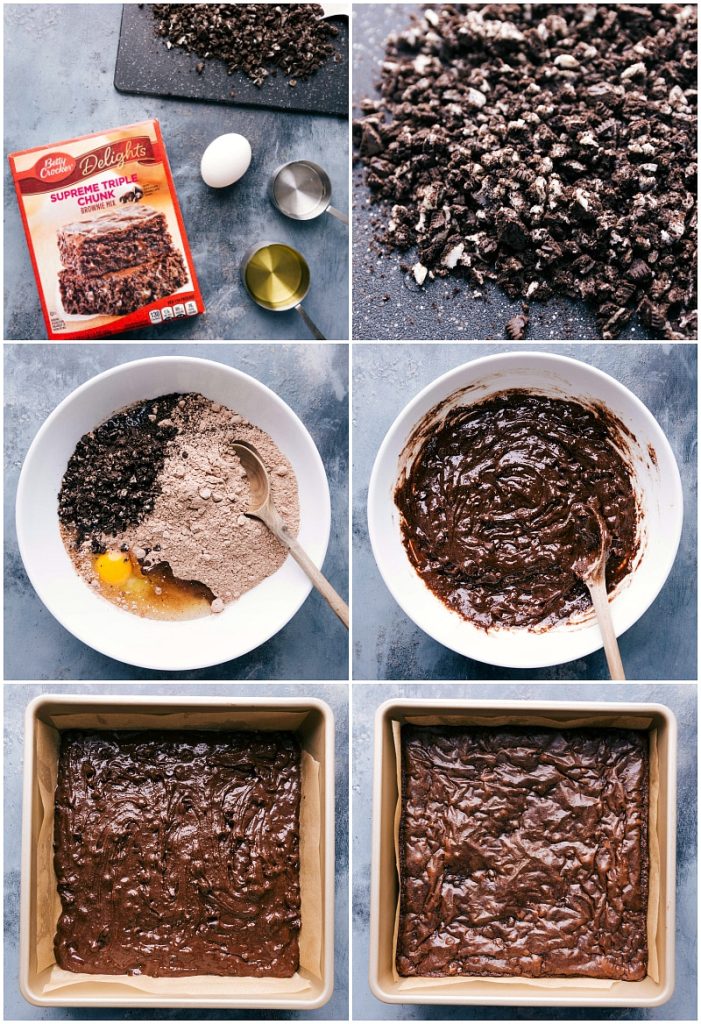 How to Make Peppermint Brownies
Below you will find a detailed explanation of the three layers of this dessert. The photo collage shows the process of making the brownies, frosting and ganache.
Mint brownie base: brownies
For these brownies, start with the boxed mixture. Really, I think brownie mixes are delicious and easy to use. It's nice to have a little shortcut here, especially if you're making the frosting and toppings from scratch. If you prefer to make brownies from scratch, substitute your favorite brownie recipe for the mixture in this recipe (make sure it fits in an 8×8 or 9×9 inch pan).
My two favorite mixes are Betty Crocker's Supreme Triple Chunk ® (17.8 ounces) or Ghirardelli Chocolate Triple Fudge Brownie Mix ® (19 ounces). (Of the two, I like Betty Crocker's mix the best).
The mix contains chopped Oreos ® to jazz it up. You don't see the Oreo cookies during baking, but they are incorporated into the batter to make the brownies richer, softer, and more chocolatey. Oreo cookies are not essential, but they are delicious.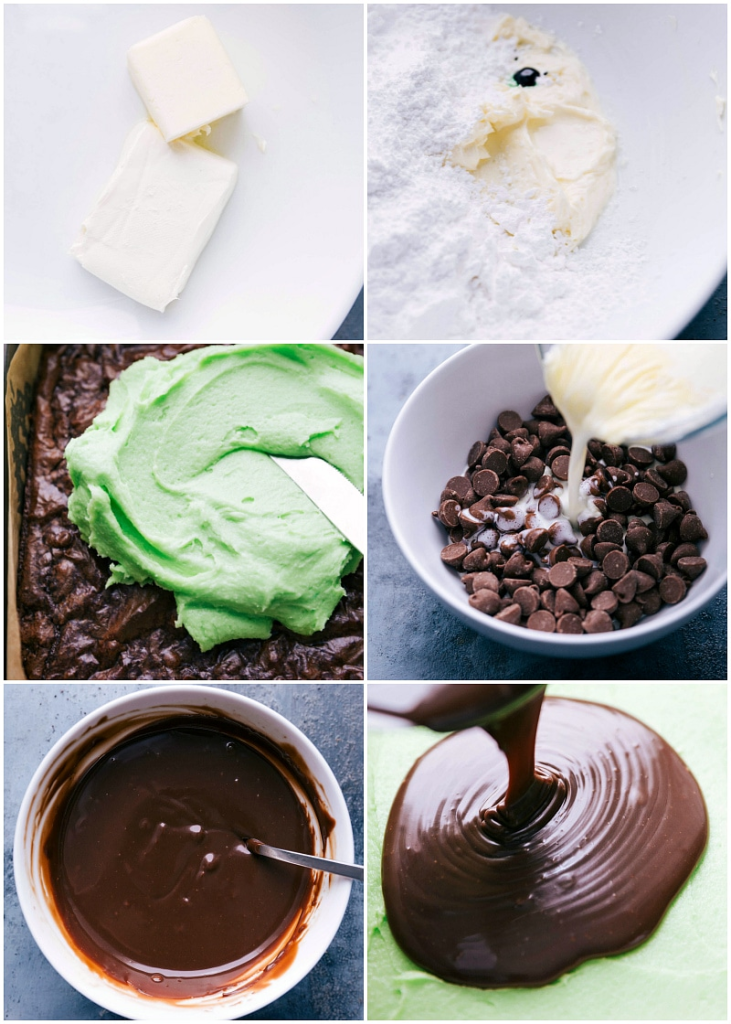 Mint brownie middle: mint frosting
Peppermint brownies have a layer of buttercream, but this recipe uses cream cheese frosting. I like to add cream cheese here because it adds flavor to the frosting and balances out the sweetness of the brownie and fudge topping.
Coloring can make the brownies look minty or glamorous (for St. Patrick's Day), but this is optional. Without food coloring, the frosting will turn white, but the flavor will not change.
Use peppermint extract instead of mint. Peppermint extract (which has a strong wintergreen smell) will make the frosting taste like toothpaste. Use 1-1.5 teaspoons for the icing, depending on the strength of the mint flavor. Different brands of peppermint extract vary in strength (some are stronger). I use 1 teaspoon of McCormick® peppermint extract, which is a good amount.
Mint Brownie Topping: Chocolate Ganache
And finally, the chocolate ganache topping, which is actually my favorite part of the mint brownie! This topping is rich, dense and luxuriously smooth.
I used milk chocolate for the topping, but if you don't like it too sweet, you can use semi-sweet or dark chocolate chips.
The topping is soft, so allow plenty of time for the topping to set before cutting and serving.
Mint Brownie Tips
Line the pan with parchment paper to make it easier to remove the bars. You'll thank me later for the mint frosting and an extra layer of ganache.
Make sure the cream cheese and butter have softened to room temperature before mixing.
If the brownie mix has a fudge layer, remove it from the mix and spread it on top of the brownies directly from the oven.
Cut the Oreo cookies into small pieces. Instead of adding large chunks of Oreo to the brownie, cut it finer so that it can melt and give it extra chocolate flavor.
Be patient with these layers. The brownies should be completely cooled and firm before adding the frosting, and the frosting should be cooled before adding the chocolate ganache. This dessert should be layered over time for best results. I usually make the brownie base the night before.
Wash the knife in hot water and wipe it with a towel to make it easier to cut.
Storage.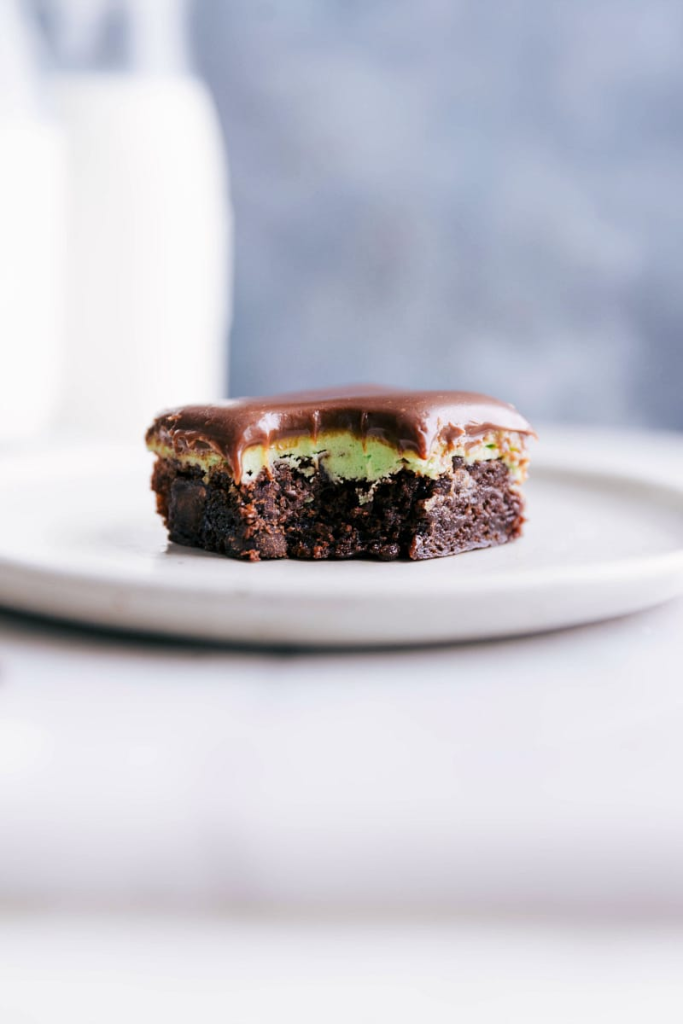 Store leftovers in an airtight container in the refrigerator. Brownies are best eaten within 3-4 days. The dairy products in the frosting and ganache are not recommended to be frozen or thawed.
CLICK NEXT PAGE BELOW TO CONTINUE READING …