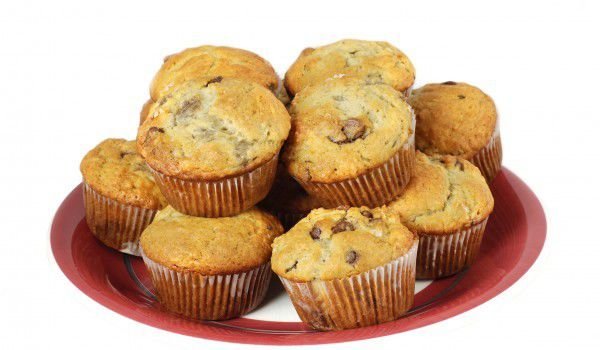 "It`s safe to say we`re addicted to these muffins with bananas, walnuts and oats."
Preparation : 20 min.
Cooking : 20 min.
Тotal : 40 min.
Servings : 8 pcs
INGREDIENTS
butter – 1/2 cup
brown sugar – 1 cup
eggs – 2
bananas – 1 cup mashed, ripe
lemon juice – 1 tsp
flour – 1 cup sifted
oats – 1 cup
baking powder – 1 packet
salt – 1/2 tsp
walnuts – 1 cup, or use other nuts
HOW TO COOK
Beat the butter and sugar, and eggs, but separately, and then mix them. Add the bananas and lemon juice. Mix the flour, oats, baking powder and salt and quickly add them to the banana mixture.
Chop the walnuts into small pieces and add them. The dough should be slightly thicker than normal cake batter. If desired, add 1-2 tablespoons of flour or yogurt.
Put the dough into greased muffin trays and bake at 392°F (200 °C) about 15-20 minutes.