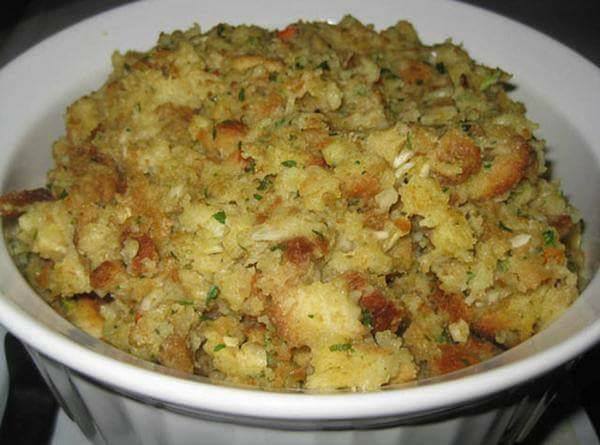 Celebrate the essence of Thanksgiving with this delectable stuffing that elevates tradition to new heights. Embrace the culinary adventure and create cherished memories with our unique recipe for Savory Thanksgiving Harvest Stuffing.
Ingredients:
1 finely chopped onion
1 vibrant green bell pepper, diced
1 cup of unsalted butter
3/4 cup of finely diced celery (or a teaspoon of celery seed)
2 beaten eggs
2 cups of high-quality canned chicken broth
1 bag (16 oz.) of Pepperidge Farm herbed seasoned stuffing (crumbs, not cubes)
1 bag (16-20 oz.) of soft bread cubes
Fresh garlic
Poultry seasoning
Fresh parsley or dried parsley flakes
1/2 teaspoon of oregano
1 Reynolds turkey-sized baking bag
Directions:
Begin the culinary journey by combining the herbed seasoned stuffing crumbs with soft bread cubes in a large mixing bowl.
In a frying pan, dance flavors into the mix by melting butter over medium-high heat. Sauté onions, green peppers, and celery (or opt for the aromatic touch of celery seed) until a symphony of softness and translucency envelops the kitchen.
Pour this luscious medley of melted butter and vegetables over the bread cubes and crumbs. Let the celebration of textures begin!
Introduce the beaten eggs to the ensemble and toss gently. It's time to weave in the enchanting notes of garlic powder, poultry seasoning, dried parsley, and a hint of oregano. Toss once again, ensuring each element becomes a harmonious part of the melody.
Now, the stage is set for the pièce de résistance – the chicken broth. Gradually pour it over the mixture, allowing the stuffing to become delightfully moist but not overly wet. Adjust as needed, preserving the remaining broth if the stuffing leans towards perfection without it.
Give it one final toss, ensuring every morsel is draped in the rich flavors. Ready to stuff the turkey? Pack it in snugly, creating a flavorful cocoon inside.
For a little extra magic, rub softened butter all over the turkey, creating a golden symphony on the skin. A dash of paprika adds the finishing touch.
Assemble the turkey in a Reynolds baking bag, generously sprinkling about 2 tablespoons of flour inside before introducing the turkey. Seal the bag tightly, make three elegant slits for ventilation, and place it in a roasting pan with the lid secured.
The baking bag, a culinary wizard, will reduce baking time while sealing in the succulent juices. No need to baste, but if you fancy, a couple of gentle bastes during the process add to the allure.
Conclusion:
In the finale, as the aroma of a perfectly baked turkey fills the air, remember to make those strategic slits in the bag. A treasure trove of flavorful broth awaits within, ready to be transformed into the perfect gravy to crown your Thanksgiving feast. Our Savory Thanksgiving Harvest Stuffing is not just a recipe; it's an invitation to create culinary poetry and savor the symphony of flavors that make this festive occasion truly unforgettable.
image source: just a pinch