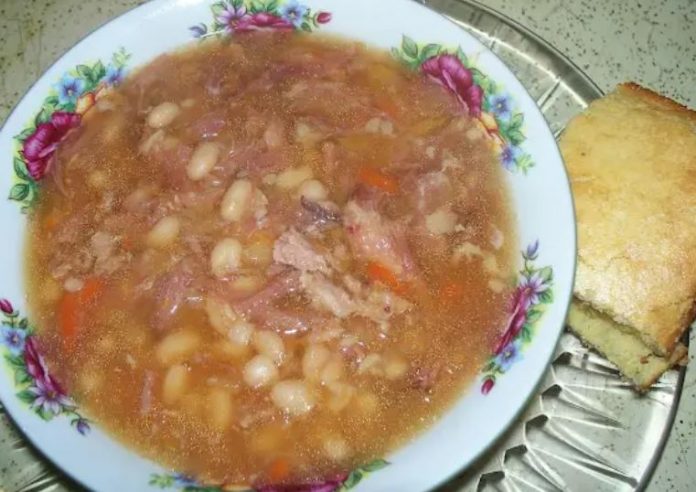 I just love this bean soup recipe , my mom taught me how to make this years ago but I have changed it a bit to fit my tastes.
You can make this soup with different types of beans if you prefer too.
This soup can be made on the stove top too if you don't have a crock-pot.
Serves: 8 to 10 
Cook: 8 Hr
Method: Slow Cooker Crock Pot
Ingredients :
1 lbsmall navy beans (or your favorite bean)
1onion ; chopped
2 stickcelery ; chopped
3/4 cchopped carrots
2 Tbspchopped garlic from a jar
1/2 tsppepper
2bay leaves, dried
·leftover ham bone with meat on it
1-1/2 cchopped up ham ; optional
4-5 cwater
·broth from the cooked ham
3 Tbspfat from ham broth
How to Make Navy Bean And Ham Soup (in a crock-pot)
  Step-by-Step 
About Navy Bean And Ham Soup (in a crock-pot)
Course/Dish: Bean SoupsOther SoupsPorkMain Ingredient: Beans/LegumesRegional Style: AmericanOther Tags: Quick & EasyHealthyHashtags: #Crock Pot#beans#ham#ham bone#soup#navy bean