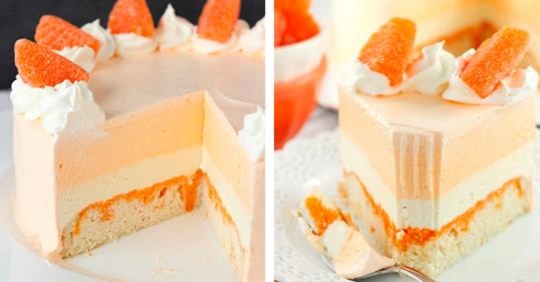 This Orange Creamsicle Ice Cream Cake is light, fruity and just like eating an orange creamsicle in ice cream cake form! It's been a long time in the making and I'm so excited to share it with you!
I have always been a big fan of the classic orange creamsicle pop. That combination of orange and ice cream is just heavenly. It is and always will be a favorite. Probably in part because it reminds me of being a kid.
I've been wanting to make an ice cream cake version of the pop for the longest time. I actually have an ongoing list of things I want to make but haven't quite figured out how I want to do them yet. This cake was on that list for a while.
I finally decided to go for it!
INGREDIENTS:
CAKE LAYER
3/4 cup + 2 tbsp all purpose flour
1/2 cup sugar
1 1/4 tsp baking powder
6 tbsp salted butter, room temperature
2 egg whites
1 1/2 tsp vanilla extract
1/4 cup sour cream
1/4 cup milk
3 tbsp hot water
3 tbsp orange JELLO powder*
Ice Cream Layers
12 oz cream cheese, softened
3/4 cup sugar
1/4 cup milk
12 oz Cool Whip
3 oz package orange JELLO powder, less 3 tbsp*
2 tbsp hot water
2 tsp vanilla extract
ADDITIONAL INGREDIENTS
8 oz Cool Whip
orange candy slices
orange gel icing color
*You need one 3 oz package of orange JELLO powder. 3 tbsp will be used for the cake, the rest will go into the ice cream layer.
DIRECTIONS:
Click Next Button Bellow for Full Recipe…