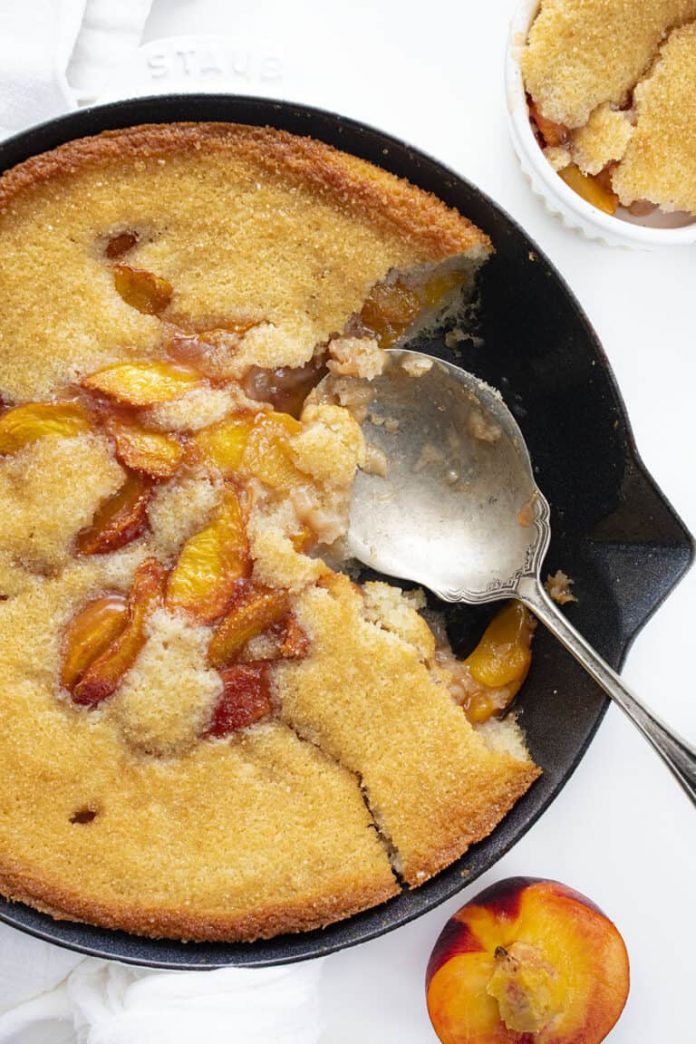 PREP TIME : 20 MINS
COOK TIME : 1 HR
TOTAL TIME : 1 HR 20 MINS
Peach Skillet Cake is a dessert made with sweetened fresh peaches that are poured over a batter mixture and topped with turbinado sugar.
COURSE: DESSERT
CUISINE: AMERICAN
KEYWORD: PEACH SKILLET CAKE
SERVINGS: 8
CALORIES: 348 KCAL
INGREDIENTS :
BATTER
½ cup (1 stick or 113g) butter, melted
1 cup (200g) granulated sugar
1 cup (125g) all-purpose flour
1½ teaspoons baking powder
½ teaspoon kosher salt
1 cup milk
PEACH MIXTURE
5-6 ripe peaches, peeled, cored, and sliced (about 5 cups)
⅓ cup (67g) brown sugar
2 tablespoons cornstarch
1 teaspoon cinnamon
SUGAR TOPPING
1½ tablespoons turbinado sugar
INSTRUCTIONS :
Preheat the oven to 350°F and spray a 10-inch cast-iron skillet with nonstick cooking spray. (You could also use a 9×13-inch baking dish.)
BATTER
In a medium bowl, combine sugar, flour, baking powder, salt, and milk. Slowly whisk in the melted butter. Pour the batter into the skillet.
PEACH MIXTURE
Add the sliced peaches, brown sugar, cornstarch, and cinnamon to a saucepan over medium heat and stir to combine, simmering for 2-3 minutes until sugar is dissolved and peaches are softened slightly. Add the peach mixture evenly over the top of the batter.
CLICK NEXT PAGE BELOW TO CONTINUE READING …