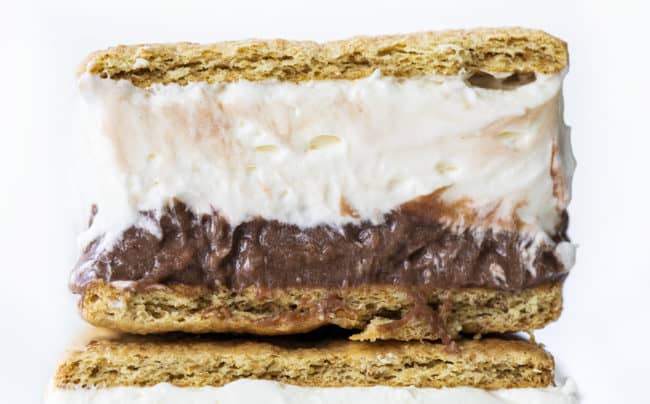 PREP TIME : 10 MINS
FREEZE : 4 HRS
TOTAL TIME : 4 HRS 10 MINS
Frozen S'mores are a sweet treat with graham crackers surrounding layers of a cream cheese and marshmallow mixture with a layer of chocolate pudding.
COURSE: DESSERT, SNACK
CUISINE: AMERICAN
KEYWORD: FROZEN SMORES
SERVINGS: 12
CALORIES: 182 KCAL
INGREDIENTS :
1 package (8 ounces) cream cheese, room temperature
1 jar (7 ounces) marshmallow fluff
1 tub (8 ounces) cool whip
2 cups (490g) milk
1 box (3.4 ounces) instant chocolate pudding
12 graham crackers, broken into 24 squares
INSTRUCTIONS :
Prepare a 9×13-inch pan by lining it with parchment paper. (The paper should extend up the sides.)
In a medium bowl, combine the cream cheese, marshmallow fluff, and cool whip. Pour the mixture into the prepared 9×13-inch pan.
CLICK NEXT PAGE BELOW TO CONTINUE READING …