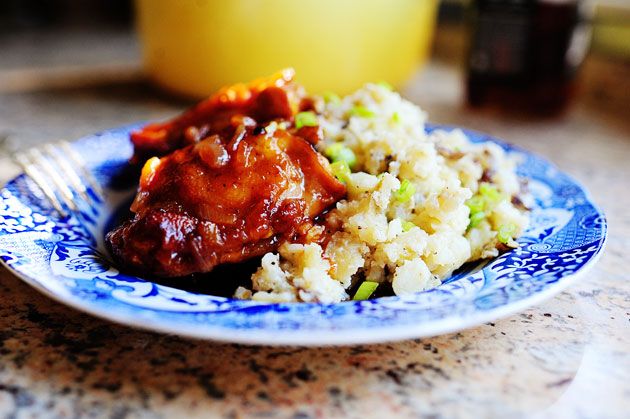 YIELDS: 6 servings
PREP TIME: 10 mins
COOK TIME: 1 hr 30 mins
TOTAL TIME: 1 hr 40 mins
Ingredients:
12 bone-in, skin-on chicken thighs
2 tbsp. olive oil
2 tbsp. unsalted butter
1 large Vidalia onion, finely chopped
1 1/2 cups premium whiskey
12 oz. smoky barbecue sauce
1 jar of luscious peach marmalade
1/2 cup water
2 tbsp. Worcestershire sauce
4 cloves of garlic, minced
3 scallions, thinly sliced
Directions:
Begin by preheating your oven to a toasty 300 degrees.
In a sturdy, oven-safe pot, heat up the olive oil and butter over medium-high heat. Take your time placing the chicken thighs, four at a time, into the pot, making sure the skin side is down. Let them sizzle until they turn a beautiful golden brown on both sides, then transfer them to a waiting plate. Repeat this process until all the chicken has been kissed by the heat.
Now, pour off about half of the pan's grease, and then put the pot back on the stove. Toss in the finely chopped Vidalia onion and give it a good stir. Allow the onions to cook for about 2 minutes until they start to turn translucent. Next, it's time for the star of the show – the whiskey. Carefully pour it into the pot (watch out if you're using an open flame!) and stir, scraping all those delicious bits from the bottom of the pan. Let the whiskey reduce for a minute or two, releasing its aromatic charm.
Add the smoky barbecue sauce, the jar of luscious peach marmalade, water, Worcestershire sauce, and minced garlic cloves to the party. Stir this delectable concoction until it harmoniously melds together. Then, with a sense of anticipation, nestle those golden-brown chicken thighs back into the pot, making sure their skin side is facing up. Cover the pot and let it find its cozy spot in the oven.
Allow the magic to happen as the chicken simmers and soaks up all the flavors for the next 1 1/2 hours. The aroma will be tantalizing!
When the time is up, take the pot out of the oven and prepare to be amazed.
To serve, plate up those succulent chicken pieces over a generous mound of creamy mashed potatoes, and sprinkle a confetti of thinly sliced scallions on top for a burst of freshness.
There you have it, a culinary masterpiece that combines the boldness of whiskey, the sweetness of peaches, and the smokiness of barbecue sauce to create a symphony of flavors that will leave everyone at the table asking for seconds. Enjoy!
image source : thepioneerwoman.com