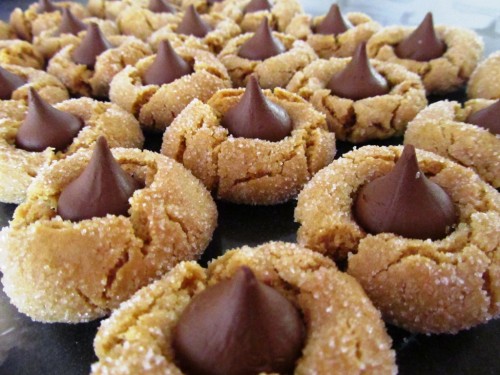 "Look, there's no metaphysics on earth like chocolate cookies."
― Fernando Pessoa
What is a Christmas day without peanut butter kiss cookies? Absolutely nothing! These delicious crispy well-made cookies are everyone's favorite especially when served with a big glass of milk and melted chocolate. Still thinking about it? I bet you already decided to try it out!
Ladies, this recipe would steal your kid's heart (a very great way to make them eat homemade cookies instead of store bought ones) and of course all your folks; In just 20 minutes, prepare for them something delicious and tasty.
Time to do some groceries, pick your favorite peanut butter brand or follow my notes to make a 10 minutes' homemade peanut butter to freely use in this recipe and store what's left for later use.
"Peanut Butter Loves Chocolate, and Chocolate Loves Peanut Butter, and that's just a FACT." -Random
How to section :
Simple Steps:
Heat the oven to 375°F.
Mix ½ cup sugar, brown sugar, peanut butter, butter, shortening, and egg thoroughly. Stir in flour, baking soda and baking powder.
Mold dough into 1-inch balls; roll in sugar. Place about 2 inches apart on ungreased cookie sheet.
Bake until edges are light brown, 8 to 10 minutes.
Immediately press candy kisses firmly into each cookie, cool.
10 minutes' homemade peanut butter?
Ingredients:
2 – 3 cups of dry roasted peanuts
2 tablespoons of honey (you can replace it with sugar)
¼ teaspoon of salt
Steps:
Take your food processor, put the peanuts in it and let it run for 5 minutes. Add your honey and salt; stir. Place it in the refrigerator for some time before using and you're all set!
Ingredients :
½ cup of sugar
1 big egg
½ teaspoon of baking powder
¾ teaspoon of baking soda
½ cup of sugar
¼ cup of shortening
3 dozens of Hershey's chocolate kisses
1 ½ cups of All-purpose flour
¼ cup of softened butter
½ cup of creamy peanut butter
½ cup of brown sugar
granulated sugar
Extras:
Melted chocolate
Fruit's slices (apples, orange, bananas)
Peanut Butter Hershey's Kiss Cookies
Prep time: 10 minutes
Cooking time: 10 minutes
Total time: 20 minutes
Servings: 30 servings
I'm pretty sure that everyone will ask for more! Enjoyed your cookies? Don't hesitate to tell us about your journey with this fabulous recipe.
Important notes:
Stick to the baking time given (8- 10 minutes), you don't need to get browned cookies (they will set up after being cooled at kitchen temperature)
Unwrap your Hershey's kisses before baking, top your cookies immediately after getting them out from the oven.
Better use the super creamy peanut butter kind.
Serving Ideas
These crispy cookies go well with fresh fruits slices, melted chocolate and jelly. As for drinks, a cup of milk with an addition flavor like lime or strawberries would be perfect!
These are some facultative ideas:
Drinks:
Black Tea
Hot Cider
Hot Chocolate
Extras:
Tiramisu dip
Caramel Apple dip
Sprinkles
WHAT TO DO WITH RUINED PIECES OF COOKIES?
If you ever had some ruined cookies, here's some brilliant ideas to use them:
-Make a cookie crumb pie crust.
-Make mini-cheesecakes.
-Make a shake.
-Add texture to Ice cream cakes.
-Make creative Nanaimo bars.
HOW TO MAKE IT :  
CLICK NEXT PAGE BELOW TO CONTINUE READING …