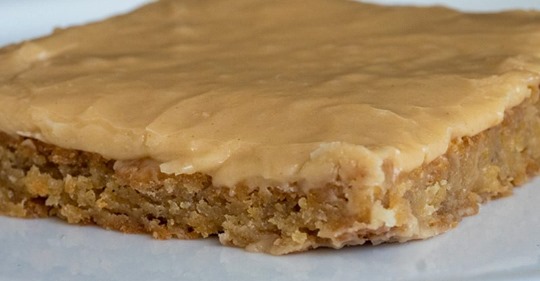 I don't know about you, but at my elementary school they served AMAZING desserts. Sometimes I find myself craving the lunch ladies' chocolate cake or homemade cinnamon rolls. Nowadays, I don't think that they even serve dessert in elementary school! Poor kids don't know what they are missing!
These peanut butter bars are SPOT ON to what the lunch ladies served! Trust me- you have to try these!
The only problem with these Lunch Lady Peanut Butter Bars is that they are so addicting, you can literally eat a whole pan by yourself!
Trust me, I speak from experience.
These are the best peanut butter bars I've ever tasted and they are perfect for feeding a crowd!  I usually have all the ingredients on hand so if I ever need to make a treat at the last minute, these are my go-to!
To Make this Recipe You'Il Need the following ingredients:
Open Next Button Bellow for Full Recipe