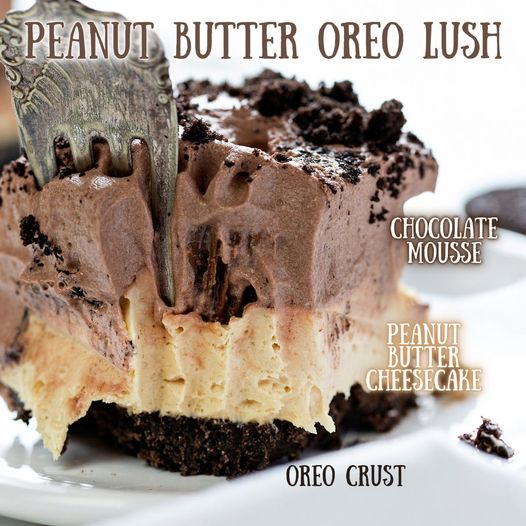 If, like me, you love peanut butter desserts, this one is definitely one of my favorites. The thick oreo crust is the perfect complement to the peanut butter. We introduced peanut butter into this dessert. In many different and amazing ways!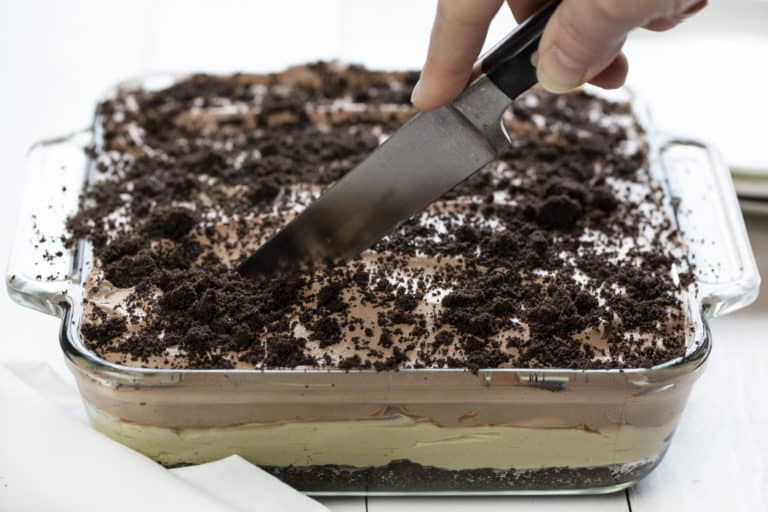 How to Make this Peanut Butter Dessert
Since this is a no-bake Peanut Butter Dessert the steps are relatively simple.  I'll break each one down for you.
Oreo Crust
The crust is a simple mixture of crushed Oreo Cookies and butter.  The consistency of the cookie crumbles is important, so I would recommend using a food processor to ensure that you can get the finest grain.  For this dessert, I left the white cream filling in the Oreo during the food processing step.
The Key to the Perfect Crust
Since this is a no-bake Oreo crust, just a few small tips on how to get it right the first time.  Butter and pressure. Make sure that all of the Oreo crumbles are completely covered in butter.  The butter helps them solidify and stick together.  Proper pressure, such as when you use a glass to press down, ensures an even, level crust.
When it comes to peanut butter desserts, this Peanut Butter Oreo Dessert will top them all.  This delectable treat has layers of velvety peanut butter filling, peanut butter filled chocolate candy, and a rich hot fudge mousse piled on top of an Oreo cookie crust
Ingredients
OREO CRUST
▢30 Oreo cookies
▢½ cup  (113g) butter, melted
CREAM CHEESE LAYER
▢8 oz  cream cheese, softened
▢½ cup (128g) creamy peanut butter
▢1 cup  (125g) confectioners sugar
▢8 ounces  whipped topping
▢30 mini peanut butter cups (or 9 full size), chopped
CHOCOLATE MOUSSE LAYER
▢1 package (3.9 ounces) dry instant chocolate fudge pudding mix
▢2 cups (490g) whole milk
▢8 ounces whipped topping
▢½ cup (63g) confectioners sugar
Instructions
OREO CRUST
Using a food processor, process 30 Oreos cookies until they are a fine crumb (it's ok if there are a few cookie chunks).
Set aside ¼ cup for the topping.
In a large bowl, combine remaining cookie crumbs with melted butter until fully incorporated.
Press cookie mixture into an ungreased 9-inch square dish; set aside.
CREAM CHEESE LAYER
In a large bowl, beat the cream cheese until light and fluffy.
Add peanut butter and 1 cup confectioners sugar and stir together until smooth.
Fold in the whipped topping. Spread over crust.
Sprinkle with chopped peanut butter cups.
CHOCOLATE MOUSSE LAYER
In another large bowl, beat the milk, pudding mix, and confectioners sugar until soft-set (about 2 minutes).
Fold in whipped topping and continue folding until fully combined. Spread over chopped peanut butter cups. (I did not use all the chocolate mousse for this layer, some was put in individual cups for the kids.)
Crush remaining cookies; sprinkle over the top. Cover and chill for at least 2 hours.
Course: Dessert
Keyword: Peanut Butter Oreo Dessert
Servings: 12
Calories: 274