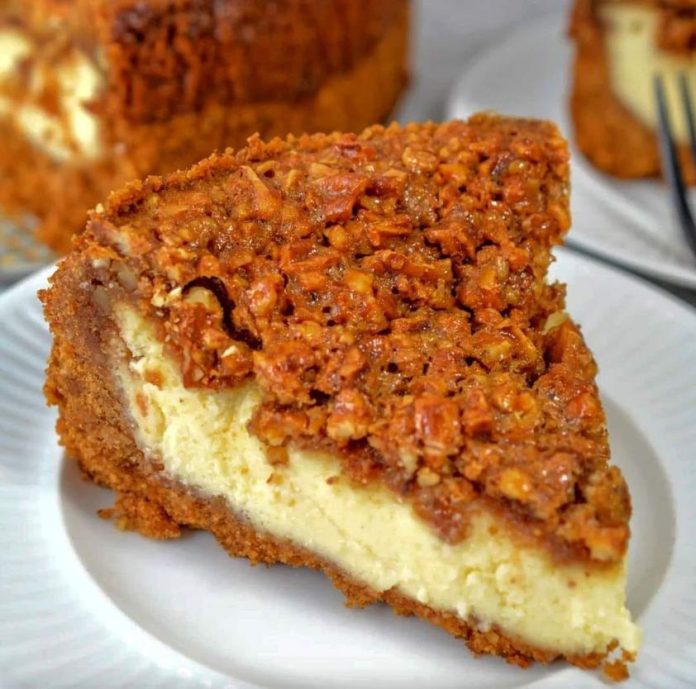 Indulgence reaches a new level with our Pecan Pie Cheesecake Recipe. A harmonious fusion of two beloved American desserts, this masterpiece delivers both creaminess and nutty goodness, leaving you with a delectable sensation that's pure dessert bliss.
Ingredients:
Crust:
2 cups graham crackers, finely crumbled
⅓ cup packed light brown sugar
½ cup unsalted butter, melted
Pecan Filling:
⅓ cup salted butter
1 tsp vanilla extract
2 eggs
1 cup light corn syrup
1 cup granulated sugar
1 ½ cups chopped pecans
Cheesecake:
16 ounces softened cream cheese
1 cup granulated sugar
¼ tsp salt
1 ½ tbsp all-purpose flour
1 tbsp vanilla extract
3 eggs
½ cup sour cream
Pecan Topping:
¼ cup salted butter
⅓ cup light brown sugar
½ tsp vanilla extract
¼ cup heavy cream
1 cup chopped pecans
How To Make Pecan Pie Cheesecake:
Step 1: Preparing the Foundation
Preheat your oven to 325°F.
Line a 9-inch springform pan with parchment paper and lightly grease it.
Start with the crust: Combine finely crumbled graham crackers, packed light brown sugar, and melted unsalted butter. Press this mixture into the prepared springform pan, ensuring it reaches partially up the sides. Place the pan with the crust into the freezer to chill while you work on the filling.
Step 2: Crafting the Pecan Filling
Melt salted butter in a saucepan over low heat.
Combine sugar, corn syrup, eggs, vanilla extract, and chopped pecans, ensuring you don't add the eggs first. Stir continuously for a well-mixed consistency.
Reduce heat and simmer until the mixture thickens.
Pour this delightful pecan filling into the prepared crust and set it aside.
Step 3: Creating the Cheesecake Layer
Cream together softened cream cheese and granulated sugar.
Add salt and flour to the mixture, followed by vanilla extract.
Gradually incorporate the eggs one at a time, and then add the sour cream, taking care not to overmix.
Carefully spoon this cheesecake mixture over the pecan filling. Avoid pouring, as it might disturb the layers.
To prevent any water from entering the pan, securely wrap the bottom of your springform pan with multiple layers of aluminum foil.
Place the springform pan into a larger pan and fill the outer pan with water, creating a water bath.
Bake in the oven for approximately 1 hour, until the cheesecake retains a slight jiggle.
Step 4: Cooling Gracefully
Turn off the oven but leave the cheesecake inside for 30 minutes. Then, slightly crack the oven door and allow it to cool for another 30 minutes.
Once sufficiently cooled, place the cheesecake on the counter, wrap it tightly in plastic wrap, and refrigerate overnight for a perfect chill.
Step 5: Topping the Masterpiece
The next day, remove the cheesecake from the springform pan.
Now, let's create the finishing touch.
Step 6: Preparing the Pecan Topping
In a pan, melt butter and brown sugar together.
Simmer for 2 to 3 minutes until it thickens and darkens in color.
Remove from heat and stir in heavy cream and vanilla extract.
Spoon this decadent topping generously over the cheesecake.
Conclusion:
Indulge in the heavenly symphony of creamy cheesecake and rich pecan pie flavors with our Pecan Pie Cheesecake Recipe. Every bite is an exquisite dance of textures and tastes, delivering the perfect balance of nuttiness and sweetness. This dessert is not just a treat; it's an unforgettable experience for your taste buds.
Enjoy!
source of the picture : allwecook