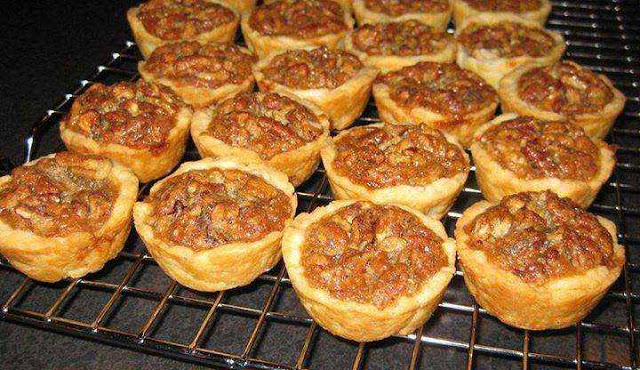 Elevate your dessert game with our delightful "Pecan Tarts." These mini tarts are a perfect blend of flaky pastry, sweet pecan filling, and a touch of elegance.
Topped with cream and caramelized pecans, they make for a sophisticated treat that's both easy to make and impossible to resist.
Ingredients:
1 (14.1 ounce) package of double-crust pie pastry, thawed
1 cup granulated sugar
2 large eggs, beaten
5 tablespoons dark corn syrup
3 tablespoons melted butter
1 teaspoon vanilla extract
1 cup chopped pecans
Directions:
Creating Pecan Magic:
Preheat your oven to 325 degrees F (165 degrees C). Lightly grease eight 3-inch tart tins to prepare them for the pecan magic ahead.
Roll out the pastry and cut eight 5-inch circles. Gently place these pastry circles into the prepared tart tins, forming the foundation for your delicious pecan tarts.
The Sweet Symphony: 3. In a mixing bowl, combine sugar, beaten eggs, dark corn syrup, melted butter, and vanilla extract. Stir until all the ingredients come together in a sweet symphony of flavors.
Stir in the chopped pecans, infusing the filling with their rich, nutty essence. This is where the pecan tarts truly come to life.
Baking Elegance: 5. Spoon the luscious pecan filling into each pastry-lined tart tin, ensuring they are filled to about 3/4 full. Each tart is a masterpiece waiting to be baked.
Place your creations into the preheated oven and let them bake until the pastry turns golden brown and the filling sets, which usually takes around 30 to 35 minutes.
Conclusion:
Savor the sheer delight of our "Pecan Tarts." These irresistible mini tarts are a testament to the exquisite combination of sweet, crunchy pecans and flaky pastry. Whether served as an elegant dessert at a gathering or enjoyed as a personal treat, these tarts never fail to leave a lasting impression. With a touch of fresh cream and caramelized pecans on top, they are a dessert experience you'll cherish. Make "Pecan Tarts" a part of your culinary repertoire and elevate your dessert game with every delightful bite.
source of the picture : all recipes