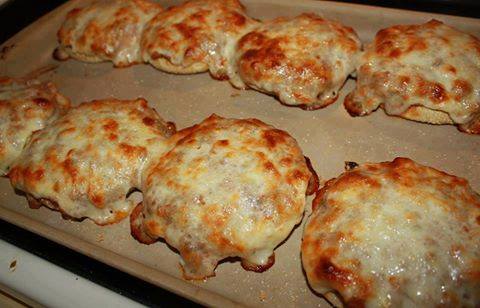 "My love is pizza shaped. Won't you have a slice? It's circular, so there's enough to go around.
"
― Dora J.
When I hear the word "PIZZA", the texture of my face changes, my eyes and mouth feel the need to see and taste one! Like a password that activates hunger, weird isn't it? That's why I keep believing in the power of pizza, it has the ability to bring happiness, joy and cheerfulness in just small time. So what are you waiting for? Discover with me this new recipe for an other level of delicacy and joy.
Right before starting, make sure to do your grocery. Wear your apron and follow my lead to make PIZZA! Feel the excitement?
"Just programmed my Alexa to order a pizza if I shout incoherently for more than 10 seconds"
― Conan O'Brien
How to section :
Simple Steps:
In a big bowl, combine ground beef and salt.
Form thin patties (make about 12 piece).
In an other bowl, mix olives, pepperoni and pizza sauce.
Heat oil in a skillet over medium heat, cook patties for 4 to 5 minutes each side.
Top with pepperoni and cheese, cook for additional minutes until cheese is melted.
Make sure the patties sides are golden, add remaining ingredients and simmer.
Serve!
Is adding egg on the patties a good choice?
Speaking about myself, I prefer adding an egg to the patties because it helps the meat held together. Otherwise, the burger may fall apart.
Ingredients :
2 cloves of minced garlic
Kosher salt
Freshly ground black pepper
4 slices of mozzarella
12 pepperoni slices
2 tablespoons of garlic powder
1 lb. of ground beef
¼ of fresh chopped parsley
2 tablespoons of vegetable oil
Hamburger buns
1 tablespoon of Italian seasoning
¼ cup of grated parmesan
2 ½ cups of divided marinara
Prep time: 10 minutes
Cooking time: 20 minutes
Total time: 30 minutes
Servings: 5 servings
It's a very fun recipe to make, I'm pretty sure your folks and kids would love it! Especially if it was served along with extras like melted cheese and sauce.
Leave us some comments, tell us about your journey with us J
Important notes:
I advise you to go for the meat that's about 80% lean and 20% fat to get juicy tasty results.
Here's one of the best burger seasonings:
Small grated onion
½ tablespoon of Worcestershire sauce
Soy sauce or tamari sauce
1 tablespoon of Montreal steak seasoning
Mixture all and enjoy one of the best seasonings!
Always serve this kind of plates with salads! Make yourself a big bowl of fresh chopped veggies.
Serving Ideas :
Pizza burgers go along with many sides; I'll mention some:
Lemon Garlic Roasted Broccoli Salad
Fall Harvest Honey crisp Apple and Kale Salad
Spicy Cauliflower Cheese Bites and Tahini Ranch
Mediterranean Couscous Salad
Spinach Artichoke Dip
Creamy Dilled Red Potato Salad
Some extras:
Stuffed garlic balls
Grilled chicken Caesar salad
Fried Spring Onions and potatoes

Drinks:
Dry Vodka Martini
Classic Mojito
Coca-Cola, sprite or orange soda
HOW TO MAKE IT :  
CLICK NEXT PAGE BELOW TO CONTINUE READING …