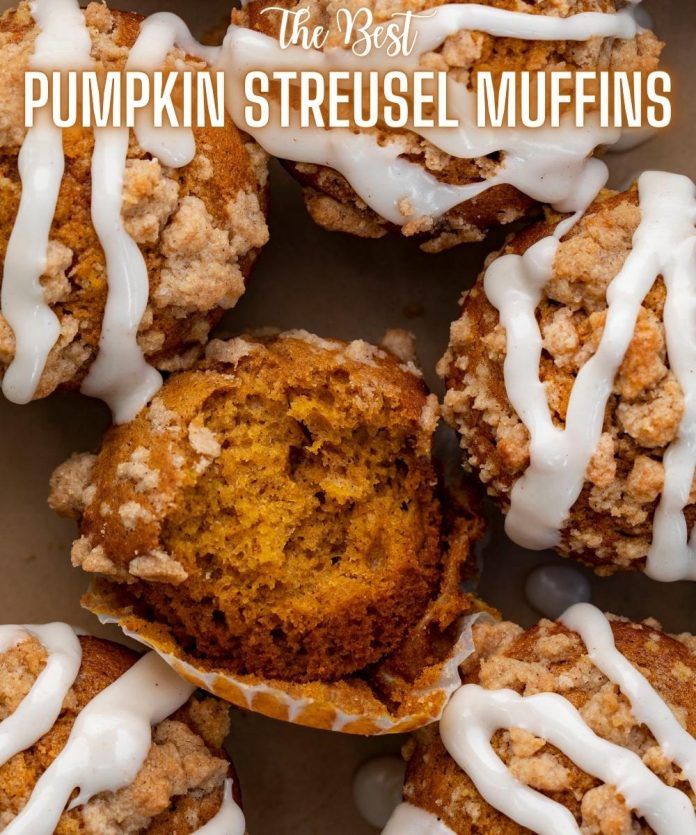 PREP TIME : 15 MINS
COOK TIME : 20 MINS
TOTAL TIME : 35 MINS
Pumpkin streusel muffins are moist, pumpkin-flavored muffins topped with a cinnamon streusel and drizzled with a cinnamon maple glaze.
Ingredients
Muffins
▢1 can (15 ounces) pure pumpkin
▢2½ cups (500 g) light brown sugar, packed
▢1 cup (218 g) vegetable oil
▢½ cup (122.5 g) whole milk, room temperature
▢4 large eggs, room temperature
▢2 teaspoons vanilla extract
▢3½ cups (437.5 g) all-purpose flour
▢4 teaspoons pumpkin pie spice
▢2 teaspoons baking soda
▢1 teaspoon baking powder
▢1 teaspoon kosher salt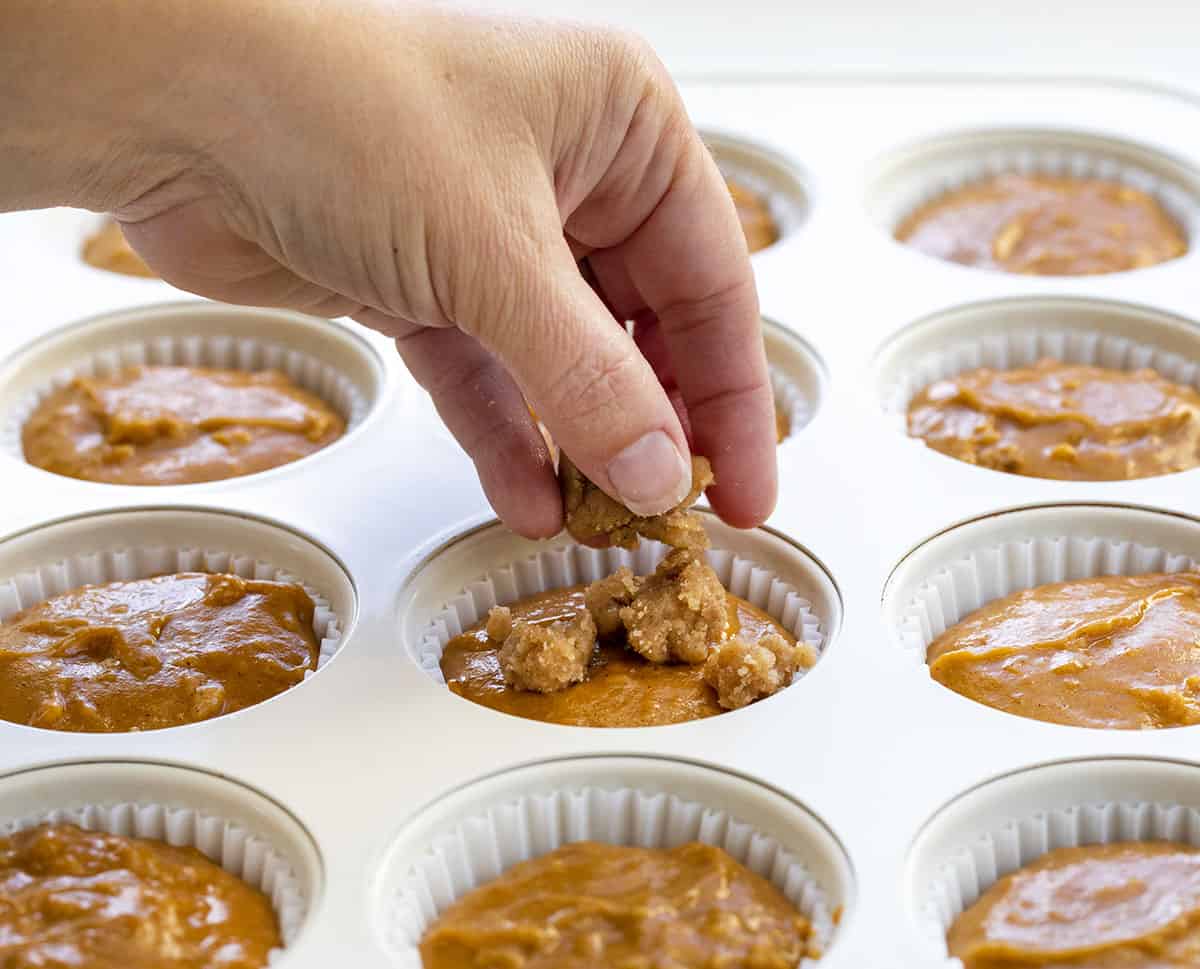 Streusel Topping
▢1 cup (125 g) all-purpose flour
▢½ cup (100 g) light brown sugar, packed
▢1 teaspoon ground cinnamon
▢½ teaspoon kosher salt
▢½ cup (1 stick / 113 g) unsalted butter, melted
Cinnamon Maple Glaze
▢1½ cups (187.5 g) confectioners' sugar
▢2 tablespoons whole milk, room temperature
▢1 tablespoon maple syrup
▢⅛ teaspoon ground cinnamon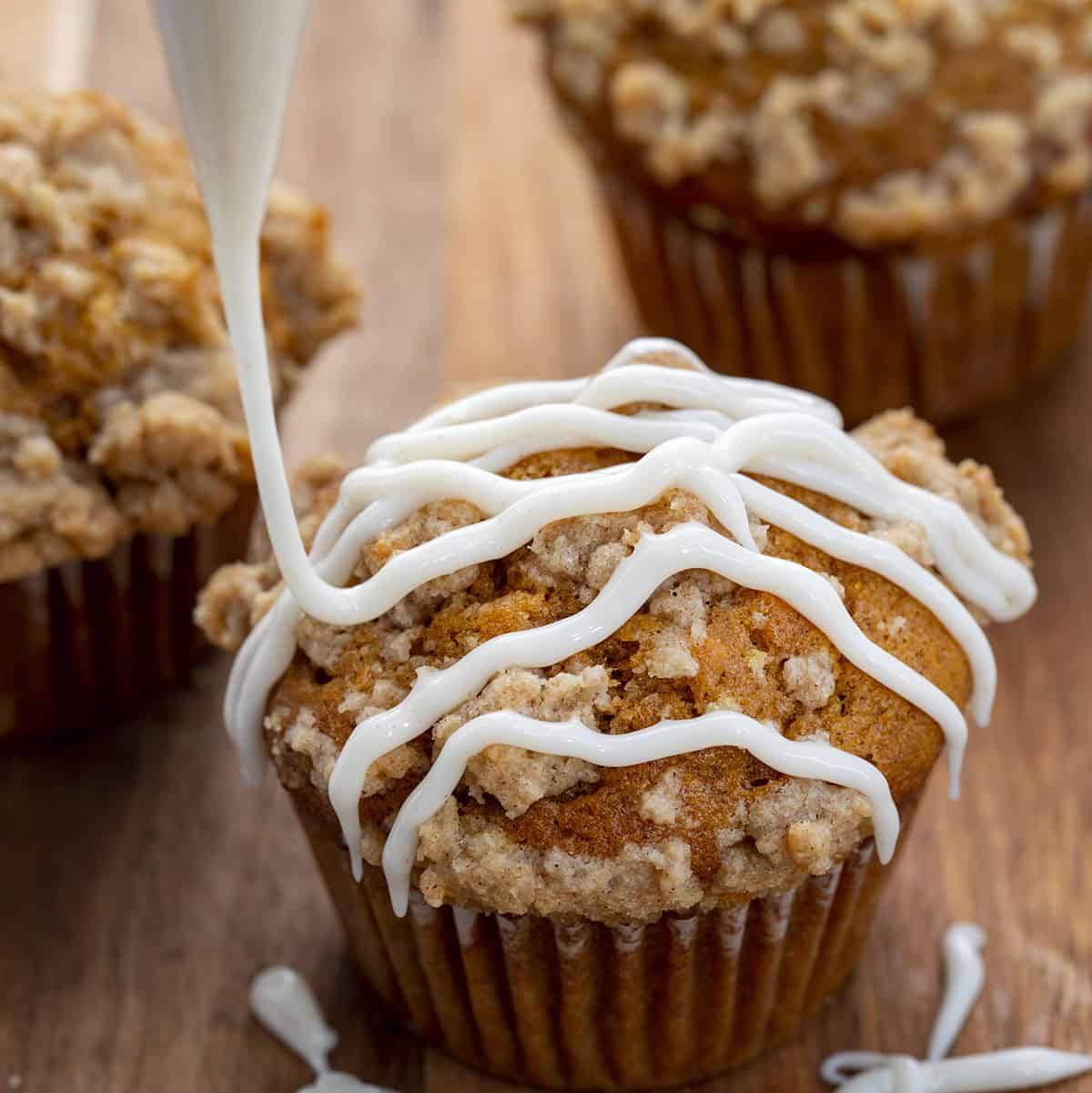 Instructions
Preheat the oven to 375°F. Line 2, 12-cup muffin tins with muffin liners and set aside. (This recipe makes 21 muffins.)
Muffins
In a medium bowl, whisk together the pure pumpkin, brown sugar, oil, milk, eggs, and vanilla. Set aside.
In a separate bowl, sift together the flour, pumpkin pie spice, baking soda, baking powder, and salt. Set aside.
Add the dry mixture to the wet mixture. Stir together until just combined.
Add a heaping ⅓ cup of batter to each muffin tin cup. (You want the muffin tins full in this recipe so there will be a big beautiful muffin top. The batter should not overflow the liner, however.)
Streusel Topping
In a medium bowl, whisk together the flour, brown sugar, cinnamon, and salt.
Add the melted butter to the flour mixture. Mix with a fork until the mixture is combined.
Add about a tablespoon of streusel topping to each muffin.
Bake muffins for 15-20 minutes, or until a toothpick inserted in the center comes out mostly clean, but a few crumbs are okay.
Allow the muffins to cool completely.
Glaze
In a small bowl, whisk together confectioners' sugar, milk, syrup, and cinnamon. Drizzle over the cooled muffins.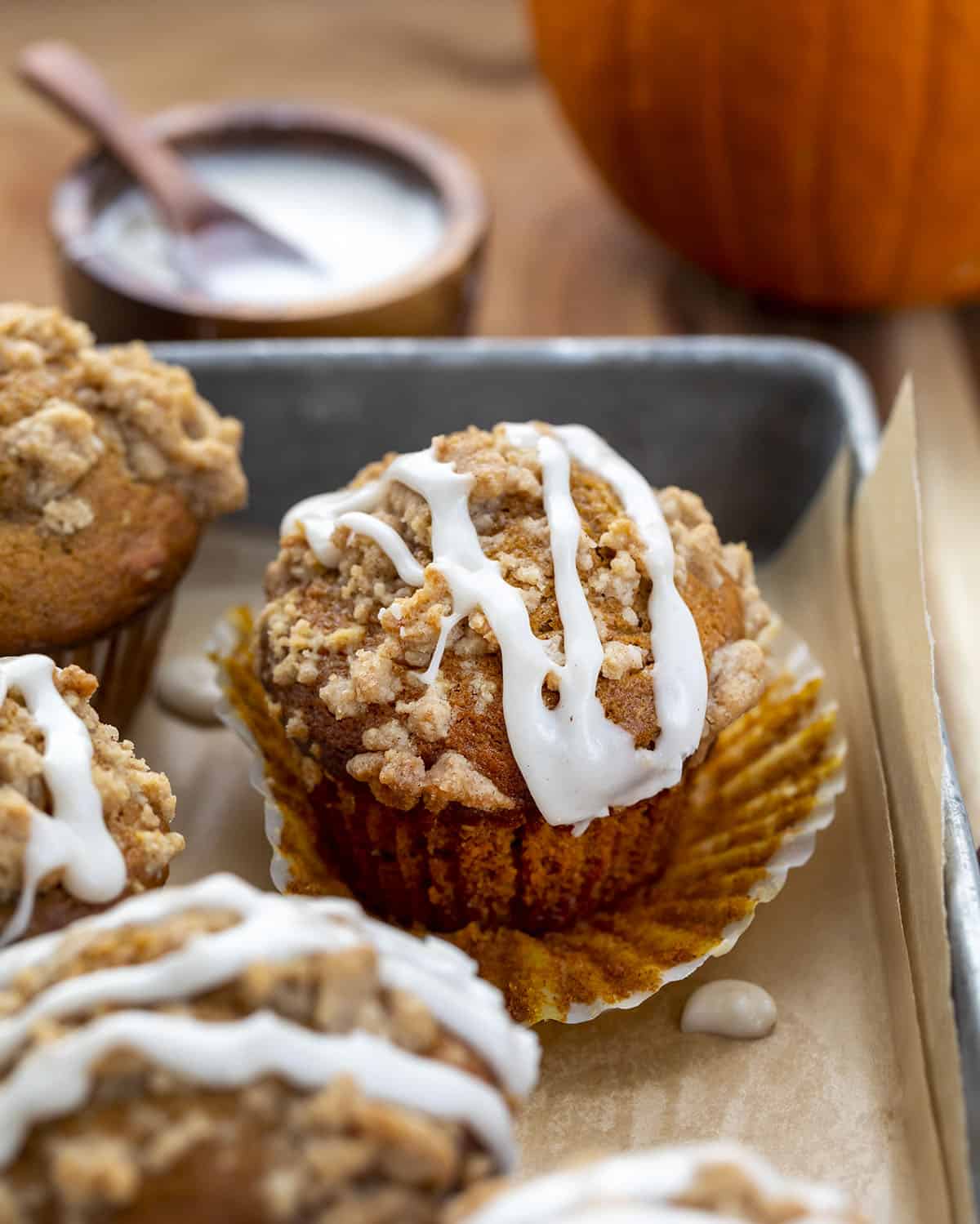 Nutrition
Course: Breakfast, Dessert, Snack
Keyword: Pumpkin Streusel Muffins
Servings: 21 muffins
Calories: 354