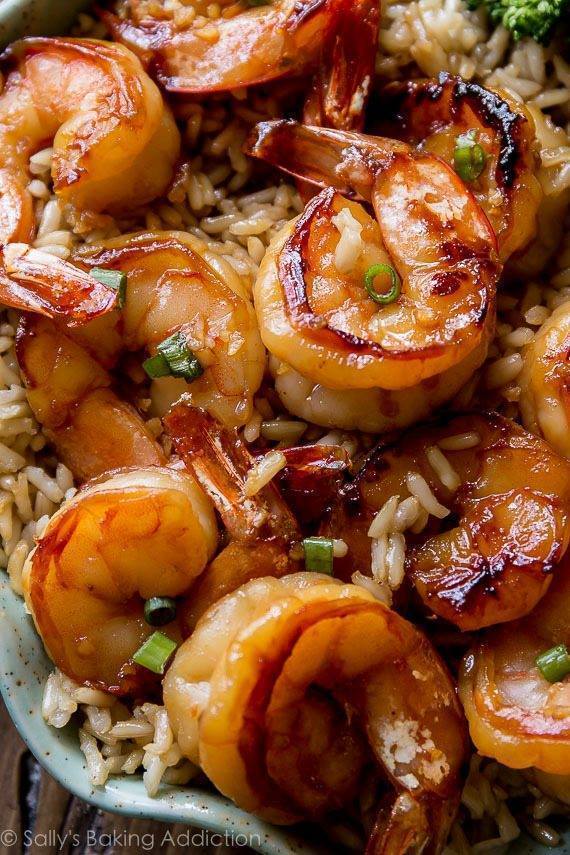 This simple and healthy 20 minute honey garlic shrimp comes together in no time!
There's really no substitute for fresh ginger. The dry stuff in the jar doesn't even come close. But this is one ingredient a lot of us don't use often. I do a lot of Asian-style cooking and I've had some trouble with it "keeping." You don't have to buy the enormous root you see in the produce section–I always break off about a 2-inch section–and there's plenty to go around with that size.
I have two methods of preservation that work very well. The first method I recommend is peeling it and then finely mincing it and freezing it. It's easy to break off portions of about a teaspoon and it will last a long time.
If you have potted plants or an outdoor garden, then you can portion off what you need for a recipe then "bury" it in the soil in the pot or outdoors. It will last a long time that way–provided you keep the soil moist.
Yield: serves 4
Prep Time: 15 minutes
Total Time: 20 minutes
INGREDIENTS:
1/3 cup honey
1/4 cup soy sauce (I use reduced sodium)
1 Tablespoon minced garlic
optional: 1 teaspoon minced fresh ginger
1 lb medium uncooked shrimp, peeled & deveined1
2 teaspoons olive oil
optional: chopped green onion for garnish
Click Next Button Bellow for Full Recipe…