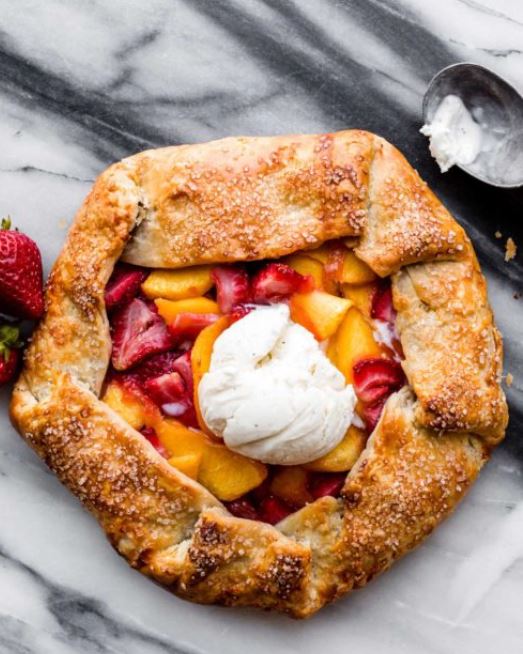 Prep Time: 1 hour, 15 minutes
Cook Time: 30 minutes 
Total Time: 2 hours 
Yield: 6-8 servings
Description
This strawberry peach galette combines fresh summer fruits with a super flaky and golden brown all-butter pie crust. Make sure the cubed butter is extra cold before beginning. See make ahead/freezing instructions in the recipe notes if you'd like to get started ahead of time.
---
Ingredients :
Crust
1 and 1/2 cups (188g) all-purpose flour (spoon & leveled), plus more for work surface
2 Tablespoons (25g) granulated sugar
1/4 teaspoon salt
1/2 cup (115g; 1 stick) cold unsalted butter, cubed*
1/4 cup (60ml) ice cold water, plus more as needed
egg wash: 1 large egg beaten with 1 Tablespoon (15ml) milk
optional: coarse sugar
Filling
1 and 1/2 cups (about 230g) peeled and sliced fresh peaches (1/4 inch thick slices; about 2 medium peaches)*
1 and 1/2 cups (about 230g) sliced fresh strawberries*
3 Tablespoons (38g) granulated sugar
2 teaspoons cornstarch
1 teaspoon pure vanilla extract
---
Instructions :
Make the crust: Whisk the flour, sugar, and salt together in a medium bowl. Using a pastry cutter (love this one) or a couple forks, cut in the butter until the mixture resembles coarse pea-sized crumbs. Add the water and stir until the flour is moistened. Add 1 more Tablespoon of water if the dough seems dry. Turn the dough out onto a lightly floured work surface and, using your hands, work the dough into a ball. Flatten it into a thick disk. Wrap the dough disk in plastic wrap, parchment paper, or aluminum foil and refrigerate it for at least 1 hour and up to 3 days (or freeze up to 3 months).
CLICK NEXT PAGE BELOW TO CONTINUE READING …