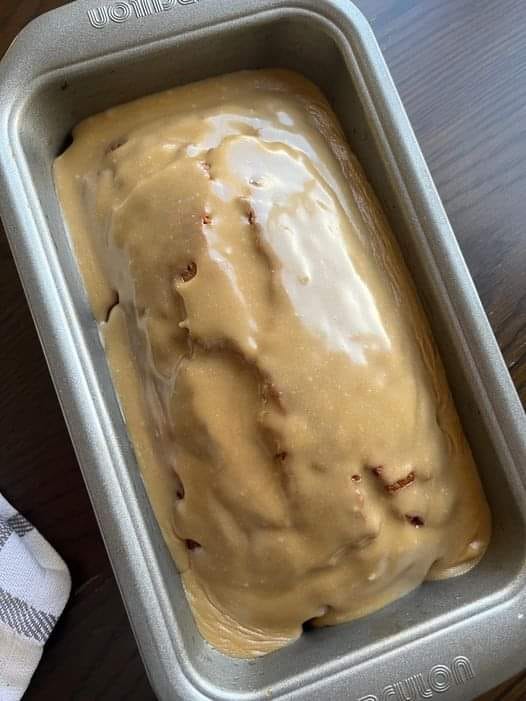 Indulge in the sublime delight of this Caramel Drizzle Banana Bliss. If you're a fan of the sweet allure of salted caramel, this recipe is a treasure trove of flavor. Picture a luscious banana bread, crowned with a velvety caramel sauce and then adorned with a delicate drizzle of salted caramel, perfectly harmonizing the flavors of banana, caramel, and sea salt.
Ingredients:
Banana Bread:
2 cups all-purpose flour
1 teaspoon baking soda
1 teaspoon ground cinnamon
½ teaspoon salt
¾ cup firmly packed brown sugar
½ cup (1 stick) butter, softened
2 eggs
⅓ cup sour cream
4 ripe bananas, mashed
1 ½ teaspoons pure vanilla extract
Caramel Glaze:
¼ cup firmly packed brown sugar
2 tablespoons butter
2 tablespoons heavy cream
⅓ cup powdered sugar
½ teaspoon kosher salt
Instructions:
Begin by preheating your oven to a toasty 350 degrees F and generously greasing a 9×5-inch baking dish.
In a medium-sized bowl, whisk together the all-purpose flour, baking soda, ground cinnamon, and salt. Set this heavenly mix aside.
In a generously sized bowl, work your magic by beating the brown sugar and softened butter until they form a creamy concoction. Add the eggs one at a time, incorporating them smoothly.
Now, let's introduce some depth of flavor. Add the sour cream, the mashed bananas, and the pure vanilla extract to the sugar-butter blend. Mix this tantalizing trio until they unite in sweet harmony.
With patience and precision, gradually fold the dry ingredients into the wet mixture until they just dance together. Avoid overmixing; we want a graceful waltz, not a marathon!
Lovingly transfer this divine batter into the awaiting loaf pan. Slide it into the oven and let it bake for 55-60 minutes, or until a toothpick emerges clean, signifying its readiness. While your bread is cooling, let's conjure up the enchanting glaze.
In a petite saucepan, let the brown sugar and butter come together in a gentle simmer over medium heat. Allow them to merge for about a minute, ensuring the sugar dissolves entirely.
With a flourish, introduce the heavy cream to the pan and then gracefully withdraw it from the heat. Add the powdered sugar and kosher salt, whisking until a smooth, velvety symphony of flavors forms.
Grant your glaze a brief reprieve, letting it cool for five minutes, before you gracefully pour it over your awaiting bread.
Elevate your baking skills to new heights with this Caramel Drizzle Banana Bliss, where every slice is a sweet symphony of flavors. Enjoy!
picture credit : all we cook