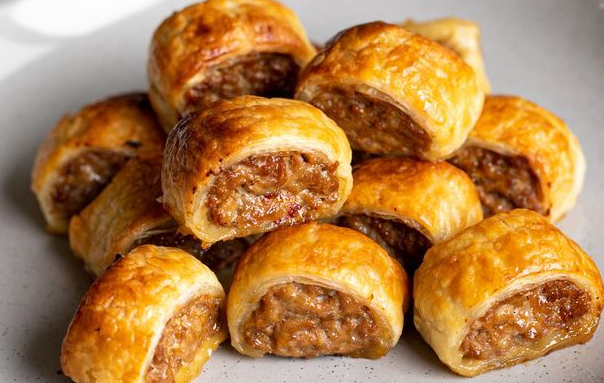 If you have a penchant for delightful bites like pigs in a blanket, then get ready to fall head over heels for these delectable sausage rolls. Originating from the heart of Europe, the savory union of buttery, flaky pastries wrapped around seasoned sausage is a cherished snack enjoyed by many. This revamped recipe takes things up a notch by introducing smoky, salty bacon into the mix, complemented by finely chopped onion, celery, and garlic, all encased in a golden layer of store-bought puff pastry dough. Whether you're planning a holiday party or assembling a game day spread, these sausage rolls are a breeze to make, offering a winning combination of ease and flavor.
Savory Sausage Rolls Recipe:
Ingredients:
3 slices of bacon, finely chopped
1/2 onion, finely chopped
1 celery stalk, finely chopped
1 clove of garlic, finely chopped
1 package (14 oz) of puff pastry, thawed according to package instructions
1 pound of pork sausage
2 tablespoons of fresh parsley, finely chopped
1/2 cup of panko breadcrumbs
2 large eggs, divided
1/4 teaspoon of salt
1/4 teaspoon of ground black pepper
Mustard, for serving
Directions:
1. Bacon and Veggie Mix: Begin by heating a medium skillet over medium heat. Add the finely chopped bacon, onion, and celery. Cook for approximately 4 minutes, until the veggies slightly soften, then add the garlic and cook for an additional minute. Remove this aromatic mixture from the heat and transfer it to a plate. Allow it to cool for around 10 minutes.
2. Sausage Filling: In a spacious bowl, combine the pork sausage, fresh parsley, panko breadcrumbs, one egg, salt, pepper, and the cooled bacon and veggie mixture. Thoroughly mix all the ingredients until well combined. Cover the bowl and refrigerate the filling until you're ready to use it.
3. Prepare the Pastry: While the sausage mixture chills, take the puff pastry sheets and lay them out on a lightly floured cutting board. You should have two sheets, each measuring 10 inches by 10 inches. Cut each sheet in half to create four rectangles, each measuring 5 inches by 10 inches. Arrange these rectangles with the longer side facing you.
4. Assemble the Rolls: Retrieve the sausage mixture from the refrigerator and divide it into four equal portions. Shape each portion into a log about 1 inch thick and place one log lengthwise in the center of each puff pastry rectangle. Ensure that the sausage stretches the full length of the pastry.
5. Seal and Chill: In a small bowl, beat the remaining egg and mix it with one tablespoon of water. Brush this egg wash over all the edges of the puff pastry. Gently roll the pastries over the sausage mixture, creating a log shape with the borders slightly overlapping. Place each roll seam side down on a sheet tray lined with parchment paper. For optimal results, freeze them for 30 minutes or refrigerate for up to 1 hour.
6. Bake to Perfection: Preheat your oven to 400°F. Using a sharp knife, cut each sausage roll into six equal portions. Place these pieces on a parchment-lined baking sheet, seam side down, leaving about an inch of space between them. Brush the tops of the rolls with the remaining egg wash. Bake for 20 to 22 minutes or until the puff pastry is gorgeously puffed and golden.
Indulge in the irresistible allure of these sausage rolls, where the marriage of flaky pastry and savory sausage filling creates a snack that's perfect for any occasion. The added touch of bacon and aromatic veggies elevates this classic European treat to a new level of flavor. Serve them with a side of mustard, and watch them disappear from your party spread or game day platter. These sausage rolls are a testament to simplicity and deliciousness, sure to be a crowd-pleaser for years to come. Enjoy!
image source : best recipes