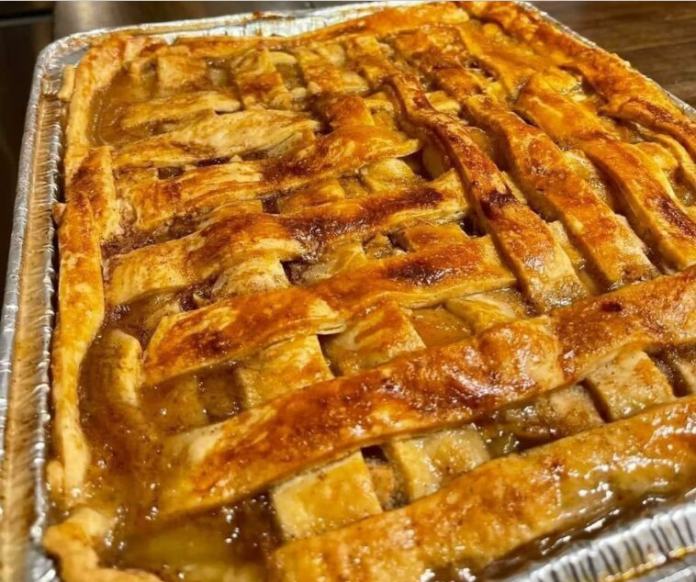 Are you ready to embark on a culinary journey that will transport your taste buds straight to the sunny South? Grandma's Peach Cobbler is more than just a dessert; it's a cherished family tradition that's been passed down through the generations. This exceptional recipe combines the natural sweetness of juicy ripe peaches with a medley of warm spices and a luscious homemade crust. The result is a mouthwatering treat that's impossible to resist.
Ingredients:
2 lbs of sliced frozen peaches
1 cup of granulated sugar
8 tbsp of butter
1 tsp of ground cinnamon
1/4 tsp of ground nutmeg
1 1/2 cups of water
2 tsp of vanilla extract
3 tbsp of all-purpose flour
For the Flaky Butter Crust:
1 cup of butter-flavored shortening
2 1/2 cups of all-purpose flour
2 tbsp of sugar
1 tsp of salt
1/3 cup of ice water
Instructions:
Begin with the Flaky Butter Crust: In a mixing bowl, combine 2 cups of sifted all-purpose flour and the butter-flavored shortening using a pastry cutter or dough hooks. When the mixture resembles fine crumbs, add in the 1/3 cup of ice water. Shape the dough into a ball, wrap it in plastic, and refrigerate for 45 minutes.
For the delectable filling, place the frozen peaches in a large pot. Add water, sugar, cinnamon, and nutmeg. Heat over medium-high, and when the mixture begins to bubble, stir in the butter and vanilla. In a separate 1/2 cup of water, sprinkle and mix 3 tbsp of all-purpose flour. Pour this water-flour mixture into the peach mixture, stirring well. Reduce the heat to low.
Now, it's time to prepare the crust. Roll out the dough and cut it in half. Take one half and roll it out, then cut it into inch squares and place them on a cookie sheet. Bake these squares for 7 minutes at 375°F.
Pour the prepared peach mixture into a 13 x 9 baking dish. Once the squares are out of the oven, toss them into the peach mixture and gently fold them in.
With the remaining ball of dough, roll it out and cut it into strips. Create a beautiful lattice-style crust on top of the cobbler.
Bake the cobbler for 40 minutes at 375°F until it turns golden and bubbling.
Allow it to cool down slightly, and then serve this delectable homemade peach cobbler with a scoop of vanilla ice cream.
In conclusion, Grandma's Peach Cobbler is not just a recipe; it's a piece of Southern heritage and a tribute to the art of homemade goodness. Let the rich aroma of spices and fresh peaches fill your kitchen, and savor every delightful bite of this unforgettable dessert. Enjoy the love and tradition baked into every slice of this outstanding peach cobbler.
image source : 99 easy recipes