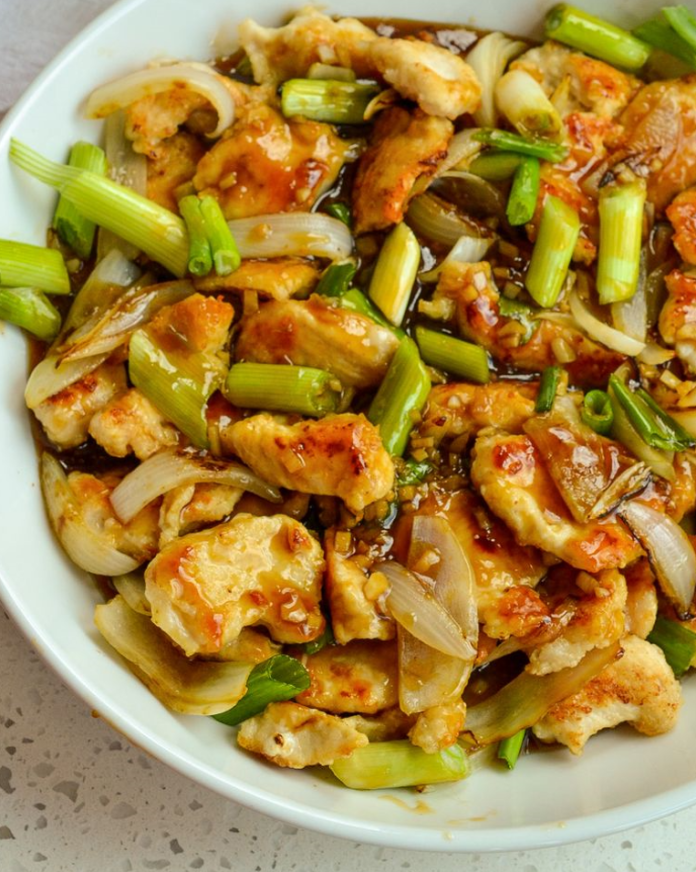 Dive into the delectable world of savory Mongolian Chicken stir-fry, where tender, crisp chicken meets sweet onions and scallions in a mouthwatering, umami-rich sauce. This quick and easy recipe is perfect for a satisfying weeknight dinner that will have your family showering you with compliments. With a mere 25-minute total cook time, you can whip up this Asian-inspired dish in no time.
Mongolian Chicken Recipe:
Ingredients:
For the Mongolian Chicken:
1 ¼ lbs (570g) chicken, thinly sliced into bite-sized pieces
1/3 cup cornstarch
2–3 tablespoons vegetable oil
1 medium onion, cut into 8-10 wedges
For the Savory Sauce:
1 ½ teaspoon sesame oil
1 tablespoon fresh grated ginger
3 cloves garlic, minced
1 tablespoon rice vinegar
1/2 cup low-sodium soy sauce
1/2 cup brown sugar
1 tablespoon cornstarch
1/4 cup chicken broth or water
1–2 pinches red pepper flakes
4 green onions, cut into 3/4-inch segments
Instructions:
Place the chicken pieces and cornstarch in a large zipper bag. Seal it and shake to evenly coat the chicken with the cornstarch.
In a large skillet over medium-high heat, heat 1 tablespoon of vegetable oil. Add the chicken in a single layer and cook until it turns a golden brown on both sides. If necessary, cook in batches, adding more oil as needed. Once cooked, transfer the chicken to a plate.
In the same skillet, heat another tablespoon of oil over medium-high heat. Cook the onion for 2 minutes, stirring occasionally. Add the cooked onion to the plate with the chicken.
Reduce the heat to medium-low and add the sesame oil. Stir in the ginger and garlic, cooking for 1 minute while stirring constantly. Incorporate the rice vinegar, soy sauce, and brown sugar, stirring until well combined.
In a separate bowl, whisk together the chicken broth and cornstarch. Pour this mixture into the skillet and cook until the sauce slightly thickens. If you like a bit of heat, feel free to add the red pepper flakes.
Return the cooked chicken and onions to the skillet. Top with the green onions and serve promptly.
Conclusion:
This Savory Mongolian Chicken Stir-Fry brings you the harmonious blend of crispy chicken and a flavorful, sweet-savory sauce that'll have your taste buds dancing. It's an Asian-inspired delight that can be whipped up in just 25 minutes. Surprise your family with this quick and easy dish for a memorable evening meal. Enjoy the wonderful flavors of Mongolian Chicken in the comfort of your own kitchen!
SOURCE OF THE PICTURE : small town woman