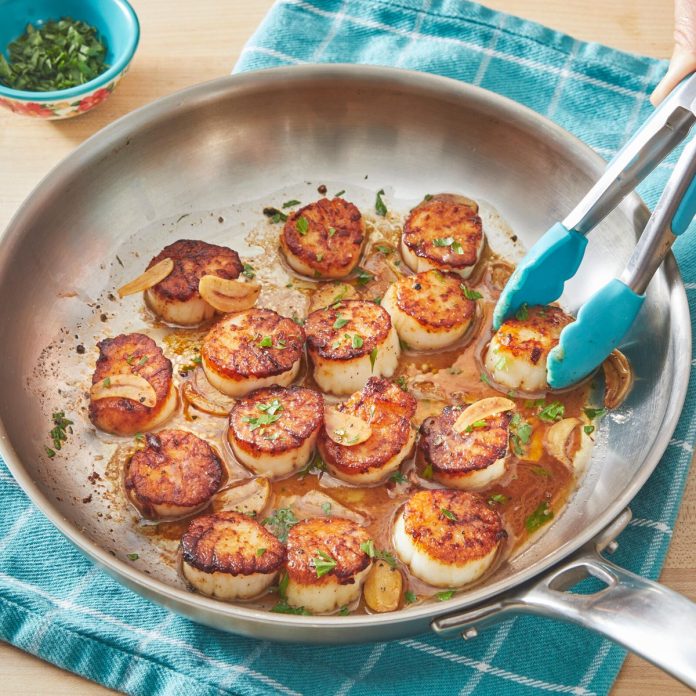 SOURCE : thepioneerwoman.com
Like garlic shrimp or baked salmon, pan-seared scallops are the kind of main dish that's classy enough to headline a festive meal, but easy enough to prepare on a weeknight.
Their buttery texture and delicate briny flavor just need a little salt and pepper and browning over high heat to bring them to life. Serve the scallops with your favorite potato dish or any vegetable side dish for a quick and easy dinner.
How do you clean scallops?
When you buy scallops at the supermarket or seafood market, they usually have already had their shells removed. All that's left is to remove the side muscle. Look for a small strip attached to the side of each scallop that is noticeably firmer than the rest of the shell.
When cooked, this muscle can become hard, rubbery and unpalatable (quite the opposite of a tender bite of buttery muscle!).
What's the secret to browning scallops?
First of all, use a very hot pan! Non-stick pans are not the best solution, as the coating can prevent caramelization of the surface of the scallops. A nonstick pan is also not designed to heat at medium to high temperatures. A standard stainless steel skillet or a well-seasoned cast iron skillet are the best solutions. Second, make sure the scallops are completely dry. It is best to use fresh, "dry" scallops that have not been treated with preservatives. Even then, pat them dry with a paper towel before cooking. Frozen scallops can also be used. Thaw them completely and remove as much moisture as possible before cooking.
What is the best oil for browning scallops?
Since scallops are cooked at high temperatures, choose an oil with a high smoke point. Vegetable, rapeseed or grapeseed oils are all suitable. Reserve olive oil, which has a lower smoke point and more delicate flavors, for a final drizzle.
How long should the scallops be fried?
This depends on the size of the scallop! For a large, 10/20 count scallop, (that means 10 or 20 of this size of scallop will make up one pound), it should take about 4 to 6 minutes total. Start by cooking the first side for a full 3 minutes to develop a golden brown crust. (This crust will also help the scallop release easily from the pan). Once you flip it, depending on the size of the scallop, cook for only 1 to 3 minutes more so that the center stays moist and buttery. Remove them from the pan as soon as they are cooked. 
YIELDS: 3 – 4 serving(s)
PREP TIME: 5 mins
TOTAL TIME: 10 mins
Ingredients :
1 lb. large scallops (10/20 count), cleaned
1 tsp. kosher salt
1/2 tsp. ground black pepper
2 tbsp. vegetable oil
2 tbsp. unsalted butter
2 garlic cloves, thinly sliced
2 tbsp. lemon juice
1 tbsp. finely chopped parsley
See Nutritional Information
Directions :
Place the scallops in a single layer on a paper towel-lined plate. Let them sit for 5 minutes. Use another paper towel to blot as much moisture as possible off the tops of the scallops.
Heat a large stainless steel or cast-iron skillet over medium-high heat until very hot. Season the scallops on both sides with the salt and pepper. 
Add the oil to the very hot skillet. Place the scallops in a single layer, leaving about ½ inch between each scallop. Cook for 3 minutes without touching.
Starting with the first scallop that was placed in the skillet, flip each scallop. Cook for 1 to 3 minutes more, until the scallops feel just slightly springy when pressed. (An instant read thermometer inserted in the center should read 125°F to 130°F). Transfer to a clean plate.
Reduce the skillet temperature to low heat. Add the butter and garlic and swirl until the butter is melted and lightly golden. Remove from the heat. Add the lemon juice and parsley and stir to combine. 
Serve the scallops immediately with a drizzle of the butter mixture.