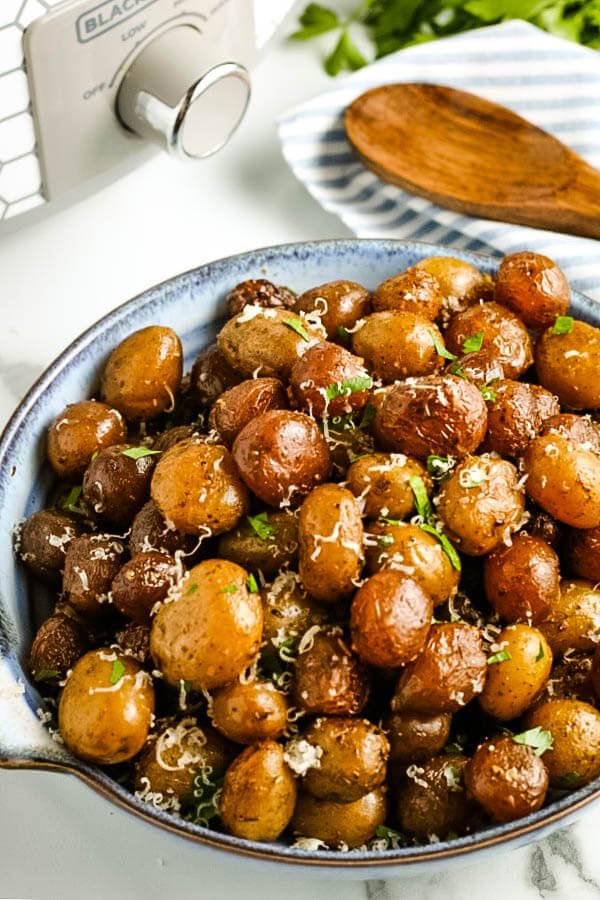 yield: 6-8 servings
 prep time: 10 minutes 
cook time: 4 hours 
total time: 4 hours 10 minutes
These Slow Cooker Garlic Parmesan Potatoes are the perfect side dish to any meal. Crisp-tender potatoes are smothered in a delicious and easy-to-make garlic-parmesan sauce.
INGREDIENTS
3 pounds baby Yukon Gold or red potatoes
3 tbsp. butter, melted
2 tbsp. extra virgin olive oil
4 cloves garlic, minced
1/4 cup grated Parmesan cheese
1 tsp. Italian seasoning
1/2 tsp. salt
1/2 tsp. pepper
Additional Parmesan cheese, for serving
2 tbsp. freshly chopped parsley, for garnish
INSTRUCTIONS
Spray the inside of the slow cooker crock lightly with cooking spray. 
Place the potatoes in the slow cooker. 
In a small bowl, whisk together the butter, olive oil, garlic, Parmesan cheese, Italian seasoning, salt, and pepper. 
CLICK NEXT PAGE BELOW TO CONTINUE READING …