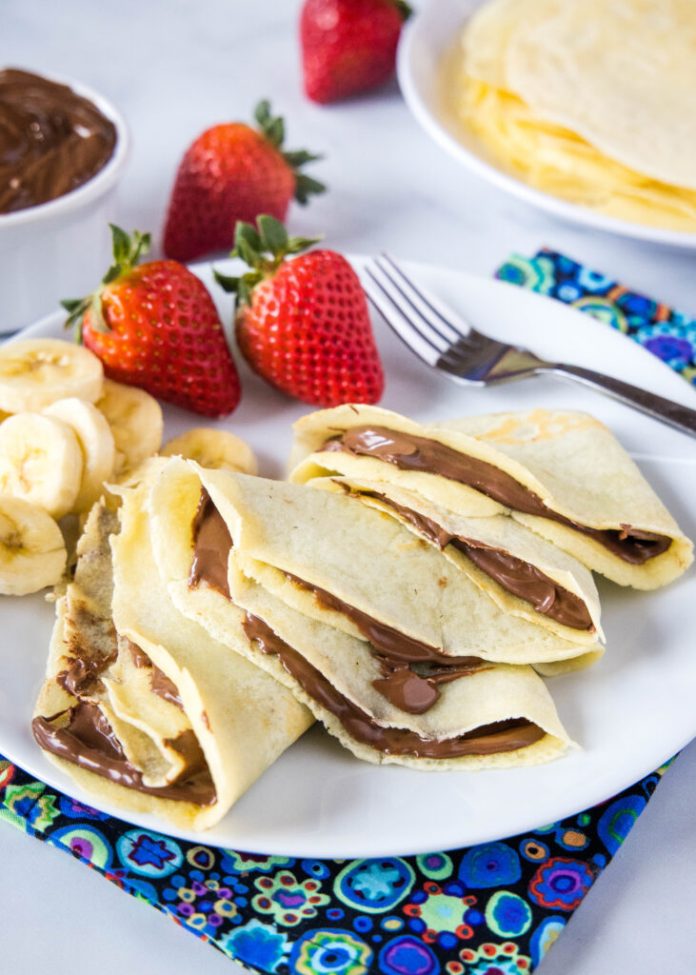 Nutella Crepes – an easy crepe recipe that is filled with Nutella and dusted with powdered sugar. Fill them with berries or banana to make them even better!
PREP TIME : 5 minutes
COOK TIME : 25 minutes
TOTAL TIME : 30 minutes
INGREDIENTS
1 1/2 cups all-purpose flour
1 Tbsp sugar
1/2 tsp baking powder
1/2 tsp salt
2 cups whole milk
2 whole large eggs
2 Tbsp butter, melted
1/2 tsp vanilla extract
Butter for greasing the pan
FILLING
1 cup Nutella
1 Tbsp powdered sugar for dusting
INSTRUCTIONS
In a bowl whisk together flour, sugar, baking powder, and salt. Set aside.
In a blender process with milk, eggs, melted butter and vanilla until smooth.
Add the flour in batches and blend until it is completely smooth and the consistency of heavy cream.
You can put in this in the fridge for up to 24 hours at this point.
Heat a 10 inch skillet over medium heat.
Once the pan is hot brush with butter and scoop just shy of 1/4 cup of batter into the pan.
Immediately swirl the batter around the pan to coat. It will be very thin, that is normal.
CLICK NEXT PAGE BELOW TO CONTINUE READING …