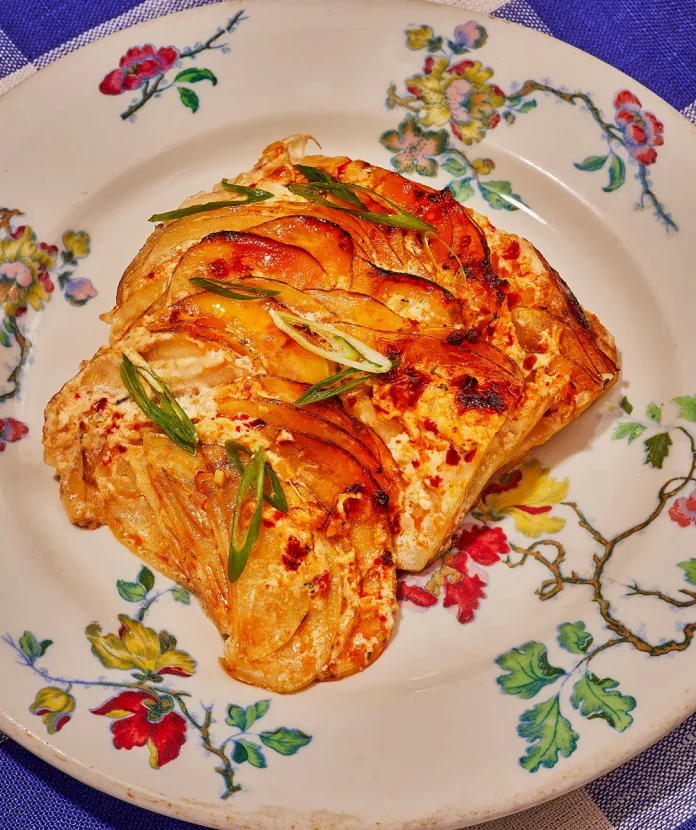 Have you ever indulged in the delightful combination of Crispy Fries with Chili Crisps? If not, it's high time you explored this enticing culinary experience. And if you're already acquainted with this tantalizing fusion, you'll appreciate how fries can be the perfect canvas for the robust and spicy allure of Chili Crisp. Taking this classic marriage of potatoes and chili crisps to the next level, we've crafted a luscious gratin infused with the rich flavors of cream cheese.
There are three compelling reasons to savor this dish at your next dinner gathering. Firstly, the spicy and creamy sauce seamlessly melds the potatoes and chili crunch, showcasing the harmonious union of chili crisps and dairy. Cream and milk combine effortlessly with the fiery chili crisps, allowing these two contrasting elements to shine together. Just a simple toss of cooked pasta in this sauce brings sheer joy! But let's return to the star of the show – the potatoes. Secondly, the visually stunning effect of vertically stacked potato slices is sure to captivate your guests. This technique, which I've wholeheartedly embraced since learning it from one of my culinary idols, Claire Saffitz, brings an inexplicable satisfaction as you arrange rows of potatoes in your casserole dish. Finally, this dish doesn't demand to be devoured piping hot. In fact, I believe it reaches its pinnacle of flavor when it's allowed to cool slightly or served at room temperature.
Right after baking, you might notice the sauce appearing slightly uneven due to the residual oil from the chili crisps. Don't fret; within a few minutes, the potatoes will absorb this flavorful essence. If it doesn't look quite right at first, have patience – you'll soon discover its magic. This means you can prepare it ahead of time, set it aside, and then unveil your potato masterpiece to awe your guests.
Ingredients:
2 tablespoons unsalted butter, softened
3 cloves garlic, finely minced (approximately 1 tablespoon)
1 shallot, finely diced
1 teaspoon all-purpose flour
1 cup milk
1 cup heavy cream
3 tablespoons chili crisp
1/2 cup grated Gruyère cheese
1 tablespoon chopped fresh thyme leaves
1 1/2 teaspoons kosher salt
1 teaspoon freshly ground black pepper
3 pounds russet potatoes, thoroughly rinsed and scrubbed
1/4 cup grated Parmesan cheese
Chopped green onions for garnish
Instructions:
Preheat your oven to 350°F.
In a medium sauté pan or skillet over low heat, melt 1 tablespoon of butter. Add the minced garlic and diced shallot and cook for 1 to 2 minutes until they become fragrant. Sprinkle the flour into the pan to coat the garlic and shallots, and cook for another minute. Then, while whisking, pour in the milk and heavy cream to incorporate the garlic and shallots. Season the mixture with the chili crisp, grated Gruyère cheese, chopped thyme leaves, salt, and pepper. Increase the heat to medium-low and simmer until the sauce slightly thickens but remains slightly runny, which takes about 8 to 10 minutes, stirring occasionally. Set it aside.
Lightly grease all sides of an 8 by 8-inch baking dish or a 6-cup casserole dish with the remaining 1 tablespoon of butter.
Thinly slice the potatoes, maintaining a thickness of about 1/8-inch and leaving the peel intact, preferably using a mandoline. If desired, you can peel the potatoes, but keeping the skin on adds a pleasant texture when cooked. Begin by ladling a portion of the prepared cream sauce into the bottom of the dish. Then, arrange the potato slices vertically in the dish, overlapping them in rows, followed by a spoonful of sauce to coat the potatoes. Ensure that each layer of stacked potatoes makes contact with the others. The cream sauce will help hold the potatoes together, so generously add spoonfuls after each stack. Fill any gaps between the stacks with smaller potato pieces to complete the dish.
Pour the remaining chili crisp and cream mixture over the potatoes. Cover the dish with foil. Bake for 1 hour, or until all the potato slices are tender when pierced with a fork.
Once the potatoes are thoroughly cooked, remove the foil and sprinkle the grated Parmesan over the top. Place the dish under the broiler, uncovered, for 2 to 3 minutes or until the cheese melts and the surface turns golden brown. Be vigilant to prevent burning.
Allow the gratin to rest for at least 10 minutes before serving. Garnish with chopped green onions and serve.
Enjoy your Spicy Potato Gratin, a fusion of flavors and textures that's sure to impress your guests!
picture source: thekitchn.com