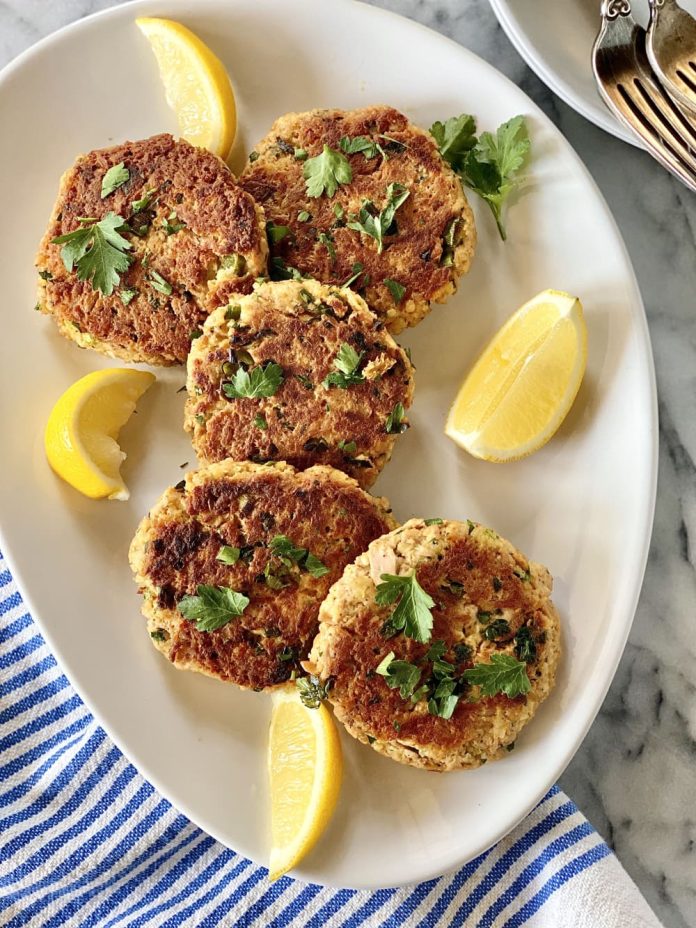 How to Keep Tuna Patties Intact
When it comes to crafting the perfect tuna patties, ensuring they hold together is key. Here are two techniques that guarantee your tuna patties won't fall apart:
1. Bind it Right: The secret lies in creating an adhesive mixture to bind all the ingredients together seamlessly. Combine beaten eggs, mayonnaise, and breadcrumbs to achieve the perfect consistency.
2. Chill Before Cooking: After forming the patties, let them rest in the refrigerator for about 20 minutes before cooking. This step is crucial because, initially, the patties may seem a bit moist (even if you've drained the tuna properly). Allowing the patties to cool before cooking allows the breadcrumbs to absorb excess moisture, helping the patties hold their shape and preventing them from falling apart.
Step-by-Step Guide: How to Make Tuna Patties
Creating delicious tuna patties is a breeze with these four simple steps:
1. Mix It Up: Gather all your ingredients and mix them thoroughly in a spacious bowl.
2. Shape the Patties: Using about 1/3 cup of the mixture, form patties approximately 3 inches wide and 1/2 inch thick.
3. Chill the Mixture: Place the patties on a baking sheet, cover them, and refrigerate for 20 minutes.
4. Cook to Perfection: Brown the patties on both sides in a nonstick or cast-iron skillet.
Serving Suggestions for Tuna Patties
Pair your delectable tuna patties with a refreshing salad or zesty lemon or tartar sauce for an unforgettable meal. You can also use them as a delightful cereal bowl topping, sandwich them in a bun for a hamburger-style treat, or create a mouthwatering sandwich inspired by the pan banya.
Ingredients:
2 large eggs
3 (5- to 6-ounce) cans of water or oil-packed tuna
10 to 12 sprigs of fresh parsley
1 medium scallion
1 clove of garlic
1 medium lemon
1/2 cup of panko breadcrumbs
2 tablespoons of mayonnaise
1 tablespoon of Dijon mustard
1/2 teaspoon of kosher salt
1/4 teaspoon of freshly ground black pepper
2 tablespoons of olive oil (divided)
Instructions:
Lightly beat 2 large eggs in a spacious bowl. Drain 3 cans of tuna and add them to the bowl, flaking the tuna into smaller pieces using a fork.
Prepare the following ingredients, adding each to the same bowl as you complete them: Chop the leaves from 10 to 12 fresh parsley sprigs finely until you have 2 tablespoons. Thinly slice 1 medium scallion (approximately 2 tablespoons). Grate 1 garlic clove finely. Zest 1 medium lemon finely (about 1 tablespoon). Halve the lemon and juice one half until you have 1 tablespoon of juice; add it to the bowl.
Cut the remaining lemon half into 6 wedges and set them aside for serving.
To the tuna mixture, add 1/2 cup of panko breadcrumbs, 2 tablespoons of mayonnaise, 1 tablespoon of Dijon mustard, 1/2 teaspoon of kosher salt, and 1/4 teaspoon of black pepper. Stir until well combined.
Divide the mixture into 6 portions (approximately 1/3 cup each). Shape each portion into a 3-inch-wide patty that's about 1/2-inch thick. Place them on a baking sheet, cover, and refrigerate for 20 minutes.
Heat 1 tablespoon of olive oil in a large cast-iron or nonstick skillet over medium-high heat until it shimmers. Swirl it to coat the bottom of the pan. Gently transfer 3 of the patties into the pan using a wide, flat spatula. Cook for 2 to 3 minutes per side, or until they turn golden-brown and crisp. Transfer to a plate.
Repeat the process for the remaining tuna patties using the remaining tablespoon of olive oil. Serve the patties warm with the reserved lemon wedges.
Recipe Notes:
You can prepare the mixture and shape the patties up to 1 day in advance and refrigerate them in an airtight container until you're ready to cook.
Leftover patties can be stored in an airtight container for later enjoyment.
source: the kitchn