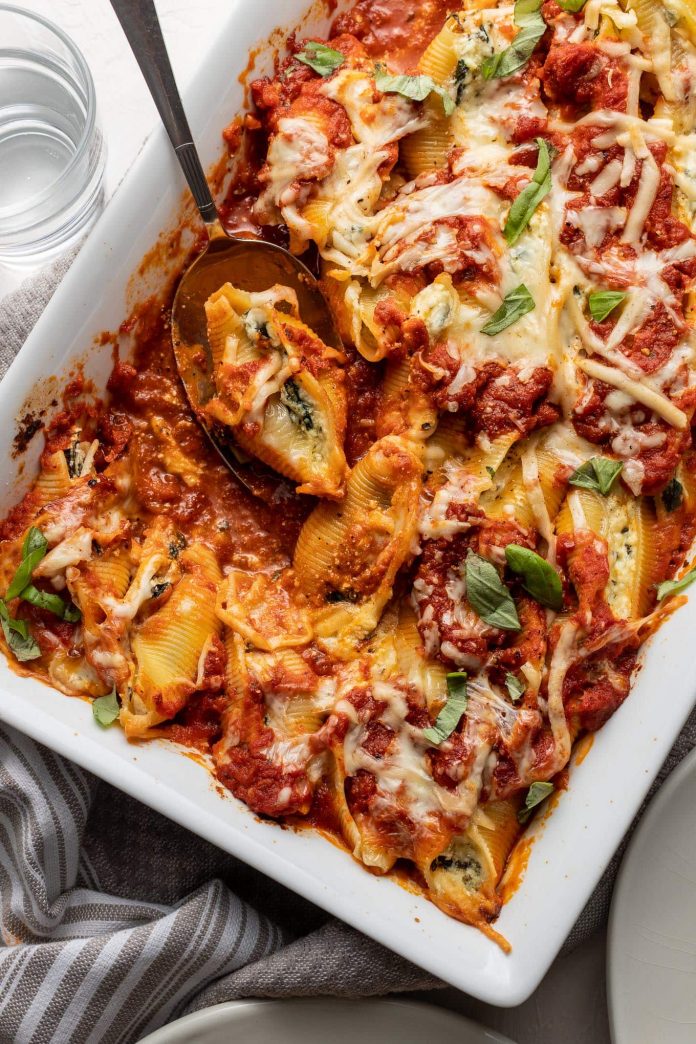 The ricotta-stuffed mussels combine two of my favorite dishes: cheese and pasta. Festive and tasty, this classic Italian-inspired dish is truly restaurant-worthy!
Pasta is a constant on our menu at home because it is abundant and easy to prepare. And I love it with baked chicken legs, fried pork chops, and the Creamy Chicken of Francese!
How to make trays filled with ricotta cheese
Preparing to Bake: Set the oven to 375 degrees Fahrenheit for preheating.
Bake the dough: Follow the instructions on the package.
Cook the spinach: In a skillet, sauté the garlic in oil. Then add the spinach. Set aside.
Prepare the cheese mixture: In a bowl, combine the spinach, cheese, and remaining ingredients.
Filling: Pour one cup of sauce into a casserole dish. Fill each pastry with the mixture.
Bake in the oven: Pour in the remaining sauce and cover with aluminum foil. Bake for 25 minutes, then remove the foil. Continue baking for 10 to 15 minutes.
Serving: Garnish with Parmesan cheese and serve hot.
CLICK NEXT PAGE BELOW TO CONTINUE READING …