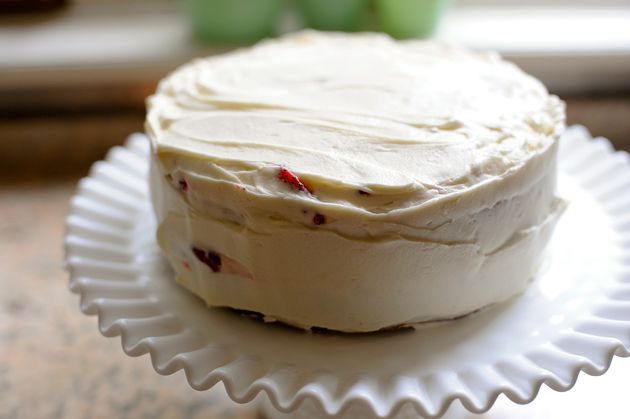 ---
Yields : 10 serving(s) Prep Time : 1 min Cook Time : 45 mins Total Time : 46 mins
---
One day I was thinking of making strawberry shortcake and came up with this instead. It tastes like a mix of strawberry shortcake and strawberry cake. Delicious!
Ingredients
Cake
1 1/2 c. Flour
3 tbsp. Cornstarch
1/2 tsp. Salt
1 tsp. Baking Soda
9 tbsp. Unsalted Butter, Softened
1 1/2 c. Sugar
3 whole Large Eggs
1/2 c. Sour Cream, Room Temperature
1 tsp. Vanilla
_____
Icing
1/2 lb. Cream Cheese, Room Temperature
2 sticks Unsalted Butter
1 1/2 lb. Powdered Sugar, Sifted
1 tsp. Vanilla
1 lb. Strawberries
Directions.
IMPORTANT: Use a cake pan that is at least 2 inches deep. The batter should not fill the pan more than halfway before baking.
Sift together flour, salt, baking soda, and cornstarch.
Cream 9 tablespoons butter and sugar until light and fluffy. Add eggs, one at a time, beating well after each addition. Add sour cream and vanilla and mix until combined. Add sifted dry ingredients and mix on low speed until barely combined.
Pour into a greased and floured 8-inch cake pan. Bake at 3 degrees for 45-50 minutes, or until it no longer jiggles like my bottom. Remove from oven and immediately remove from cake pan and cool completely on cooling rack.
Remove heft from strawberries and cut in half from bottom to top. Place in a bowl and sprinkle with 3 tablespoons sugar. Mix together and let stand for 30 minutes; after 30 minutes, mash the strawberries in two batches. Sprinkle each half with 1 tablespoon sugar and let rest for another 30 minutes.
To make the icing: Combine the cream cheese, 2 sticks of butter, sifted powdered sugar, vanilla and a pinch of salt in a bowl. Mix until very light and fluffy.
Cut cake in half down the middle. Spread the strawberry halves evenly (cut side up) and pour all the juices over them. Place both halves in the freezer for 5 minutes to make icing easier.
Remove from freezer. Using slightly less than 1/3 of the icing, coat the top of the bottom strawberry layer. Place second layer on top of that. Spread remaining half of the icing evenly over the top and the remaining 1/3 cup on the sides.
You can leave it undecorated or decorate with half of the strawberries.
IMPORTANT NOTE: The cake is best served slightly cooled. Due to the butter component of the icing, it will soften at room temperature. It works best if kept in the refrigerator.
---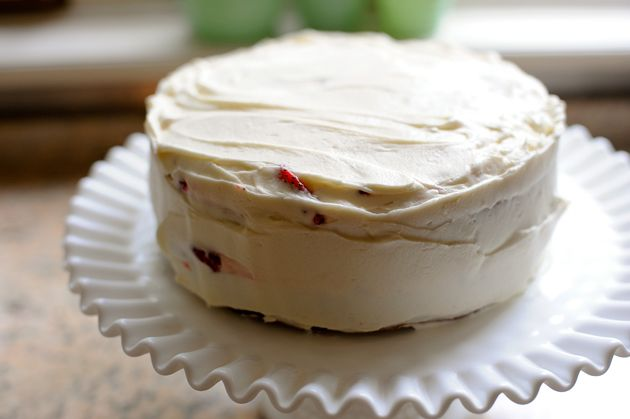 Important: Always use a cake mold that is at least 2 inches deep! Before baking, make sure the batter doesn't fill the pan more than halfway.
I had a lot of strawberries in the fridge yesterday because I was bored (read: hungry, starving, and craving sugar). I also had a laundry room full of dirty clothes, a sink full of breakfast dishes, and my precious axe to sharpen.
So I decided to go baking. This is what I do when I sharpen my axe.
I almost made strawberry shortcake. I still had plenty of whipped cream in the fridge, so I whipped it up sweetly and poured it over sweet cookies and strawberries in syrup, and it was easy. Done and done. Dozens of times.
But yesterday I wanted to do something different.
So I made something different. I made Cakes. It tastes like a cross between strawberry shortcake and strawberry cake. Hear me out. I got really creative and decided to name it Strawberry Shortcake Cake. That's how creative I am.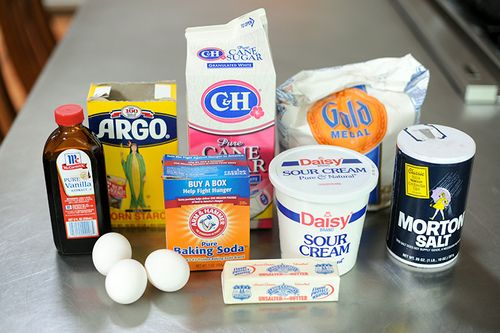 Character Description (for cake). Unsalted butter, sugar, eggs, sour cream, vanilla, baking soda, flour, salt, cornstarch.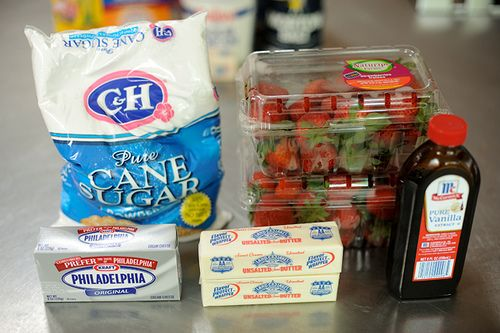 For icing/pouring. Fresh strawberries, unsalted butter, cream cheese, icing sugar, vanilla. Also add a pinch of salt.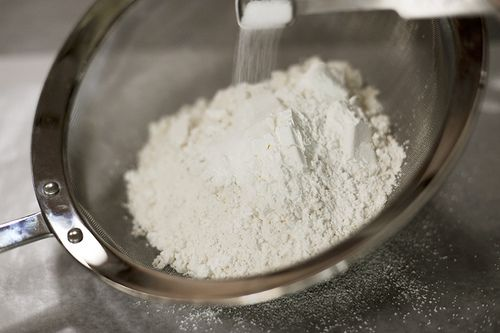 First, sift together the flour, salt, baking soda, and cornstarch. This cake is an adaptation of my favorite sponge cake recipe. I thought it was perfect for this cake. I will tell you why later.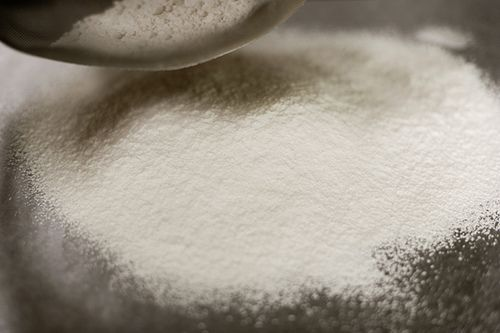 Sift the material onto a piece of wax paper. This way you can fold it up and have it in the mixer in less than a minute.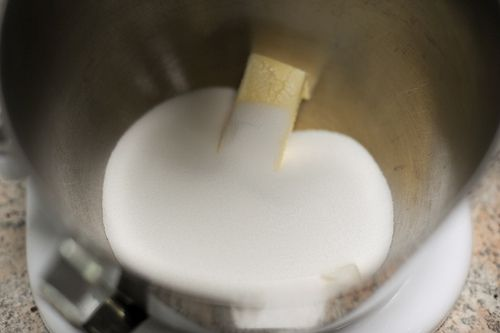 Put the butter and sugar into the mixing bowl.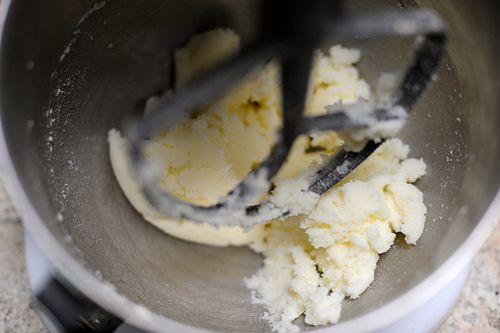 Cream butter until light and fluffy.
(Do you write "until"?) Or do you write "until"? (I wrote "until" until someone recently asked me to correct him.)
(Or do you write until, as most people who can read do?)
Forget it. Don't answer the question.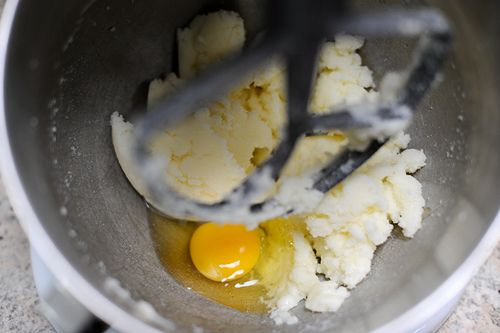 Add the eggs one at a time, stirring gently after each addition.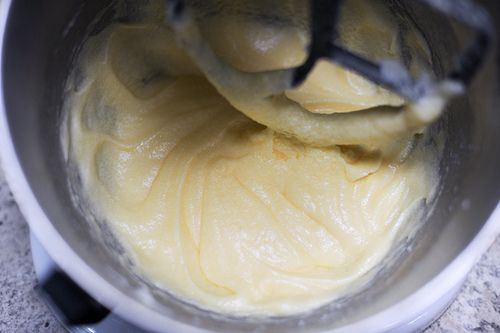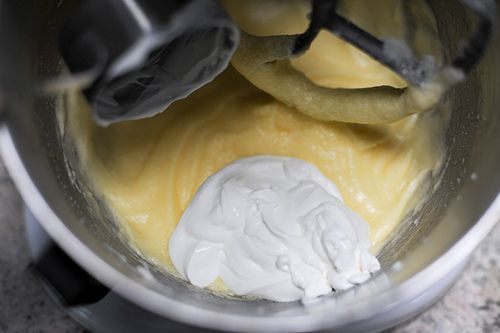 Next, add the sour cream: .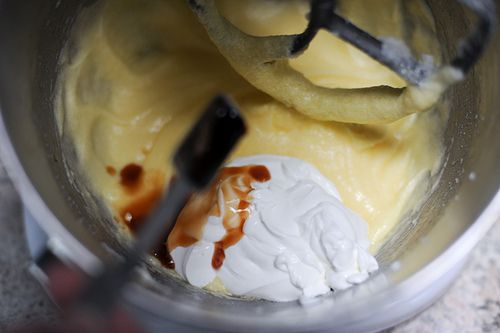 And vanilla.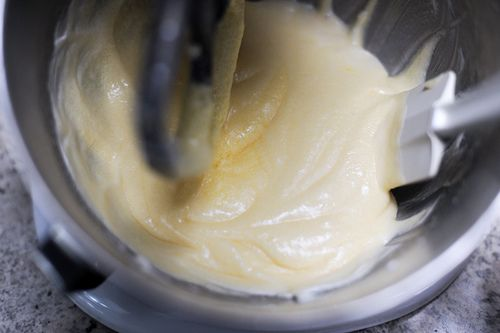 Mix until smooth.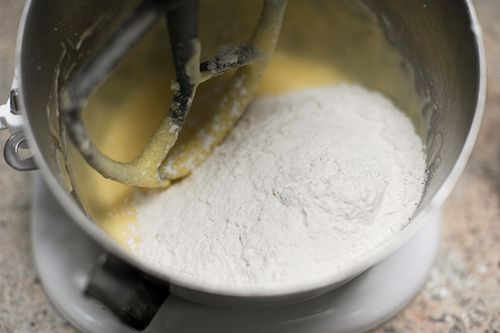 Now pour in the sifted ingredients.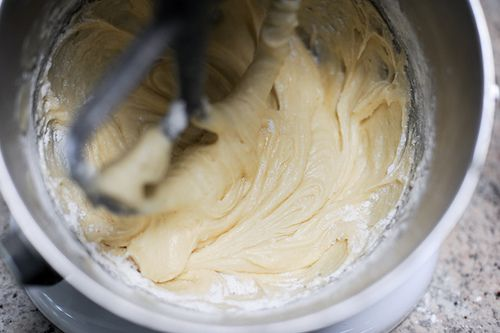 Stir until the ingredients are mixed. I usually stop before they are completely mixed and stir with a rubber spatula for a moment or two.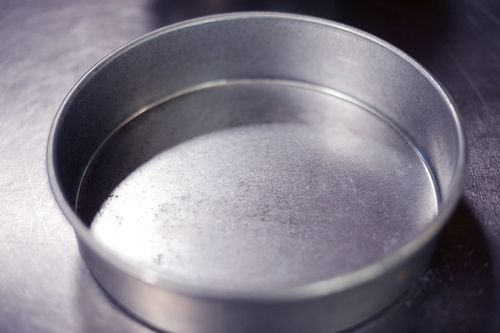 You will need an 8 inch cake mold. I chose 8″ instead of 10″ because it was smaller and cuter.
It's very hard to believe it's my butt.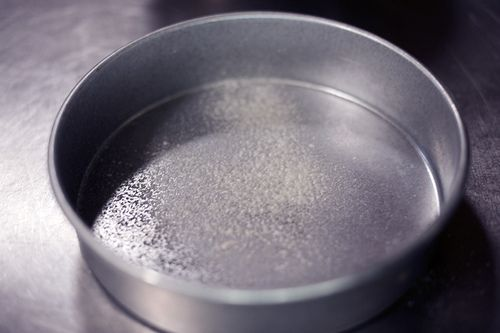 Spraying the bottom and sides of the pan liberally with cooking spray is much easier than buttering the inside of the pan and then dabbing it with flour.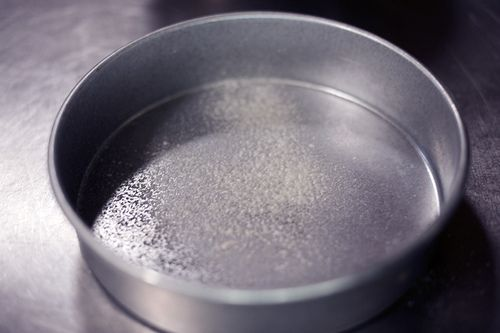 I'm praising the day I met Cooking Spray.
This can be made into a jingle, a poem, a rap, or whatever suits your needs.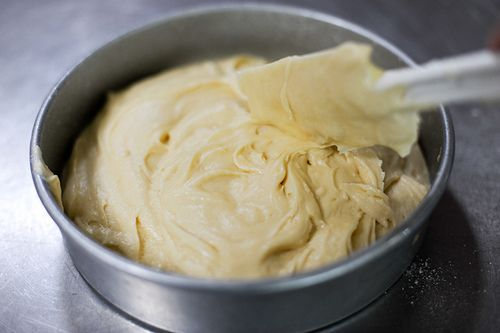 Pouring the batter into a greased pan….
Then use a spatula to flatten the surface as much as possible.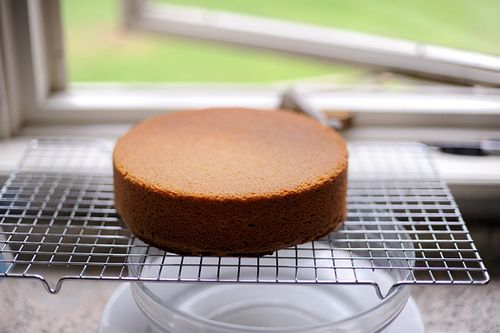 Then bake the cake at 350 degrees for 45 to 50 minutes or until it is no longer jiggly. And please note: the outside of the cake tends to be very golden brown when baked . but the inside is perfect. Here, the baked cake is placed upside down on a cooling rack with an open window (it was cool outside yesterday) so that it cools quickly. The icing will not be ready until it is completely cooled.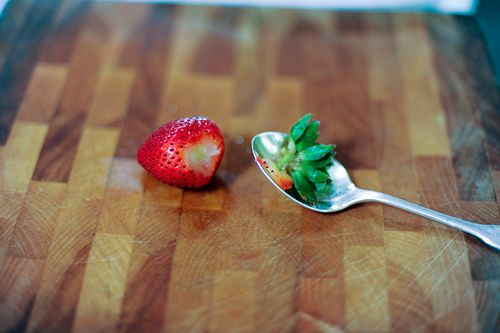 Meanwhile, remove the heft from the strawberries and slice them. I like to seed the strawberries with the tip of a spoon, my mom always did this.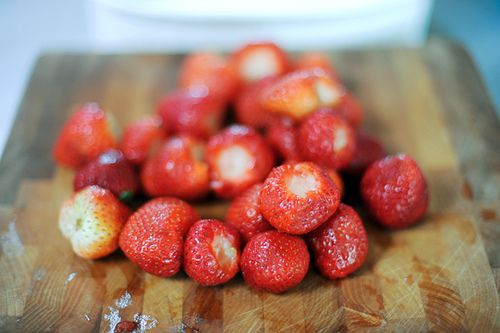 If you get the stems…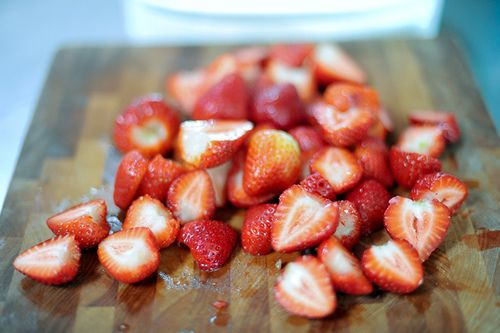 Cut in half from top to bottom.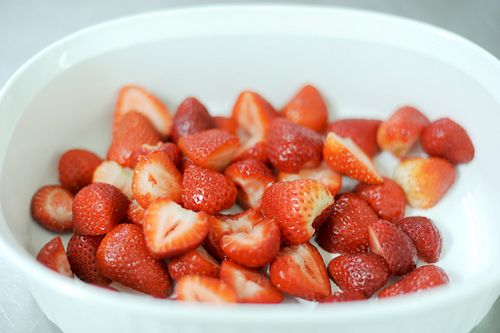 Put the halved strawberries into a bowl….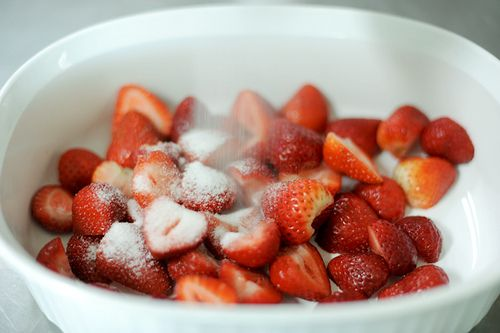 Sugar is sprinkled on top.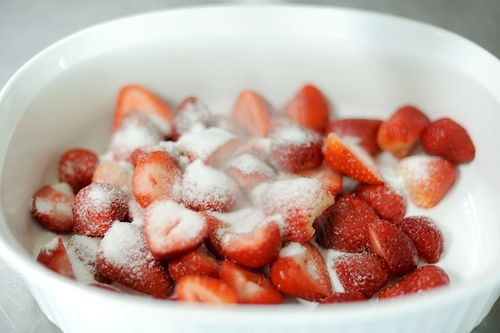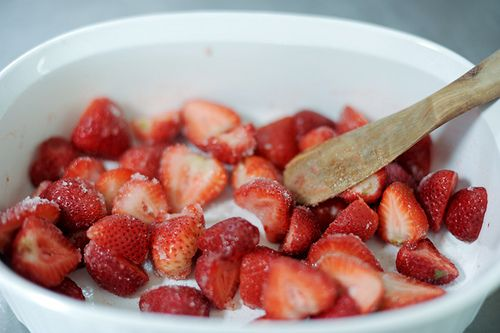 Then stir a bit.
Here, let the strawberries sit for about 30 minutes. The juice will ooze out and mix with the sugar to form a nice syrupy liquid. Looks delicious.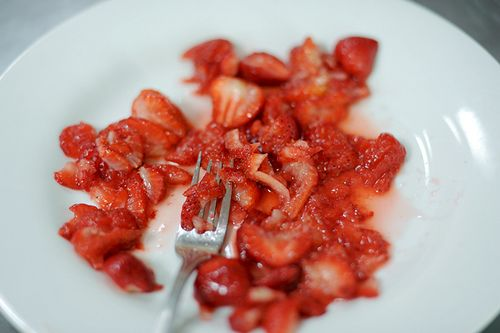 After 30 minutes, mash the strawberries on a plate with a fork.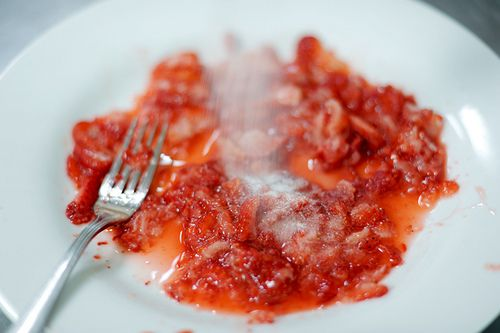 Once mashed (you can mash as many as you like), sprinkle with a little more sugar. Let sit for another 30 minutes or so, they will be nice and juicy and syrupy. (I cut the strawberries in half and mashed them in two separate dishes).
(For the more adventurous, drizzle a small amount of Grand Marnier over the strawberries. (This will make the cake taste even better and cure the pain).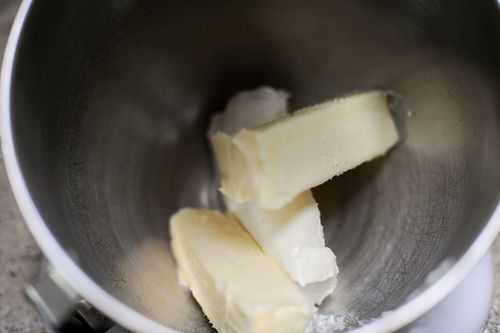 Once the cake has cooled completely, make the icing. Throw the cream cheese and unsalted butter into a bowl….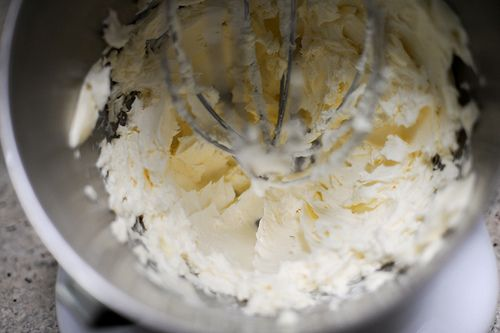 Mix all together until light and fluffy.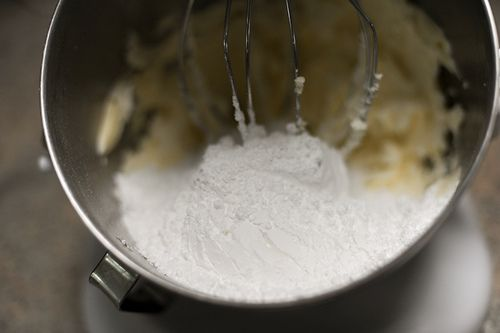 Sift the icing sugar and throw in. Again, add vanilla and a pinch of salt.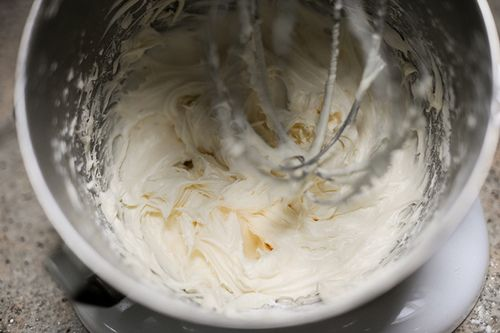 Beat the icing on high until light and fluffy, about 1 minute. A mixer whisk works well at this point. It makes the icing aerated. (You can also use a handheld mixer!) . .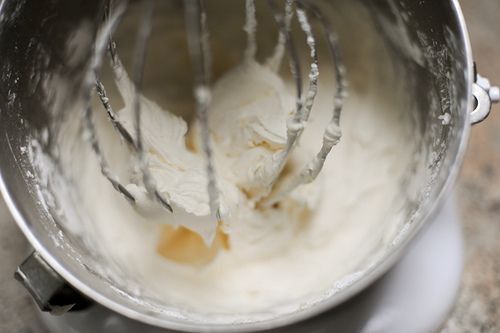 Hmmm. Cream cheese icing. The stuff dreams are made of.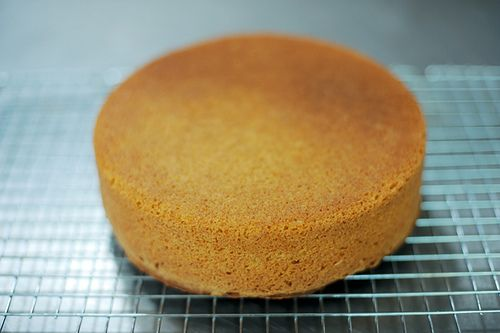 Make sure the cake is not warmed up a bit.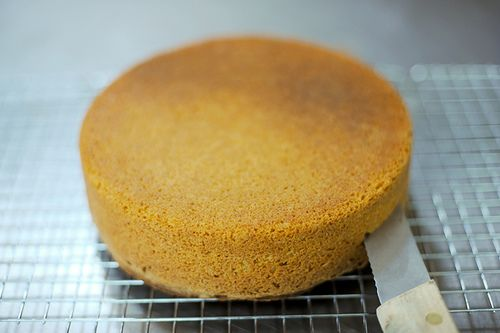 Then, with a long serrated knife, cut the cake completely in half.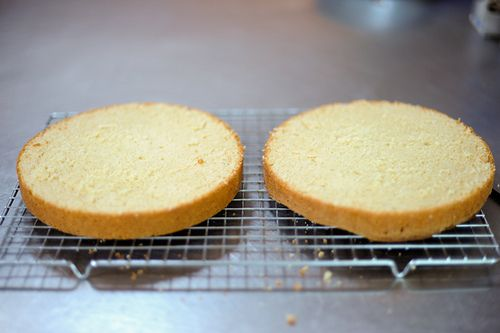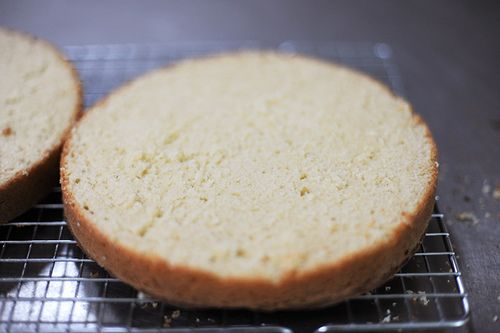 I really like the texture of this cake. So I thought I would use it.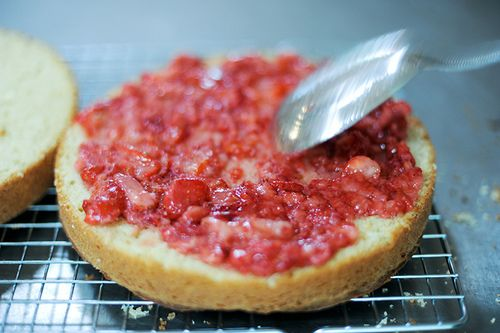 Laying down the strawberries, there is enough weight. Put half the berries down .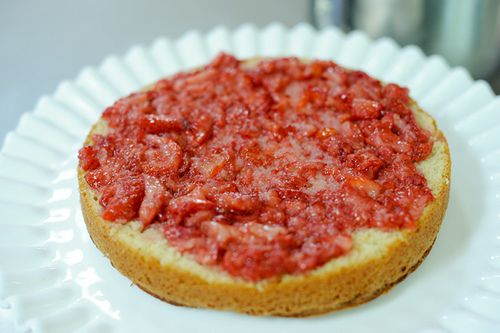 Be sure to pour all the sweet juice over it. It will soak into the cake and make you happier.
Now repeat with the other half of the cake and the other half of the berries and chill both halves in the freezer for about 5 minutes. Make sure to stick the icing in the freezer as well. This way, everything will be chilled and help the icing process. (Be careful not to leave the icing in the freezer too long, or the butter will harden quickly.)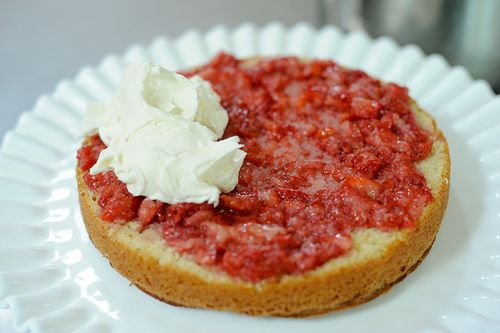 When ready to serve, place the bottom half on a nice cake plate or base. I really like this base.
I bought it on eBay, as I did in the last century. It is Fenton milk glass to be exact. It is totally quintessential.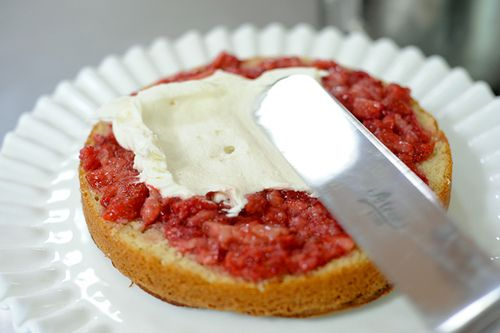 Put a little less than a third of the icing on top of the strawberries.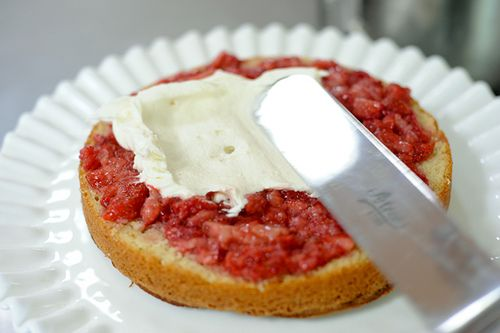 Then spread it out, being careful not to disturb the strawberries too much.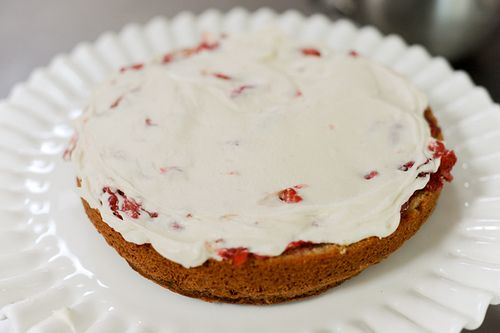 It doesn't have to be very neat. The icing just needs to stick out a bit from the edges.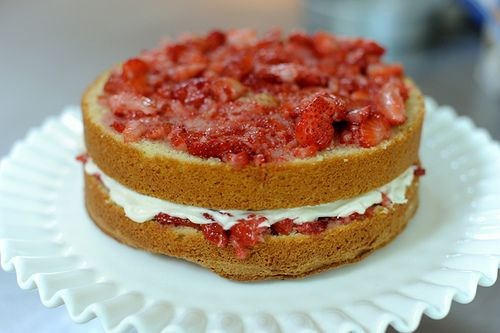 Then place the other half covered with strawberries on top.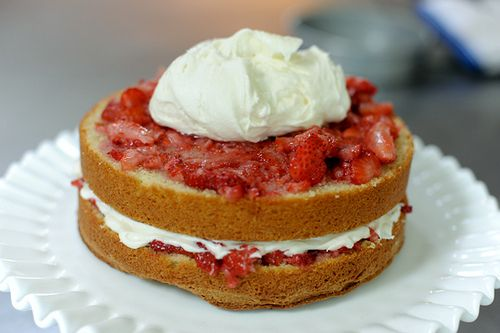 Place the other half of the icing on top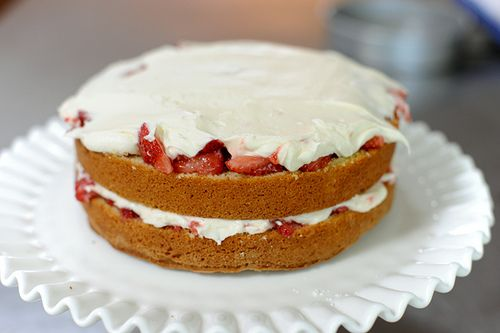 Then spread it evenly, being careful not to disturb the strawberries too much.
*IMPORTANT: At this stage, put the cake back in the freezer for about 5-7 minutes before gluing the rest of the cake in place. It's a funny habit of mine.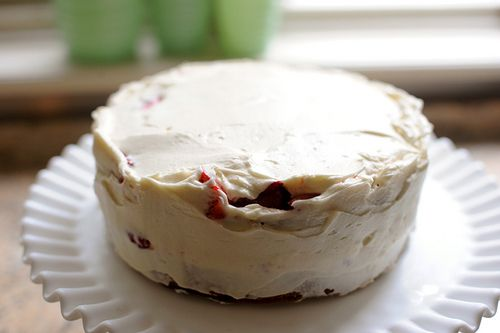 When I pull it out, I notice that the daylight is rapidly diminishing and panic sets in. Apply the remaining icing to the sides of the cake.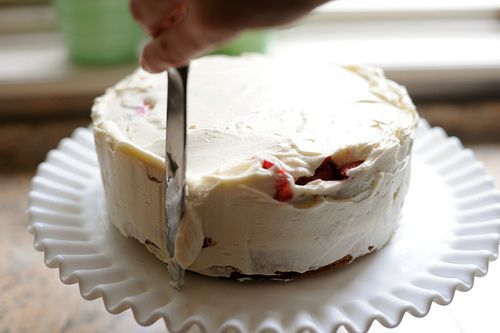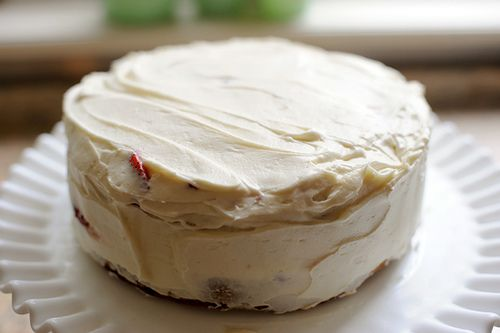 Hmmm… Looks good.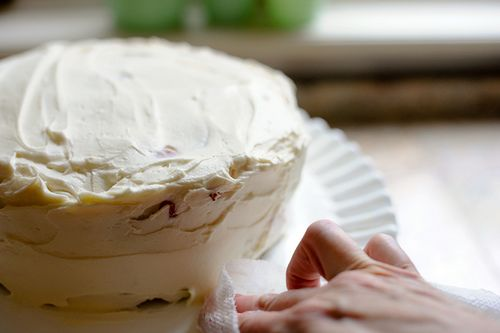 If you get ice on your plate or pedestal, wipe it off immediately with a damp paper towel or cloth. I always get made fun of by Marlboro people, especially when I serve Spaghetti O's to the kids.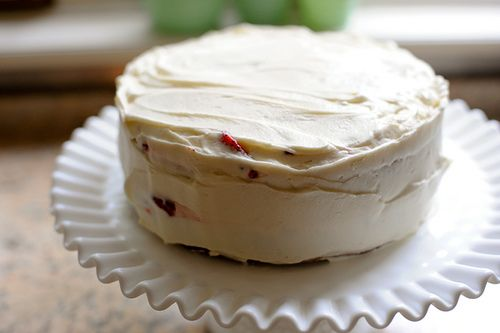 Hello my beautiful love, it's nice to finally meet you face to face.
I think the cake is lovely as it is, natural and unpretentious, with just a hint of strawberry peeking through the icing. But you can design it as much as you like by cutting the strawberries in half and arranging them artistically on top.
But I like to take my time with it.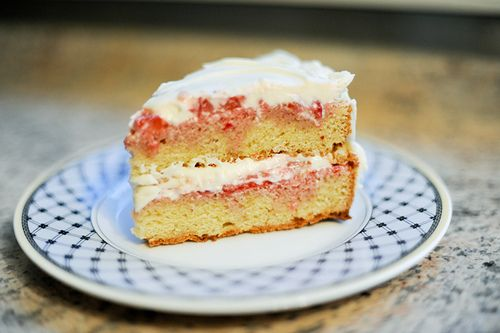 I can't say enough good things about this. If I try it, I'm sure I'll start crying.
This is the best strawberry shortcake I have ever had. An absolute delight!