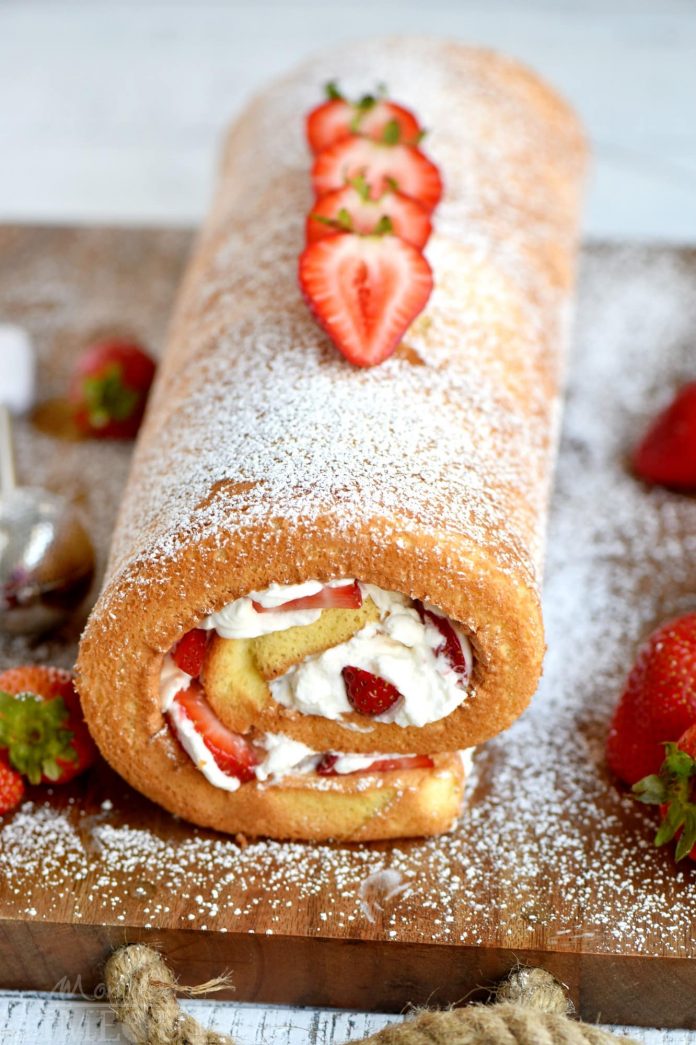 This Strawberry Shortcake Roulade is the quintessential summer dessert. Cake rolls are always stunning but this one is particularly so. Light and airy cake wrapped around a sweet whipped cream and fresh strawberry filling. Irresistible!
Course : Dessert
 Cuisine : American 
Keyword : cake, strawberry cake, strawberry shortcake 
Prep Time : 15 minutes
 Cook Time : 15 minutes 
Total Time : 30 minutes 
Servings : 12 servings
 Calories : 247kcal
Ingredients
Cake
5 egg yolks room temperature
2 tbsp vegetable oil
3 tbsp milk
1 tsp vanilla extract
1 cup sugar divided
1 tbsp lemon zest
3/4 cups all purpose flour
2 tbsp cornstarch
1 tsp baking powder
1/4 tsp salt
4 egg whites room temperature
Filling
1 cup heavy whipping cream
1 tbsp sour cream
1/2 tsp vanilla extract
1/4 cup powdered sugar plus more for dusting
1 pound strawberries washed, hulled, sliced
1 tbsp sugar
1 tbsp lemon zest
Instructions
Preheat oven to 350F.
Spray a 12X17 rimmed baking sheet and line with parchment paper. Grease the parchment paper with butter. Set aside.
In a medium bowl, whisk together the egg yolks, oil, milk, vanilla extract, two-thirds cup of sugar, and lemon zest.
In a small bowl, whisk together the flour, cornstarch, baking powder and salt.
Stir dry ingredients into the wet just until combined.
In a medium bowl, beat egg whites on med-high until soft peaks form (1 to 2 minutes). Add the remaining one-third cup of sugar and continue beating on med-high speed until stiff peaks form (another 1 to 2 minutes).
Fold egg whites into the batter until fully incorporated.
Pour batter onto prepared baking sheet and bake for 15 minutes or until the top of the cake is light brown. Let cool completely.
Filling
In a large bowl, beat the heavy cream on high speed until soft peaks form.
Add the sour cream, vanilla extract, and powdered sugar. Continue beating until stiff peaks form.
CLICK NEXT PAGE BELOW TO CONTINUE READING …