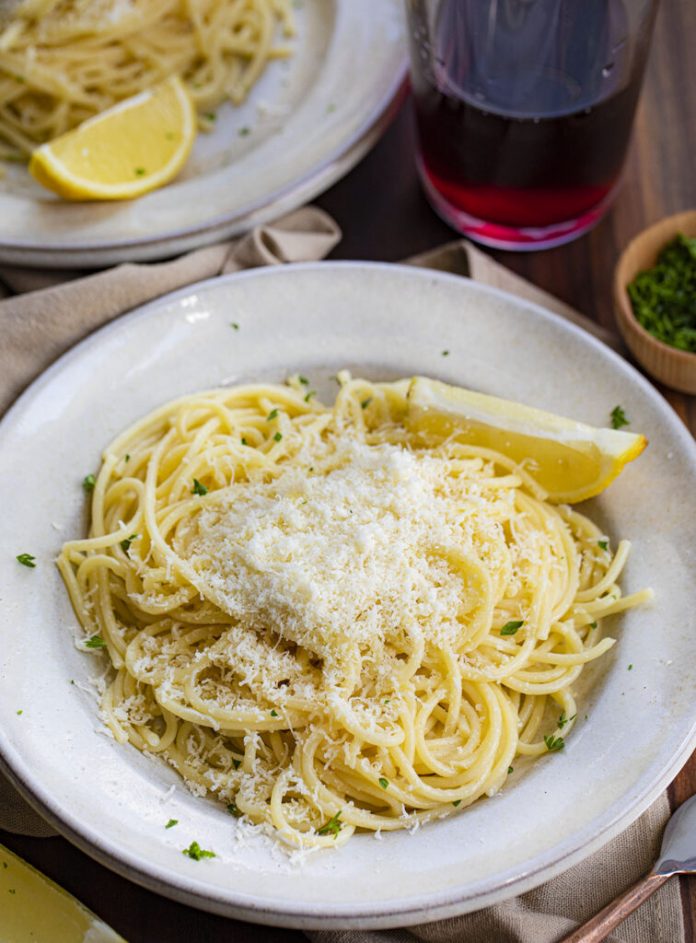 Spaghetti Limone is a buttery, lemony pasta dish drizzled with olive oil and topped with plenty of parmesan cheese that is on the table in just a few minutes!
Course Dinner, Main Course 
Cuisine American
 Keyword Spaghetti Limone 
Prep Time 10 minutes 
Cook Time 10 minutes 
Total Time 20 minutes
 Servings 4 
Calories 259 kcal
Ingredients
8 ounces spaghetti noodles
½ medium lemon, juiced (approximately 2½ tablespoons)
6 tablespoons butter, cut into 1 tablespoon pats, divided
½ teaspoon salt
olive oil, for drizzling
¼ cup grated parmesan cheese
Instructions
Bring a large pot filled with salted water to a boil.
Add noodles and cook until al dente, according to package directions.
Drain noodles and reserve 1 cup of pasta water. Set the cooked noodles aside.
In a large skillet over medium heat, add ¼ cup pasta water, lemon juice, and 4 tablespoons of the butter.
Once butter is melted, add the cooked noodles and toss to coat.
Add ½ teaspoon salt and the remaining 2 tablespoons butter.
Once the butter has melted, divide noodles into warmed bowls.
CLICK NEXT PAGE BELOW TO CONTINUE READING …