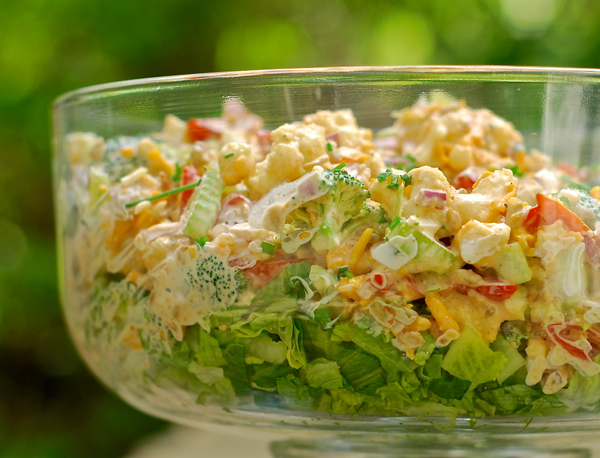 Who doesn't love a super crunchy, veggie-loaded salad with sharp, tangy cheese and creamy dressing? This boasts all of these qualities and is, hands down, one of my absolute favorite salads. What's more, this salad was created by me. It's unique. So when you make it, chances are, there won't be ten more at the picnic or potluck your attending. Warning: Everyone will mob you, so be prepared to share the recipe.
for the salad:
1 head cauliflower, stem and leaves removed, chopped into 1 inch pieces
3 cups small broccoli florets
2 cups sharp cheddar cheese, grated
10 oz. grape or cherry tomatoes, quartered
1/3 to 1/2 cup finely chopped red/purple onion
1 cup celery, chopped
1/2 cup sunflower seeds
Place all salad ingredients in a large mixing bowl. Gently toss to evenly combine.
for the dressing:
CLICK NEXT PAGE BELOW TO CONTINUE READING …