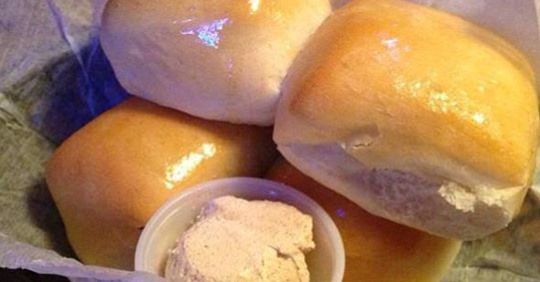 If you are a fan of Texas Roadhouse you are going to LOVE this CopyCat Texas Roadhouse Rolls with Cinnamon Honey Butter Recipe. I vividly recall my first visit to Texas Roadhouse the summer that I moved here to Cincinnati. Oh my! I was in love with the place as soon as I enjoyed my first Roll with butter. After enjoying that meal I was addicted. I am a HUGE fan of bread and rolls. This addiction to Texas Roadhouse is a similar addiction to my love for Red Lobster Cheddar Bay Biscuits. After making those at home, I no longer needed to head to Red Lobster.
My family loves their bread. The kiddos arrived home from school and noticed these at the proofing stage. They all kept checking back in to see when these CopyCat Texas Roadhouse rolls with butter would be done. They were being slightly impatient ha ha.
If you have never enjoyed a Texas Roadhouse Roll and Butter, you really need to give this recipe a try. The rolls have a sweet taste and obviously the Cinnamon Honey Butter really adds to the flavor of these rolls. They are a very popular item at Texas Roadhouse. Everyone patiently waits to consume tons of these rolls when we eat out at Texas Roadhouse.
This CopyCat Texas Roadhouse Rolls with Cinnamon Honey Butter Recipe is quite simple and takes just a bit of time. They will be a great addition to all your meals. We actually just had them as a snack yesterday afternoon. Everyone really liked them. I look forward to making them again this weekend to have with our steak meal.
Ingredients:
Click Next Button Bellow for Full Recipe…