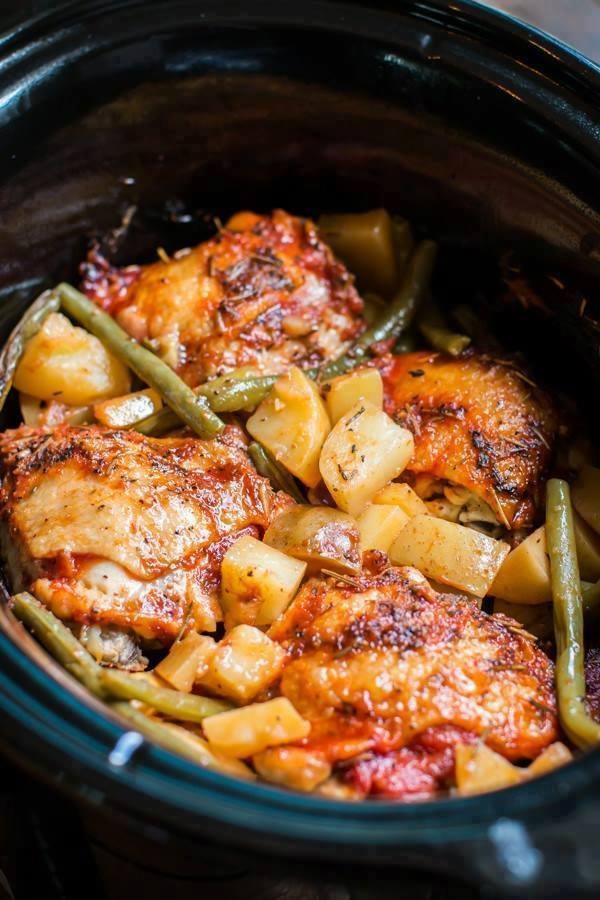 Yummy, Please make sure to Like and share this Recipe with your friends on Facebook and also follow us on facebook and Pinterest to get our latest Yummy Recipes.
THIS SLOW COOKER FULL CHICKEN DINNER HAS TENDER CHICKEN THIGHS, YUKON GOLD POTATOES AND GREEN BEANS IN A SAVORY HERB SAUCE.
This is a great Sunday dinner meal, set this up after lunch and no worries about dinner at all, just scoop and serve when the timer goes off.
I hope you are having a great week. I will have more recipes next week for you!
To Make this Recipe You'Il Need the following ingredients:
Ingredients:
4 bone-in chicken thighs cooking oil
1.5 lbs Yukon gold potatoes, diced
1 pound green beans, ends snipped
2 garlic cloves, minced
1 (8-oz) can tomato sauce (not paste)
1½ tsp. salt
¼ tsp. pepper
½ tsp. dried thyme
½ tsp. dried rosemary
HOW TO MAKE it:
Click Next Button Bellow for Full Recipe…