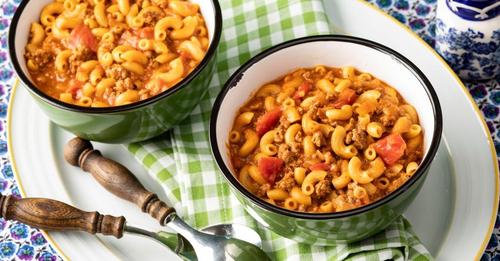 Looking for a dinner idea that combines the comfort of pasta with the heartiness of a stew? Look no further than our delectable One-Pot Goulash Fusion! This dish takes inspiration from the classic Central and Eastern European goulash but adds a twist with American-style ingredients, resulting in a creamy and savory family meal. Plus, it's a breeze to prepare, with minimal cleanup required, and can be on the table in just 30 minutes!
What Sets Our Goulash Fusion Apart:
Ingredients:
2 tablespoons of olive oil
1 finely chopped onion
3 cloves of garlic, minced
1 1/2 pounds of ground beef
1 can (15 ounces) of beef broth
1 can (15 ounces) of tomato sauce
1 can (15 ounces) of diced tomatoes
1 tablespoon of Worcestershire sauce
1 teaspoon of seasoned salt
2 teaspoons of dried Italian seasoning
1 tablespoon of ground paprika
1/2 teaspoon of ground black pepper
2 cups of elbow macaroni
1 cup of sharp cheddar cheese, grated
Optional: Chopped fresh herbs like parsley, chives, or dill for garnish
Directions:
Begin by heating 2 tablespoons of olive oil in a large Dutch oven or pot over medium-high heat. Once the oil is hot, add the finely chopped onion and sauté until it becomes slightly softened, which should take around 3 minutes. Add the minced garlic and cook for an additional minute.
Add the ground beef to the pot, breaking it into small pieces with a wooden spoon. Cook the beef until it turns brown and there is no pink left, approximately 5 minutes. If excess liquid or fat accumulates, drain most of it and discard.
Now, it's time to introduce the rich flavors. Pour in the beef broth, tomato sauce, diced tomatoes, 1/2 cup of water, Worcestershire sauce, seasoned salt, Italian seasoning, paprika, and ground black pepper. Give it all a good stir to combine, and let the mixture return to a simmer.
Add the elbow macaroni to the simmering pot and allow it to cook for about 12 minutes or until the macaroni turns tender, stirring occasionally.
Remove the pot from heat and gently fold in the grated sharp cheddar cheese. Stir until the cheese is completely melted into the sauce, creating a luxurious, creamy texture.
For an elegant touch, top your One-Pot Goulash Fusion with freshly chopped herbs like parsley, chives, or dill, if desired.
Voila! You've just whipped up a unique and satisfying dinner that's ready in a snap, making it perfect for those busy evenings when you need a quick, delicious meal on the table. Enjoy your fusion of flavors!
picture source : web.facebook.com/thepioneerwoman