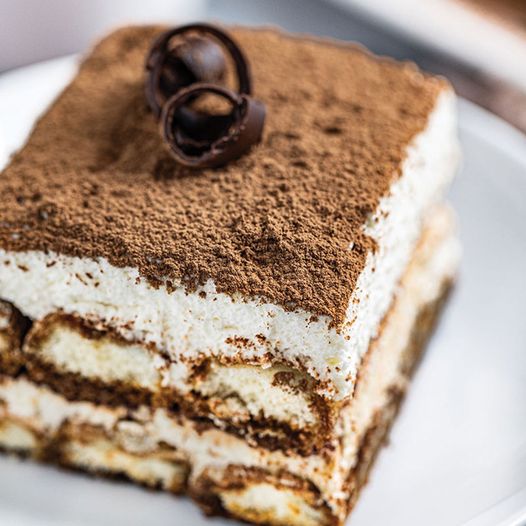 Tiramisu is a surprisingly easy, no-bake classic Italian dessert. It contains layers of ladyfingers dipped in espresso, mascarpone custard, whipped cream and cocoa powder. Buon appetito!
Course: Dessert
Cuisine: ItalianKeyword: Tiramisu
Prep Time 30 MINUTES 4 HOURS
Total Time 4 HOURS 30 MINUTES
INGREDIENTS
Cream Layer
4 egg yolks
1/2 cup granulated sugar divided
1 cup heavy cream
1 cup mascarpone
To Assemble
2 cups espresso or strong coffee
2 tablespoons cocoa powder
24 lady fingers hard variety
1/4 cup chocolate shavings
INSTRUCTIONS
Cream Layer
Make a double boiler by bringing a couple inches of water to a simmer in a saucepan. Place a heat safe bowl ontop of the saucepan and whisk together the egg yolks and 1/4 cup sugar. Whisk this constantly in the bowl over the saucepan for 8-10 minutes. Remove and let cool.
In a separate bowl, use a hand mixer on medium-high to mix together heavy cream and the remaining 1/4 cup sugar, until doubled in size. Fold in the Mascarpone cream.
Add the egg mixture into the mascarpone mixture a little at a time, stirring constantly. Once all has been added in, use the hand mixer and continue to mix until medium peaks form.
Layers
In an 9-inch square dish (or something of similar size) sprinkle a light dusting of cocoa powder.
Pour the espresso into a shallow bowl.
Working quickly, dip lady fingers into the espresso and line the bottom of the pan. Only dip what you need for that layer, and be sure to dip quickly so they do not soak up too much espresso.
Once you have the bottom layer, spoon half of the mascarpone mixture over the lady fingers and gently spread. Dust lightly with cocoa.
Repeat the process of dipping the lady fingers and layering the remaining mascarpone mixture.
Give the final layer of cream a dusting of cocoa and sprinkle chocolate on top.
Chill for a minimum of 4 hours so that the flavors can truly meld together.
Nutrition
Calories: 574kcal | Carbohydrates: 50g | Protein: 9g | Fat: 38g | Saturated Fat: 23g | Cholesterol: 196mg | Sodium: 104mg | Potassium: 166mg | Fiber: 1g | Sugar: 20g | Vitamin A: 1362IU | Vitamin C: 1mg | Calcium: 105mg | Iron: 2mg