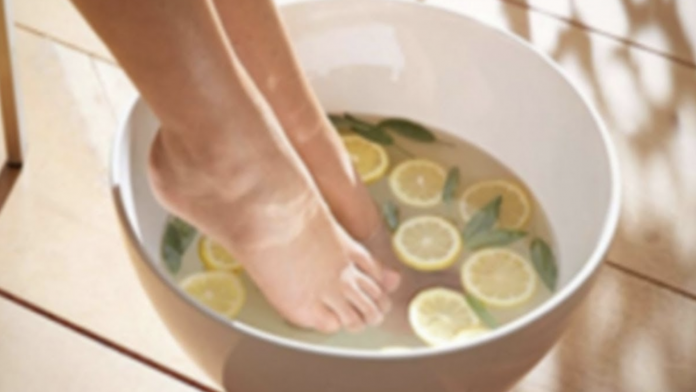 Sometimes after a long day of standing and walking around in some uncomfortable shoes, you come home tired and not in the mood to do anything, not to mention that your feet probably hate you and want to leave you and run away.
Our bottom parts especially the feet, are designed to carry the whole body that is why you need to give extra care to your feet if you want to avoid varicose veins, cracked heels, fungal infections.
One of the best ways when it comes to feet care is foot soaks. They actually destroy fungi and bacteria, not to mention that they relax your feet, detoxify your body, but also relieve pain. Here's what you are going to need.
Ingredients:
¼ cup of baking soda
8 cups of water
Juice of one lemon
Instructions:
First, start by adding baking soda to your foot basin, then start covering with warm water, then grab a lemon and squeeze out its juice. Once done, put your feet in it, then start swishing them. Soak your feet for 20 minutes
Once done, take your fee out of the water, then use a towel to dry them, then use a sponge to exfoliate them (an exfoliating sponge works perfectly.)
Baking soda is known for being a component that has many effective uses, and it certainly makes an impact when it comes to your feet. It does many amazing tasks like taking care of bad odors, treating and softening the skin, and of course, destroying bacteria and fungus.
Lemon, of course, has an important role too because it acts like a potent astringent that prevents excessive sweating and it improves the health of your skin. Furthermore, the smell it generates is just amazing.
This foot soak is a great way to relax and detoxify your body because it absorbs every little toxin and waste through your feet and it acts as a cleaner for your system.
Some people claimed that a foot detox can lead to pH levels balance in the body and majorly improves your mood. They also claimed that it can treat swellings, boost the immune system, kill bad microorganisms, improves your heart's health, and relieve stress.