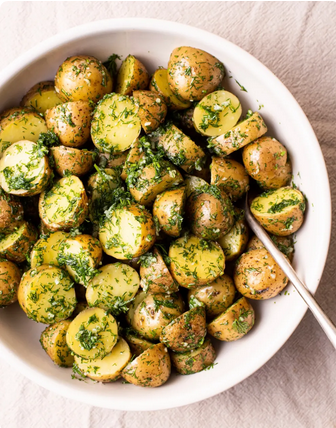 source: thekitchn.com
A Side Dish with Four Essential Spring Ingredients
This side dish uses only four unassuming ingredients – potatoes, dill, garlic and sunflower oil – but the combination is magical. Each bite of creamy boiled potatoes is accompanied by the herbaceous aroma of fresh dill and the pungent flavor of fresh garlic, while the nutty aroma of virgin sunflower oil (a signature ingredient of Ukrainian cuisine) brings it all together. I serve it for breakfast with pickled herring, sprats and salted smoked mackerel (a pairing I prefer over Eggs Benedict) or for dinner with chicken schnitzel or fried fish.
When I was in Ukraine, my mother used to make these potatoes in the spring and summer. At that time, the Odessa Farmer's Market (the local bazaar) had tons of new potatoes and fresh dill. We bought all our food from the bazaar and local organic vegetables were the default. Supermarkets (a whole new concept in Ukraine after the breakup of the Soviet Union in the 1990s) also carry imported produce, but sell it at exorbitant prices that families like ours simply can't afford. These potatoes are a true celebration of spring.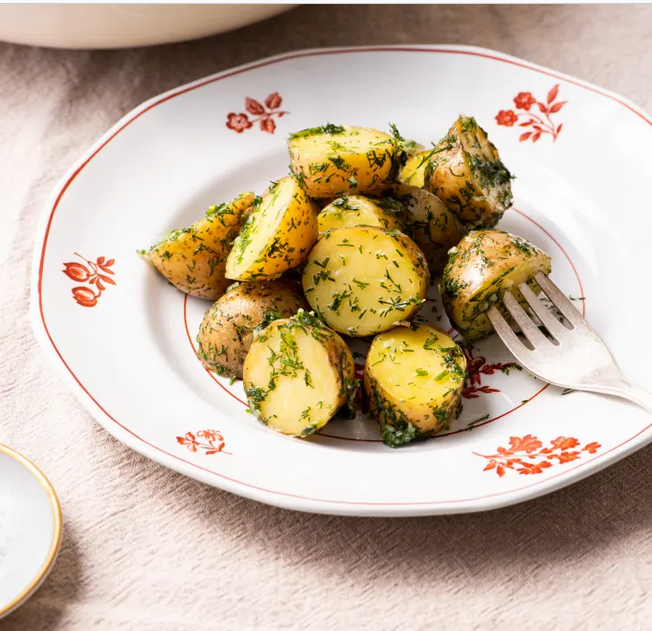 Credit: Alexandra Shytsman
Three tips for making the best dill potatoes ever
Don't skimp on the sunflower oil. The key to these potatoes is unrefined sunflower oil, which is golden brown and has a nutty and floral flavor. You can buy sunflower oil in tall plastic bottles in stores in Russia and Eastern Europe, as well as on Amazon. Like fine olive oil, sunflower oil can be used as an essential oil and is excellent in salads, tossed beans or spread on toasted bread. Here, toss boiled potatoes with 1/4 cup of olive oil. This may sound like too much, but it should be just a little bit of oil.
Cook the baby potatoes whole. If you have new baby potatoes, cook them whole. For larger potatoes, cut them into 1-inch pieces. Cook the potatoes in cold water, not in boiling water.
Use a garlic press. I know garlic presses have a bad reputation (I think it has to do with the fact that they are a one-trick pony tool), but a garlic press releases the essential oils of the garlic and the chunks of garlic get small. This is by far the best way to prepare garlic for these potatoes.
Kitchn's editors develop new recipes every week and post them on the site. However, we also have dishes that we try over and over again at home. And because we love them, Kitchn Love Letters is a series of favorite recipes that we make over and over again.
Ukrainian-Style Dill Potatoes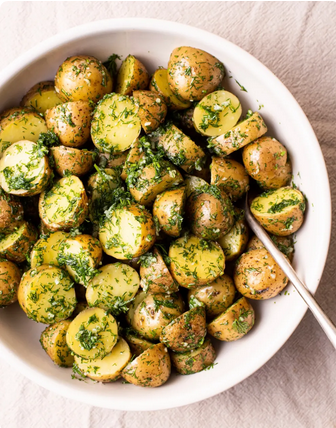 source: thekitchn.com
Just four simple ingredients – potatoes, dill, garlic and sunflower oil – but the combination is amazing.
Prep time 10 min.
Cooking time 20 minutes
Serves 4-6 people
Ingredients
2 pounds small new potatoes
2 teaspoons kosher salt, plus more
3 cloves garlic
1/4 cup unrefined sunflower oil
1/2 cup finely chopped fresh dill
Directions.
Measure 2 pounds of new potatoes. If larger, cut into 1-inch chunks.
Place potatoes in a large pot and fill with enough water to soak the potatoes about 10 inches. Add 2 teaspoons salt, cover the pot, and bring to a boil over medium heat. Reduce heat to low and simmer gently, covered, until a fork easily passes through the potatoes.
Meanwhile, grind 3 cloves garlic in microwave or crush in garlic press. Add 1/4 cup sunflower oil and mix well. Cut 1/2 cup fresh dill.
Drain potatoes and return to pan. Add garlic oil, dill and a pinch of salt. Mix gently to combine. Taste and season with salt if needed.