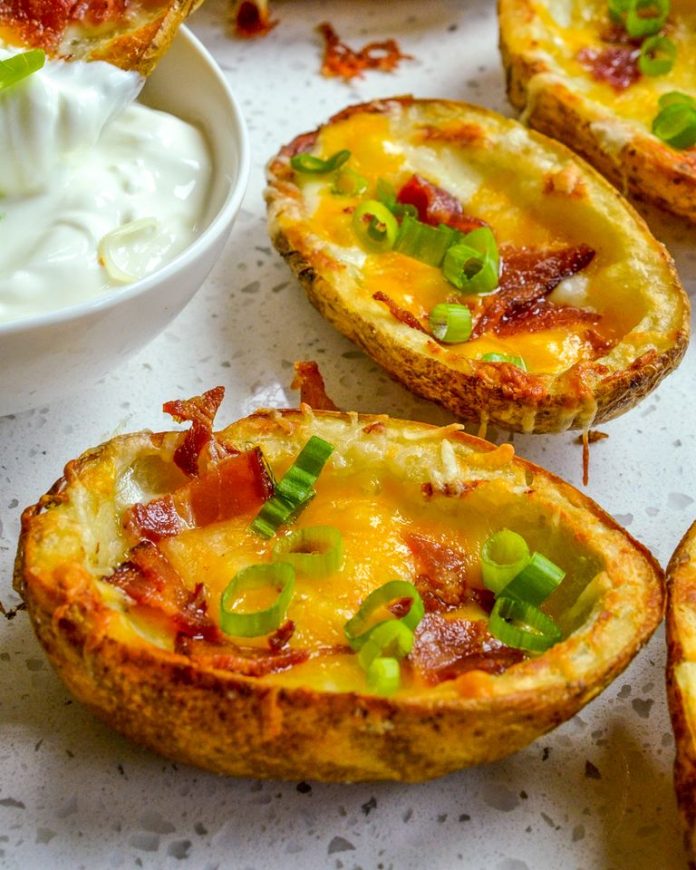 Prepare to indulge in a truly satisfying culinary adventure with our "Ultimate Crispy Potato Delights." These delectable baked potato skins are taken to the next level, surpassing restaurant quality and delivering a burst of flavor in every bite. With a blend of savory cheese, crispy bacon, and the freshness of green onions, this appetizer is an absolute showstopper. You won't be able to resist these extra crispy, oven-baked creations, perfect for any gathering or as a delightful snack.
Ingredients:
6 small to medium Russet Potatoes
1 ½ tablespoons of canola oil or olive oil
A pinch of sea salt
3 tablespoons of butter
¼ teaspoon of garlic powder
¼ teaspoon of onion powder
½ cup of finely shredded cheddar cheese
½ cup of finely shredded Monterey Jack cheese
4 slices of crispy-cooked bacon, chopped
1 finely sliced green onion
Sour cream (optional)
Method: Baking Magic
Prep Time: 10 minutes
Cook Time: 1 Hour 25 minutes
Total Time: 1 hour 35 minutes
Yield: 6 servings
Category: appetizer
Cuisine: American
Instructions:
Start by Preheating: Begin by preheating your oven to 375 degrees.
Potato Preparation: Scrub the Russet potatoes, ensuring they are dry. Using a fork, poke each potato 8-10 times. Now, enhance their flavor by gently rubbing them with canola or olive oil and generously sprinkling them with sea salt. Place these prepped potatoes on a baking sheet and bake for 50-60 minutes, or until they are cooked through. Let them cool until they are safe to handle.
Crisping It Up: Raise the oven temperature to 450 degrees. Carefully cut the cooked potatoes in half lengthwise. Using a spoon, scoop out the potato flesh, leaving a thin layer of about 1/4 to 1/2 inch inside the skin.
Flavor Infusion: In a microwave, melt the butter, then whisk in the garlic powder and onion powder. Brush this flavorful concoction over both the tops and bottoms of the potato skins. Place the potato skins back on the same baking sheet you used earlier and bake for 10 minutes. Afterward, flip them and bake for another 10 minutes, letting the magic happen.
Cheesy Bliss: It's time to elevate the flavor. Sprinkle the finely shredded cheddar and Monterey Jack cheese evenly over the potato skins, and don't forget the crispy bacon! Return the loaded skins to the oven for 5 more minutes, or until the cheese has melted into a gooey perfection.
Final Touch: Finish these "Ultimate Crispy Potato Delights" with a generous topping of freshly sliced green onions. For those who desire an extra touch of creaminess, serve with a dollop of sour cream (optional). The combination of flavors and textures in every bite will leave your taste buds dancing with joy.
Conclusion:
With "Ultimate Crispy Potato Delights," you've just experienced the transformation of an ordinary potato into a sublime creation. The blend of crispy skins, creamy cheese, savory bacon, and the freshness of green onions is an irresistible temptation. Whether you're serving this as an appetizer or enjoying it as a snack, you're sure to impress everyone with these extraordinary potato skins that surpass restaurant quality. So, indulge, savor, and relish this delightful culinary journey.
SOURCE OF THE PICTURE : small town woman