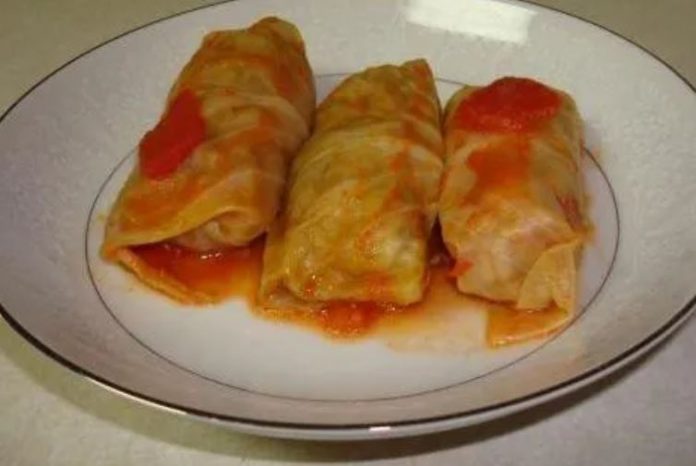 Pronounced go-WOM-bki, also known as cabbage rolls. This recipe is the REAL Polish stuffed cabbage that came from my Aunt Ginny's mother in law straight from Poland. It is THE BEST EVER!! You will not be disappointed!
Serves:8 to 10
 Prep:2 Hr
Cook:4 Hr
Method:Stove Top
Ingredients :
3 lblean ground beef
2 largeonions, thinly sliced
3/4 cuncooked rice, cooked according to package directions
1 largeor 2 small pieces of salt pork
3 largecans redpack whole tomatoes
2 largeheads of cabbage, cored
·salt and pepper to taste
How to Make Galabki (REAL Polish Stuffed Cabbage)
Golabki Filling:
1. Cook your rice according to package directions.
2. While rice is cooking, Slice rind from salt pork.
3. Dice the salt pork and place in large frying pan.
4. Melt down until salt pork browns.
5. Remove salt pork with slotted spoon, leaving drippings in the pan. Dispose of browned salt pork
6. Add onions to drippings and saute' until soft.
7. Put ground beef in large bowl and add cooked rice, salt and pepper.
8. When onions are just translucent, add onions and drippings to the meat mixture.
In a large pot, add the tomatoes breaking them up. Heat slowly.
Fill another very large stock pot with water, enough to cover cabbage heads. Bring to a boil.
Add cored cabbage heads to the boiling water.
Bring to a boil again and cook cabbage until leaves are pliable.
Remove cooked cabbage into colander to drain.
Separate leaves.
DO NOT discard torn or outer leaves!!
You will need another VERY large stock pot.
Put the salt pork rind fat side down on the bottom of the pot.
Spoon salt pork drippings in, enough to cover the bottom of the pot.
Take the large "extra" cabbage leaves and layer on top of the salt pork and drippings (this will prevent the stuffed cabbages from sticking during cooking).
Trim thick vein off of the back of the cabbage leaf.
Place mounded tablespoon of meat mixture on the cabbage leaf (the amount is dependent on the size of the leaf being used so it could be more or it could be less), closest to the veined end of the leaf.
Roll the end of the leaf over the meat, fold the sides in and continue rolling.
Continue until all cabbage leaves are stuffed.
Layer the stuffed cabbages into the prepared pot. Shred the remaining cabbage leaves and spread over the top layer of stuffed cabbages.
Pour the warmed tomatoes over the layer of shredded cabbage.
Cover pot.
Slowly bring to a gentle bubble.
Turn down and simmer slowly for 4 hours, until cabbage is done.
**NOTE: We have also done this using a big turkey enameled roaster with lid in the oven and it works great. You do everything the same using the roaster instead of the stock pot and bake covered in the oven at 350 for 3-4 hours.
Enjoy!!