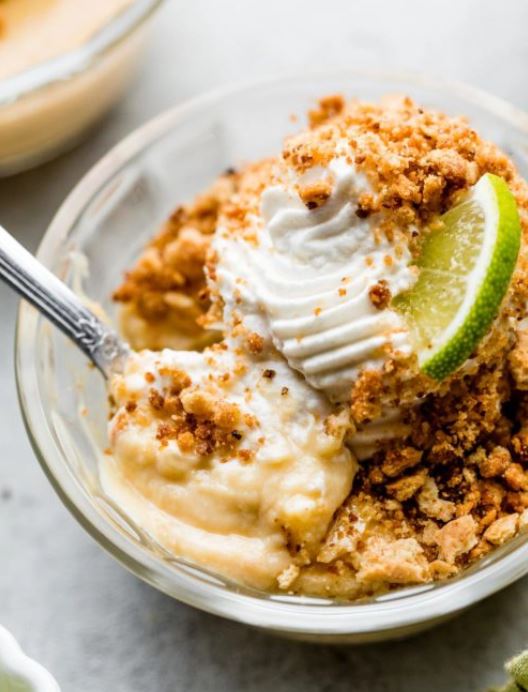 Prep Time: 15 minutes
 Cook Time: 20 minutes 
Total Time: 2 hours, 35 minutes 
Yield: 4-6
Description
These are fun individual servings of cool and custardy key lime pie! Cook the pies in individual custard cups in a water bath.
---
Ingredients
3 large egg yolks
2/3 cup (160ml) key lime juice*
one 14 ounce can full-fat sweetened condensed milk
1 teaspoon lime zest
hot water for water bath
Crust
2 full sheet graham crackers*
1 Tablespoon (15g) unsalted butter
1 teaspoon packed light or dark brown sugar
Optional Toppings
whipped cream or meringue (see recipe note), lime slices, chopped macadamia nuts or pecans, raspberries, edible florals
---
Instructions
Preheat oven to 350°F (177°C). Lightly grease four 6 ounce ramekins with butter or nonstick spray. See recipe note about other ramekin sizes. Place in a baking pan or small casserole dish. Four 6-ounce ramekins fit nicely into a 9-inch square bake pan. The pies will bake in a water bath inside the pan.
For the filling: In a medium bowl using a handheld or stand mixer fitted with a whisk attachment, beat the egg yolks on medium-high high speed until pale and slightly thickened, about 3-4 minutes. Add the lime juice, sweetened condensed milk, and lime zest. Beat on medium speed until combined. You'll have about 2 cups of filling. Pour evenly into prepared ramekins.
Add water for water bath: Without splashing into the ramekins, slowly pour hot water into the casserole dish around the ramekins, about halfway up the sides of the ramekins. If it's easier, you can transfer the casserole dish to the oven first, then carefully pour in the hot water.
Carefully place the casserole dish/baking pan in the oven. Bake until the top of each is mostly set, about 17-20 minutes. When lightly tapped, the very center should only slightly jiggle. Though not necessary, you can also check the internal temperature. These are safe to eat when an instant read thermometer reads 160°F (71°C).
Using tongs or an oven mitt, remove the pies from the water bath and place on a wire rack set over a baking sheet or kitchen towel to catch any dripping water. Cool pies for about 1 hour at room temperature, then chill in the refrigerator for 1 hour before assembling and serving. You can enjoy at room temperature, but they taste better if you chill in the refrigerator.
Meanwhile, make the crust: As the pies cool, crush up the graham crackers with your hands or place in a zipped-top bag and crush with a rolling pin. Place butter in a skillet on the stove over low-medium heat. Add graham cracker crumbs and brown sugar. Stirring constantly, toast/cook for 4 minutes. Remove from heat and allow to cool.
CLICK NEXT PAGE BELOW TO CONTINUE READING …