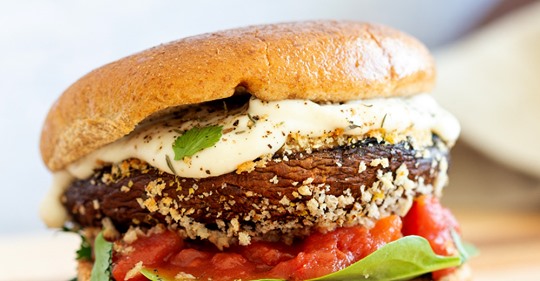 Vegan Portobello Mushroom Burger. Portobello marinated and stuffed with vegan mozzarella, then breaded to make Crispy Portobello Sandwiches! Top with more vegan mozzarella cream, fresh herbs. Vegan Recipe. Nutfree Gluten-free options Jump to Recipe
I've been wanting to convert this marinated portobellos with garlic sauce into a hand held burger thing for a while. with some crispy breading action. so here goes!
The mushrooms are marinated in a delicious balsamic soy marinade, then baked until al dente. They are then stuffed with an easy cashew mozzarella cream and coated liberally with breadcrumbs. Then baked to golden perfection. Now if you can wait at this point, then assemble the burger, else these portobellos are ready to devour with some extra mozzarella cream and fresh basil or herbs! so good.
This looks like a long recipe with the many components, but you can make the mozzarella cream ahead and then its just baking and serving. You can also use other cheese sauce of choice here. and Serve the mushrooms however you like, bunless, or over a bowl or with mashed potatoes or over spaghetti with marinara! Lets get to it!
INGREDIENTS FOR THESE AMAZING VEGAN PORTOBELLO MUSHROOM BURGERS AND SUBSTITUTIONS
CLICK NEXT PAGE BELOW TO CONTINUE READING …