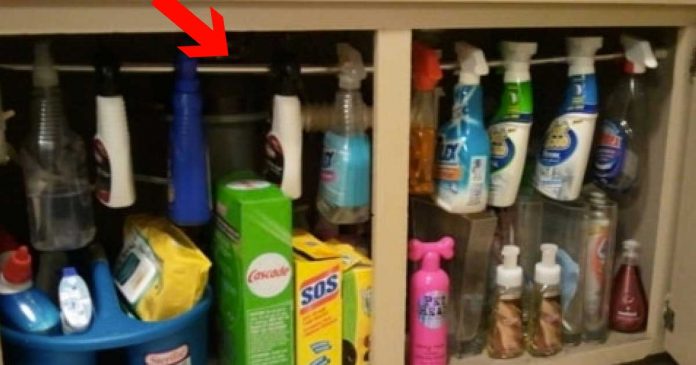 You don't need me to tell you that life is busy. Sometimes, it can look like a nuclear explosion has gone off in our homes even if we just cleaned them yesterday. Keeping your home neat and tidy is no easy feat, but the following 11 hacks will make the process a whole lot smoother.
1. Condense Your Cables
Most of us have a drawer or bucket that's overflowing with random cables. To keep your cables organized, store each one in a toilet paper roll, then label it.
2. Easy Can Storage
I don't know about you, but my canned goods are always all over my pantry, and I never know which ones are in there. You can use a magazine holder tilted on its back to keep cans organized and in one convenient spot!
3. Hang Up Hair Tools
To free up counter and drawer space, fasten Command Hooks to the inside of your bathroom vanity cupboards to hang hairdryers, curling irons, straighteners, and other hair tools.
4. Cork Board Jewelry Holder
Jewelry can be one of the most difficult things to store. It always seems to end up in one giant, tangled mess. To combat this, attach a piece of cork board to your wall or the inside of a wardrobe. Use thumbtacks or Command Hooks to hang the jewelry.
5. Hang A Tension Rod
The cupboard under the sink always seems to be a chaotic jumble of cleaning supplies. To free up space and make your cupboard more organized, hang a tension rod across the cupboard. You can hang spray bottles on the rod so there's more space on the bottom of the cupboard.
6. Roll Your Clothing
Rolling your clothing frees up space in drawers, and it also helps you to actually see what clothing is in there. This is also a great method for packing!
7. DIY Plastic Bag Dispenser
Instead of tossing your plastic bags in a cupboard, you can easily make a dispenser for them out of an old disinfectant wipe container.
8. Label Your Cords
To know exactly which cord is plugged in where, use old bread bag tags to label them! I so wish I had known about this hack sooner.
9. Hang Scarves
When we throw scarves in a bin on a closet shelf, it's easy to forget about them. Attach some curtains rings to a hanger to store and display your scarves and I'll bet you'll wear them more frequently.
10. Keep Hair Elastics Together
If your house is anything like mine, you probably have at least five hair elastics floating around in every home. To keep your hair elastics in one convenient spot, attach them all to a carabiner.